Maine's Climate Action Plan is a vital opportunity to build a stronger, healthier, more prosperous, and resilient future for Maine.
In 2023, the Maine Climate Council kicked off the process of updating the statewide Climate Action Plan. NRCM's Jack Shapiro was appointed to the energy working group and Josh Caldwell to the transportation working group.
Climate Action Plan for Maine
On December 1, 2020, Governor Janet Mills announced Maine's news Climate Action Plan. The Plan is grounded on the most comprehensive scientific analysis of the effects of climate change on Maine, including from scientists at the University of Maine.
The Climate Action Plan details actions needed to reduce climate pollution and create new jobs as part of the transition to a clean energy economy that will benefit Maine people, businesses, and our environment.
The Climate Action Plan was created by the Maine Climate Council (MCC), who determined that the costs of inaction greatly exceed the costs of taking action to accelerate the transition already underway to clean transportation, renewable energy, and resilient infrastructure.
The Natural Resources Council of Maine partnered with Mainers and peer environmental groups to advocate for actions that would deliver the most effective solutions for Maine. Now that the Climate Action Plan has been released, we look forward to partnering with Maine people, the Mills Administration, elected officials, and state agencies to move the proposed climate strategies into action.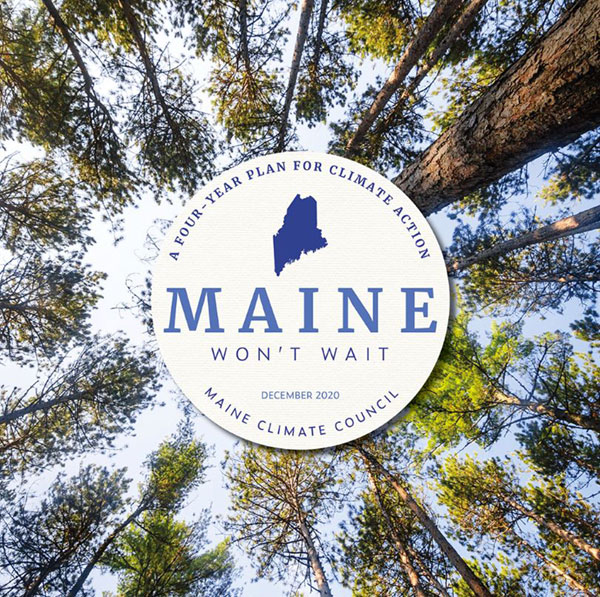 What are Some Issues that the Climate Action Plan Addresses?
The new Climate Action Plan includes a wide variety of recommendations to create new jobs and reduce pollution, including sharp increases in electric vehicles and residential heat pumps, additional support for renewable energy projects, assistance to improve community resilience, and programs to protect natural and working lands across the state, which act as critical carbon sinks.
Maine Climate Council
In 2019, Governor Janet Mills and bipartisan majorities of the Maine Legislature passed new laws aimed at improving public health and strengthening the economy by reducing greenhouse gas emissions to at least 80% below 1990 levels by 2050. A 39-member Maine Climate Council was established to create a new Climate Action Plan to provide recommendations for achieving the state's bold climate targets.
According to a 2019 poll, 76% of Mainers view the work of the Climate Council as a top priority, even during the COVID-19 crisis.
The final Climate Action Plan is the result of more than a year of work that included input from six working groups. These groups engaged more than 250 Mainers with diverse points of view from all parts of the state, including farmers, representatives of Maine's fishing and forestry sectors, scientists, business owners, community and municipal leaders, policy experts, and state agency experts.
Input was received from more than 4,400 Mainers who reside in nearly three-quarters of Maine's communities, helping ensure that the Climate Action Plan addresses the interests and concerns of Maine people statewide.
Background Resources
Technical Documents