NRCM news release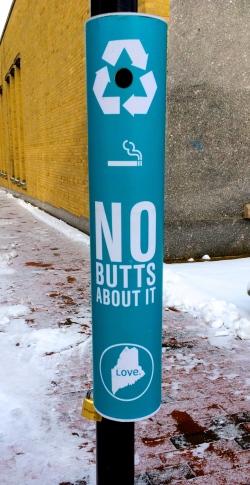 Portland, ME – Today, business, city, and environmental leaders joined together to roll-out a new initiative to install and manage "Sidewalk Buttlers," throughout downtown Portland to remove, reduce, and recycle the cigarette butts that are littering our city streets and polluting Casco Bay. Cigarette butts are a significant source of litter, and cigarette filters contain more than 400 toxic chemicals and are not biodegradable.
"Today we are announcing a step to begin to address cigarette butt litter in Portland," said Sarah Lakeman, sustainability expert for the Natural Resources Council of Maine. "Cigarette butts are more than unsightly: They don't biodegrade and they do contain arsenic, benzene, and other toxic chemicals that dissolve in water and pollute Casco Bay when rain sweeps them into storm drains."
Crafted locally, the "Sidewalk Buttlers" have been installed on posts and poles in nearly 70 places from Congress to Commercial streets to kick off the program.
"It's a cost-effective and environmentally sensitive way to gather, control, and recycle the largest part of roadside litter," said Roylos. "It doesn't require any sidewalk real estate, is vandal-resistant, and does not hinder sweeping or snow removal."
Comprising 38 percent of all roadside litter, cigarette butts are the most common form of litter in Portland and the world. Other cities such as Vancouver, London, and New Orleans have been successful by taking similar proactive steps to address this problem.
"We were thrilled to be asked to play a role in developing the look for the Sidewalk Buttlers," said Chris Kast of The Brand Company. "For us it's a matter of civic pride and doing what we can to keep Portland's streets clean."
"Cigarette litter detracts from the beauty and character of our wonderful city, and is a nuisance for City staff and local business owners who have to sweep it up," said Troy Moon, Environmental Programs Manager for the City of Portland. "We are optimistic that the Buttler program will be an effective way to prevent the mess by encouraging smokers to dispose of their cigarette butts properly. We'll be watching closely to see how things go."
Portland's Public Services Department will manage a team of Workfare recipients, who will be trained to safely remove the inner containers from the receptacles and deposit them into a cart. The refuse will be briefly stored at the city-owned Spring Street Garage before being shipped, free of charge, to TerraCycle, which will recycle the used cigarette butts into plastic pellets used to make products including park benches, shipping pallets, and railroad ties.
"I see this as the beginning of a much larger movement to make Portland the cleanest city anyone has ever seen," said David Hodgkins of David Wood Clothiers. "The Sidewalk Buttlers are sure to make a positive lasting impression on our thousands of visitors."
"Businesses and residents have long expressed their concerns to city officials about cigarette butts littering our streets and sidewalks," said Portland City Councilor Cheryl Leeman. "Installation of the 'Buttlers' will help reduce one of the nastier types of litter in our city, which prides itself on being environmentally friendly and clean. I believe that this simple, practical, easy solution to the problem will be embraced by the community."
The initial 70 "Sidewalk Buttlers" were funded by donations from local businesses and organizations. "With a one-time cost of $59 each, this is a small price to pay to help keep our city and waterways clean," said Roylos.
"Unfortunately, some seem to think cigarette butts are a socially acceptable form of litter; this program will help change that," said Lakeman. "Until people no longer smoke in the city, the 'Sidewalk Buttlers' are a no-brainer solution that will help clean up our streets, prevent pollution, provide work, reduce waste, and once again place Portland on the map for its sustainability efforts."