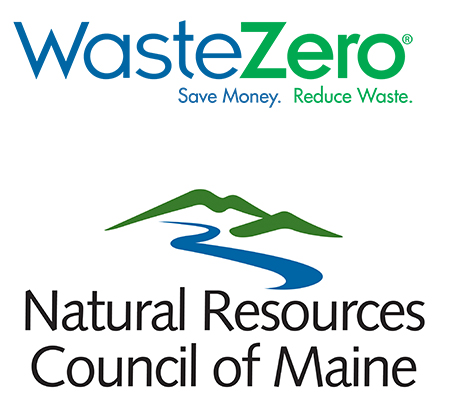 News Release
The Natural Resources Council of Maine (NRCM) and WasteZero announced today a joint initiative to help Maine towns dramatically reduce waste through WasteZero Trash Metering®, a Pay-As You-Throw (PAYT) program for household trash.
WasteZero, the nation's largest waste reduction company, will guarantee Maine communities that adopt its program—and that don't already have a PAYT system—will reduce waste by 35% in the first year alone. If a community does not experience a 35% reduction in trash tonnage, WasteZero will pay to dispose of the balance.
The company's mission is to cut trash in half in America, and it is well on its way with an average 44% waste reduction in partner communities so far. Its work has earned the company a "Best for the World Certified B Corp" listing, considered the gold standard for companies creating the most impact for a better world.
"WasteZero will guarantee that any Maine city or town that provides curbside solid waste services will benefit from at least a 35% reduction in tons of waste disposed if it adopts a WasteZero Trash Metering® program," said Mark Dancy, President of WasteZero. "Larger cities and towns that do not provide curbside collection services but instead use a transfer station may also be eligible. We'll keep this offer open through 2017," added Dancy.
"'Pay-As-You-Throw' is the best way for towns to save money on waste disposal, increase recycling, keep valuable materials out of landfills and incinerators, and meet State recycling and waste reduction goals," says Sarah Nichols, Sustainability Director for the Natural Resources Council of Maine. As part of the new initiative, NRCM will provide education and assistance to communities that are considering a PAYT program.
Statewide, Maine has fallen short of its statutory 50% recycling goal, reaching a plateau at about a 40% average recycling rate. A study by the University of Maine estimates that about 35% percent of what is currently in Maine's household garbage bags headed for landfills and incinerators could instead be recycled or composted. In Spring, 2016, Maine's legislature adopted an additional goal of reducing per-capita waste generation by 5% every two years.
"We are pleased to support WasteZero's goal of significantly reducing the amount of trash we dump in Maine," said Lakeman. "Our landfills are filling up with discarded materials that should be treated as valuable resources instead. WasteZero can help Maine towns that are saddled with managing and paying to dispose of household waste.  NRCM is committed to help towns see this through."
Currently, 138 municipalities in Maine – home to 34% of the State's population – have established a PAYT system. The 42 communities that work directly with WasteZero have experienced an average of 44% reduction in waste with the program.
With PAYT, communities can slash the volume of waste they dump, while making the system fairer and more equitable for all residents. Using a pricing structure similar to a water utility, residents who choose to recycle, compost, or donate used clothing, will no longer subsidize the wasteful behavior of those who choose not to do so.
For more information or to take advantage of this offer you can contact John Campbell, Chairman of WasteZero at  jcampbell@wastezero.com (919) 539-4494 or Sarah Nichols, Sustainable Maine Director for NRCM at snichols@nrcm.org or (207) 430-0170.
For more information, see https://www.youtube.com/watch?v=RML2OPHGkJc