News release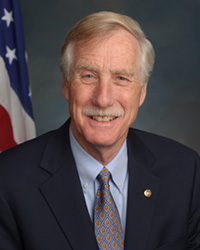 BIDDEFORD, Maine — On November 18, 2016, the University of New England (UNE) hosted a climate change solutions conference featuring Senator Angus King as the keynote speaker. The conference, "Climate Change Solutions: Maine Leadership from Policy to Education," was co-sponsored by UNE, Natural Resources Council of Maine and Citizens' Climate Lobby.
UNE President Danielle Ripich, who introduced King, stated, "Here in Maine, we know how fortunate we are to have an ally in Washington in the person of Senator Angus King. He has been a vocal advocate for this cause, warning of the effects of climate change on Maine, the United States and our world."
"The impacts of climate change are real and they are serious – and they are already hurting our environment and our economy," Senator King said. "But while the challenges are daunting, there is good news because many people – especially those in Maine – know that something must be done. Maine has been at the forefront of fighting climate change for years with RGGI, and at the federal level, we've taken significant steps forward with the Clean Power Plan and, internationally, the Paris Climate Agreement. We must keep up the fight because ultimately taking action is not only good for Maine businesses in the long-run, it's good for the environment as well. It's a long road forward, but if we keep raising awareness and working together, we can meet climate change head on."
Ripich discussed UNE's efforts to engage in the climate change solutions movement. As an early signatory in 2008 of the American College and University Presidents' Climate Commitment (now named the Carbon Commitment), UNE set an goal of becoming carbon neutral by 2040 by undertaking several initiatives as part of its Climate Action Plan, including the development of a Green Revolving Fund to finance "green" projects on campus, the creation of alternate modes of transportation for students and employees, the construction of two LEED certified buildings, the implementation of a building automation control project, the installations of a solar hot water system on the Biddeford Campus and a solar electric system on the Portland Campus, and the completion of LED lighting retrofits of 19 buildings and most parking lots.
Ripich also highlighted the ways in which UNE is combatting climate change through academic programs and research. She announced a new interdisciplinary minor in Climate Change Studies that the university introduced this fall.
"Sometimes, I think, our society has a tendency to think and talk about these concerns – for human health and environmental health – as separate topics, but I believe they are inextricably linked," she said. "Our health – as individuals and as a species – depends on the health of our environmental. And that is why UNE has been actively engaged in this movement both at the academic and administrative levels."
The event's morning session focused on regional successes and national approaches to climate policies. In addition to King's keynote, the session featured a panel discussion as well as talks on carbon pricing, including the Regional Greenhouse Gas Initiative (a cooperative market-based initiative, begun in 2009, among nine northeastern states to reduce climate-changing carbon pollution from power plants and spur investments in energy efficiency and clean energy) and a "fee and dividend" concept (a proposal to put a national fee on every ton of carbon pollution and return the resulting revenues to all Americans in the form of an annual dividend.)
Retired economist Tom Tietenberg noted that there is much to learn from existing models when considering how to put a price on carbon pollution and said that lessons learned from the Regional Greenhouse Gas Initiative (RGGI) in Maine have provided valuable experience.
Other morning speakers included Efficiency Maine Executive Director Michael Stoddard, who shared that from 2013-2015, Efficiency Maine used $25 million in revenue from RGGI to help Maine homes, businesses and industry save $167 million on heating and power bills, and Andrew Goldberg, an energy manager with Hannaford, who described how RGGI-funded Efficiency Maine programs have helped reduce energy costs at grocery stores across the state as well as their distribution warehouse in Scarborough.
"Mainers are leaders on clean energy and climate action in so many ways," said speaker Dylan Voorhees, Climate and Clean Energy director for the Natural Resources Council of Maine. "It starts with the fact that Mainers are much more likely than other Americans to state that climate change is already having a negative impact on our state and goes all the way up to our leadership from Senators King and Collins, who acknowledge this problem and support real solutions. In the coming years we will increasingly rely on their willingness to defend national progress on climate change, while Maine and the region continue to innovate and do our part to speed the transition to clean energy."
The conference's afternoon session featured several UNE speakers who addressed the role of higher education in climate solutions.
The conference concluded with a lobby training workshop, led by Doug McCown, of Citizens' Climate Lobby and UNE student Grayson Szczepaniak, a marine Science major/climate change minor.