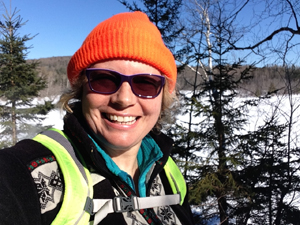 Like a lot of people I know, I have been perched on the sidelines of the debate about whether land owned by the nonprofit Elliottsville Plantation, Inc. (EPI) should become a national park and national recreation area or not. The proposed Katahdin Woods and Waters National Park and National Recreation Area would be located on approximately 150,000 acres owned by EPI to the east of Baxter State Park.
I have felt this was an issue for local people and the federal government to discern. After all, with deep family roots in potato farming, logging, and sporting in rural northern, western, and Downeast Maine, I understand the strong culture of local control we embrace.
But on a recent cross-country ski trip to the area, I was inspired by the visions developed collaboratively by EPI and some local community members.
After spending a Friday night at Shin Pond Village, with fellow skiers and a number of snowmobilers, I met with a group of Natural Resources Council of Maine (NRCM) members and friends on Saturday morning, outside of the Matagamon Gate Entrance to Baxter State Park. Skiing southeast on trails that bounce along the East Branch of the Penobscot River and in the shadows of Traveler Mountain, we glided through a valley of evergreen forests with pristine pockets of silver maple woods. Occasionally we stopped to identify fresh moose and fox tracks. Realizing this immaculate land has not changed much since Henry David Thoreau's travels here in the 1840s, I could also picture my own ancestors logging and hunting in this area.
After seven miles, we arrived at a riverside cabin named Haskell Hut for some hot drinks and to eat our packed lunches. Taking a trail further away from the river, our return ski to Matagamon was a bit shorter. Driving away from the parking lot, we saw a number of snowmobilers and other skiers, also packing up from an invigorating outing. And to punctuate the day, we were treated to a glorious sunset over Katahdin.
Joining us on our ski trip were Susan and Mark Adams, the hearty recreation managers for EPI. They told us of the many opportunities for the people of Maine to enjoy the land right now, including snowmobiling, canoeing, hiking, hunting, mountain biking, fishing, and horseback riding, all in addition to cross-country skiing.
We also learned that the current vision for a national park and national recreation area will preserve the opportunity for these activities. The EPI land to the east of the East Branch of the Penobscot River will be a national recreation area, allowing activities such as snowmobiling and hunting. Land to the west of the East Branch is proposed to be a national park, which would focus on preservation and would allow hiking, camping, canoeing and kayaking, fishing, and wildlife watching.
As a mother, I grew excited about this vision, realizing that my children and their children would have the opportunity to enjoy this land and reap its benefits, just as I have and as my ancestors did.
Having taken my children on trips around our country, I also realize the economic importance of the National Park Service's trusted brand. During our family trips, our major destinations have been our national parks and national recreation areas, since this means we know we will experience our country's heritage with assurances of quality activities that are educational, safe, and—most importantly—fun. As with our trips to Acadia National Park here in Maine, most of our dollars are spent in the surrounding towns.
Although much of the debate against a national park presence seems to focus on maintaining local control, the details of what would be allowed in a national park and national recreation area are being worked out collaboratively with local communities, and as with Acadia and other national parks, those limitations stop at a park's borders.
As I skied along this pristine and inspiring landscape, I kept thinking about my grandparents and other ancestors who lived and worked in northern Maine, and wondered what they would want. I believe they would be proud to see their descendants enjoying this land, and would want that to continue. Indeed, with a national park and national recreation area, it seems that whether we and our children are hunters or hikers, snowmobilers or skiers, there is something for all of us to enjoy and benefit from.
—by Dora Anne Mills