I first explored the Nahmakanta Public Reserved Land Unit, located southwest of Baxter State Park, while guiding a 10-day wilderness canoe and work experience for disadvantaged youth about 20 years ago. Together, four guides and eight kids spent a little less than a week constructing trails throughout the Nahmakanta Unit and then paddled the St. Croix River in Downeast Maine. While I had paddled the St. Croix River a number of times, I had never had the opportunity to explore Nahmakanta. Upon arriving at the edge of the Public Reserved Land Unit, I was struck by the beauty and the isolation of Nahmakanta.
Since then, my wife Carrie and I have returned to Nahmakanta numerous times to paddle, camp on the many sandy beaches on Nahmakanta Lake, and also hike the various trails that connect the Debsconeag Lakes, many of which are also located within the Unit. In the winter, we have skied into Don and Angel Hibbs' Nahmakanta Lake Camps to experience the solitude of Katahdin Country.
Our most memorable adventure in the Unit happened in the winter of 2004. Carrie and I drove up from our home in Freeport, through Greenville, and entered the Golden Road just North of Kokadjo. Don Hibbs met us on the Golden Road with his snowmobile and sled, which he used to transport our gear into his camp. Carrie and I then began an 8-mile ski in what were fair conditions at best. It had rained earlier in the week and Don had warned us that the conditions at the camp were more suitable for ice skating than cross-country skiing. Being an avid skaters and pond hockey players, we had packed in our hockey skates and sticks. The ice conditions on Nahmakanta Lake could not have been better. The people at the cabin next to us had also packed their skates and we had an exciting game of pick-up hockey.
The next day, we snowshoed 3-miles up to Eighth Debsconeag Pond, built a small fire along the shore, and experienced yet another one of the most exhilarating skates ever. The ice was as smooth as glass and the feeling of isolation was incredible. Experiences such as these make the Nahmakanta Public Reserved Land Unit one of my favorite outdoor destinations in our great state.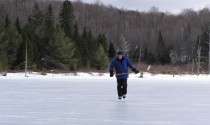 by Jim Donoghue