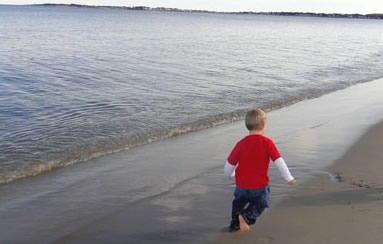 Ferry Beach State Park, named for the site where passengers were once ferried across the Saco River, offers local residents and visitors sweeping views of white sand beaches between the Saco River and Pine Point. The 117-acre day-use park has picnic tables, guided nature programs, and nature trails (that introduce visitors to the park's special features – such as a stand of tupelo (black gum) trees that occur only rarely at this latitude).
Just inside the sandy strip of beach is a line of dunes and then the Tupelo Swamp – a dense network of shrubs that have emerged from the fallen trunks of maple, black tupelo and willow trees. As the land rises, the swamp gives way to upland forest – a mixture of white pine, northern red oak and hemlock in association with beech, birch and maple. When the adjoining woods, which are visible from the park access road and parking lot, were threatened with subdivision, the Trust for Public Land agreed to negotiate a purchase and sale agreement with the landowner – giving the State time to raise funds for permanent acquisition. The Land for Maine's Future program provided a grant for the property's purchase. The new addition to Ferry Beach State Park provides a natural buffer around the park, helping to ensure that visitors can enjoy the setting's beauty without disturbance from nearby houses.
Closest Town
Saco
Activities
Bird & other wildlife watching, hiking, snowshoeing, cross-country skiing, and swimming, nesting seabirds
Region
Southern Maine – York, Cumberland
Acres
6
Directions from nearest town
DeLorme Maine Atlas and Gazetteer Map 3, C-3. From Saco, take Route 9 for 3.5 miles to Camp Ellis. Continuing on Route 9, Ferry Beach is on the right just north of Camp Ellis.