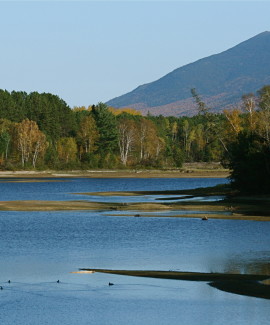 Location: Near Stratton, Franklin County
Description: The Bigelow Preserve, the area of which totals 36,000 acres, is bounded on its north by Flagstaff Lake, a 20,000-acre lake, and includes all seven summits of the Bigelow Range, including 4,150-foot West Peak. The Appalachian Trail crosses through part of the Bigelow Preserve. Flagstaff Lake is also part of the Northern Forest Canoe Trail, a 740-mile trail that extends through Maine to Quebec.
Activities: Hiking, camping, canoeing, swimming, fishing, snowmobiling, cross-country skiing, biking, and observing the abundant wildlife. Views are particularly spectacular in the fall when the foliage begins to change. Visit Maine Trail Finder to find more information about the hikes within Bigelow Preserve.
For More Information: Visit the Bigelow Preserve's Maine Public Reserved Lands website, where you can find more information on the history of the unit, services, and facilities.
Map loading, please wait ...