Ben Wyman, Administrative & Operations Associate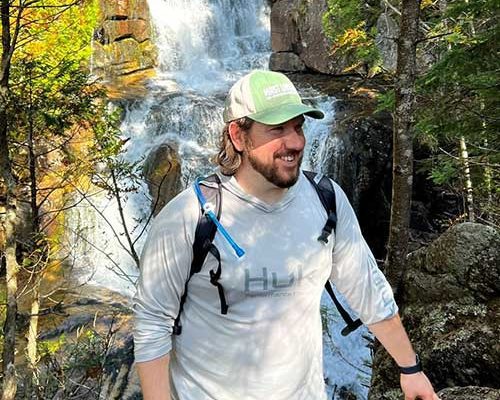 Ben works closely with NRCM's Senior Director of Finance to anticipate office needs, research solutions, and assist in creating a facilities plan based on projected needs. He provides administrative support as needed, including working with the Executive Office to support board and committee meetings. A Maine native, Ben is a life-long lover of the environment and all things outdoors. Prior to working at NRCM, he spent the last six years working in the southern Maine area in real estate and the budding brewery scene. His bachelor's degree in history and political science as well as his master's degree in communication are all from the University of Maine. In his free time, Ben enjoys hiking, camping, skiing, live music, and traveling as much as possible. He currently lives in Bangor with his partner and three dogs: Luna, Nova, and Rebel.
Favorite ice cream flavor:  Not much of an ice cream fan but cookie dough when I imbibe.
Dog or cat person? Dog for sure — my goldendoodle, Luna, is my whole world.
Favorite quote: "All we have to decide is what to do with the time that is given us" — J.R.R. Tolkien
Favorite thing to do outdoors in Maine:  I love to hike and explore the mountains in the summer/fall with my partner, and ski in the winter!