Costly Strain on New England Utility Grid Usually Peaks Around First Week of August
News release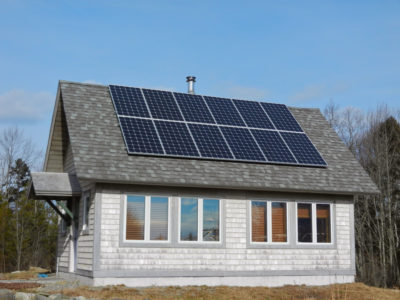 Portland, ME – An updated analysis of the "value of solar" power in Maine shows that solar installations within the state cut electricity prices for everyone in Maine who pays an electric bill, by reducing peak demand on the grid and power plants. Consumer demand for electricity peaks on hot, sunny summer afternoons, when use of air conditioning goes way up. This is when solar panels are producing power directly for homes and businesses, thereby reducing the demand for electricity from the grid.
The updated study shows that by reducing peak demand, the 20 megawatts (MW) of solar power currently installed in Maine will cut electricity bills by about $45 million for homeowners, renters, and businesses that do not have solar installed. Additional benefits from solar add $17 million further in ratepayer savings, avoided pollution from not burning fossil fuels (valued at $58 million), and local job creation.
If Maine had 250 MW of distributed solar, a five-year target lawmakers were considering last session, ratepayers would save $775 million over the life of the panels, including $560 million specifically related to reduced peak demand.
"Solar is the perfect solution to peak demand because you can get the most electricity from a solar array at exactly the same time that maximum consumer demand for air conditioning is straining our electric grid," said Phil Coupe, a co-founder of local solar installer ReVision Energy. "In addition, thousands of solar arrays distributed throughout Maine, supporting the grid, are far more resilient than any centralized power plant."
Maine's electricity rates continue to rise as the state's monopoly utilities build expensive transmission lines specifically to meet demand on peak summer days. The Maine Public Utilities Commission has forecast that transmission rates will jump 30% from 2014-2018. Demand-reducing solar installations lower transmission costs, benefiting all ratepayers.
Even more importantly, power companies run the most expensive and polluting plants during summertime peaks, such as the oil-burning power plant on Cousin's Island in Yarmouth. These plants charge very high rates for power during these times and are the most dangerous for our environment. Reduced demand for these plants due to solar installations provides big savings for Maine ratepayers. Reduced peak demand translates quickly into reduced carbon emissions and healthier air as well.
"With recent news about the challenges Maine is expected to face due to the increasing cost of adding capacity to the grid, one solution is staring us straight in the face," said Vaughan Woodruff, owner of Insource Renewables. "As coal and oil plants are shut down, an obvious choice for providing more power on the hottest days of the year is to use the heat source – the sun – to generate needed electricity."
"We know that 2016 is set to be one of the hottest years on record. As Mainers ramp up the AC to stay cool, the electricity grid faces a heavy, costly strain and we all pay for it," said Dylan Voorhees, Clean Energy Director for the Natural Resources Council of Maine. "Solar clearly has the ability to reduce the strain, the pollution, and the cost for every Mainer who pays an electricity bill. The study shows once again that Maine should be working for more clean, reliable solar energy."
The "Value of Solar"
In late 2014 the Maine Public Utilities Commission completed a "Value of Solar" analysis to quantify the costs and benefits of solar in Maine. This summer, solar stakeholders, using the Commission's methodology, updated the analysis by inserting current energy market information.
The update shows that every 1 MW (enough for approx. 200 homes) of distributed solar installed in Maine creates $7.7 million in lifetime value.
About one-quarter of that value stems from the wholesale value of electricity.
About 30% of that value comes in the form of reduced electricity prices for all ratepayers from less need to use peaking power plants and less need for building new transmission and distribution networks to meet peak demand.
Significant value comes from reductions in the premiums electric ratepayers pay for uncertain future gas prices.
Finally, avoided pollution accounts for a substantial part of the benefit of solar power.
"The Maine Public Utility Commission's 2014 'Value of Solar' study was really eye-opening, and people around the country paid attention to that thoughtful analysis," said John Rogers, senior energy analyst at the Union of Concerned Scientists. "This update shows that the numbers continue to look impressive as our energy markets evolve. That should give people real confidence that Mainers who go solar are making a positive difference, providing value from lower electric rates to cleaner air."
"Mainers are providing cleaner solar energy locally, saving their neighbors millions," said Chris Rauscher, as spokesperson for The Alliance for Solar Choice. "The Public Utilities Commission should thoroughly examine all of the financial and clean air benefits from rooftop solar before making any changes to solar customers' rates."
Investor-owned monopoly utilities, such as Central Maine Power, receive a 12% guaranteed rate of return for building costly transmission and distribution line upgrades, which gives them a strong incentive for doing so.
"CMP seems perfectly content to watch rates climb as a result of their own spending on transmission lines, at the same time the company complains about solar, downplaying the benefits solar provides to CMP customers by avoiding the need for costly transmission lines and peaking power plants," said Rauscher.
"The middle of summer is a good time to thank your neighbors and others who have invested in solar, because they are helping reduce electricity costs for all of us," said Voorhees.
Dates of Highest Peak Demand in New England
| | |
| --- | --- |
| August 2 | 2006 |
| July 22 | 2011 |
| August 1 | 2006 |
| July 29 | 2013 |
| July 18 | 2006 |
| August 3 | 2006 |
Dates & Hours of Annual Peak Demand in New England, 2001-2015
| | | |
| --- | --- | --- |
| August 2 | 2006 | 2-3 pm |
| July 22 | 2011 | 2-3 pm |
| July 19 | 2013 | 4-5 pm |
| July 6 | 2010 | 2-3 pm |
| July 27 | 2005 | 2-3 pm |
| August 3 | 2007 | 2-3 pm |
| June 10 | 2008 | 2-3 pm |
| July 17 | 2012 | 4-5 pm |
| August 15 | 2002 | 2-3 pm |
| August 9 | 2001 | 2-3 pm |
| August 18 | 2009 | 2-3 pm |
| August 22 | 2003 | 2-3 pm |
| July 2 | 2014 | 2-3 pm |
| July 29 | 2015 | 4-5 pm |
| August 30 | 2004 | 3-4 pm |
Annual Peak Demand in New England, 1992-2014