As the end of peak summer vacation season draws near, fall adventuring awaits for those who relish crisp temperatures and fewer cars on the roads (and in parking lots). Katahdin Woods and Waters National Monument has been buzzing with activity this summer in wonderful ways. Read on for updates from the Friends of Katahdin Woods and Waters, philanthropic partner to the National Park Service (NPS).
By the way, the Natural Resources Council of Maine (NRCM) is a sponsor of the 6th anniversary celebration of Katahdin Woods and Waters on Saturday, August 27 in Millinocket.
Our latest Frontline Voices podcast is about Katahdin Woods and Waters, as we speak with Acting Executive Director of Friends of Katahdin Woods and Waters, Sam Deeran. Tune in:
Accessibility Improvements
Formally gifted to the NPS by the Friends of Katahdin Woods and Waters late last summer, the five single-party and two group camp sites at the historic Lunksoos Camps opened for their first full season this year.
The sites provide a camping experience that folks familiar with national parks will recognize: bear-proof boxes and sturdy picnic tables at each site, smooth gravel paths for the short walk from car to set-up, and ADA facilities (including one site).
The tent sites at Lunksoos are easy to reserve at recreation.gov, along with several other camping locations accessible by car, canoe, or both! 
Youth and Community Engagement
At six years old, the National Monument is quite young in our national parks system! However, in these few short years, benefits to the communities of the Katahdin region, has been meaningful and far-reaching.
This year, the a place-based education program within Friends –celebrates nearly 10,000 youth experiences in the Monument, classrooms, and community since 2017. Field trips that bring local school children into Katahdin Woods and Waters are so popular that Friends added new staff to meet the growing demand.
Teachers and outdoor educators are creating additional ripples by accessing programs just for them. Friends has partnered with local organizations to provide annual Leave No Trace trainer courses and Teacher Camps providing practical skills at low or no cost to participants.
Committed to Learning Together
The land that we call Katahdin Woods and Waters is within traditional territory of the Penobscot Nation and sits at a crossroads sacred to Wabanaki people who have been caretakers of this landscape for more than 13,000 years.
Through a partnership with a Wabanaki Advisory Board, Friends co-produced New Moon Teachings to center Wabanaki voices, stories, and perspectives in shaping narratives about the National Monument and connected landscapes. The series ended in January of this year, but the opportunity to learn about cultural traditions and contemporary issues has prompted the staff at Friends and NPS, as well as supporters and community members, to engage further in "decolonizing" the way stories about the Monument's land and waters are shared.
Follow Friends of Katahdin Woods and Waters on social media or subscribe to their enews they will again offer the Wabanaki REACH training Interacting with Wabanaki-Maine History for up to 150 individuals at no cost in 2023.
New Superintendent and NPS Growth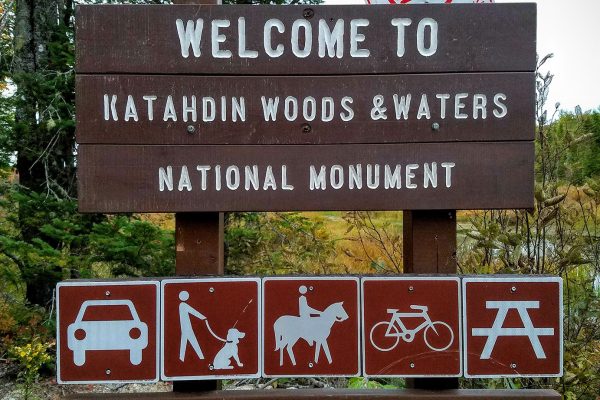 The Katahdin Woods and Waters community welcomed Superintendent Sheldon "Mark" Wimmer to the region in January! Mark most recently served as Monument manager for the Grand Canyon-Parashant National Monument, where he directed the improvement and creation of infrastructure and facilities to enhance the visitor experience.
Mark joined a talented and dedicated staff at KAWW (the official NPS acronym) who have been developing interpretive resources, building and improving trails, collecting scientific data, and taking care of park facilities and visitors.
Friends staff are proud of recent achievements in the growing partner relationship; they recently purchased a new CAT excavator for trail work and have developed lesson plans together with NPS interpretive staff to begin a new year of Monument field trips. As visitation and support grows, expect big improvements in access, orientation, and resource protection at the Monument.
Stay up to date on news direct from the NPS at https://www.nps.gov/kaww/index.htm
Legislation Introduced to Expand Access
Supporters of the National Monument have been welcoming the August 2022 introduction of the Katahdin Woods and Waters National Monument Access Act (Senate Bill 4784), legislation introduced by Maine's Senator Angus King and co-sponsored by Senator Susan Collins.
We thank Senator Collins and Senator King for their leadership. They have worked together to create bipartisan legislation that is good for the National Monument, the surrounding communities, and the visiting public.
The bill would adjust the southern boundary of the Monument to allow the acquisition of land from a willing and interested seller or donor, with a focus on increasing access to Katahdin Woods and Waters National Monument from the south, including from the communities of Millinocket, East Millinocket, and Medway.
In addition, NPS would be granted authority to purchase or lease facilities for a park headquarters, staff offices, and visitor services outside the boundary of the Monument. NRCM, Friends of Katahdin Woods and Waters, and others look forward to opportunities to improve access from the Millinocket area.
As one of the groups that worked closely with the local community to get KWW established, NRCM is thrilled to see the Monument grow and improve so much in six years, which wouldn't be possible without the outstanding work at Friends and leadership at the NPS. We hope after reading this update, you're inspired to add a Monument trip to your fall weekend lineup!
—by Melanie Sturm, NRCM Forests & Wildlife Director