A couple years ago my husband and I moved into a home that, like 60% of houses here in Maine, burns oil for heat. When we were ready to switch to an alternative heating system, we knew we would be looking for options that helped move us away from fossil fuels, weren't going to break the bank, and could fit relatively seamlessly within the existing infrastructure of our home, which is plumbed for baseboard hydronic heat. We ultimately decided to invest in a wood pellet boiler, and so far we are glad we did.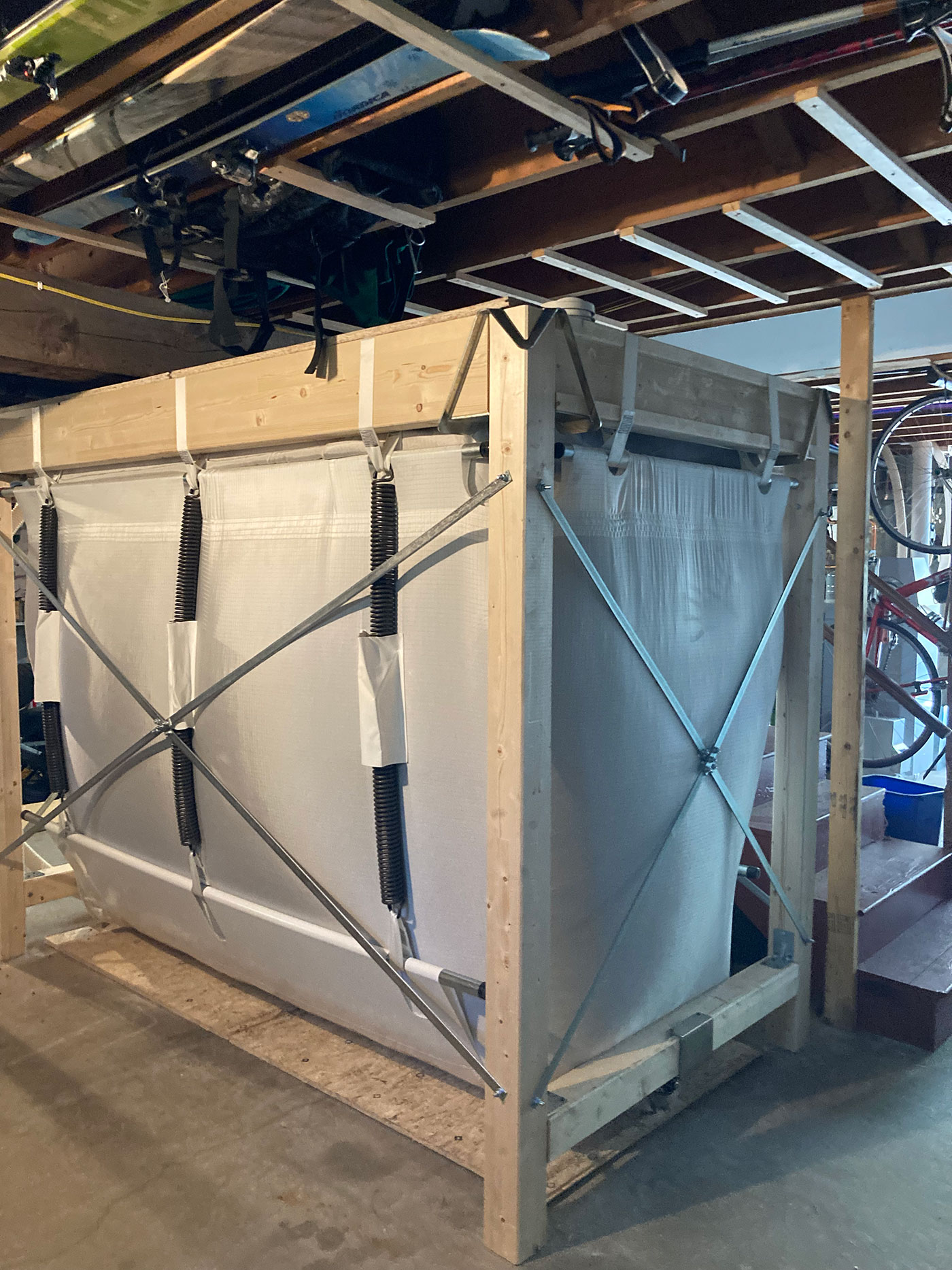 After some additional research, we decided to work with a Maine-based company that holds a license to brand and sell Austrian pellet boilers manufactured by ÖkoFEN, and they had several options to choose from based on the application. The Maine company also offers pellet delivery to customers on their own tanker trucks, blown right into the bin in bulk. They pointed us to a local contractor who would purchase and install the system for us as a complete package. We scheduled the installation a couple months out, and once they got started the whole process took two days. The installer did a truly excellent job, and he hauled away and recycled our old boiler and tank, too. With today's high energy costs, wood also seemed to be a good choice because the cost is relatively stable compared to oil and gas. We expect to save around 40-50% on heating costs next winter. Wood heat isn't the cleanest approach out there, but i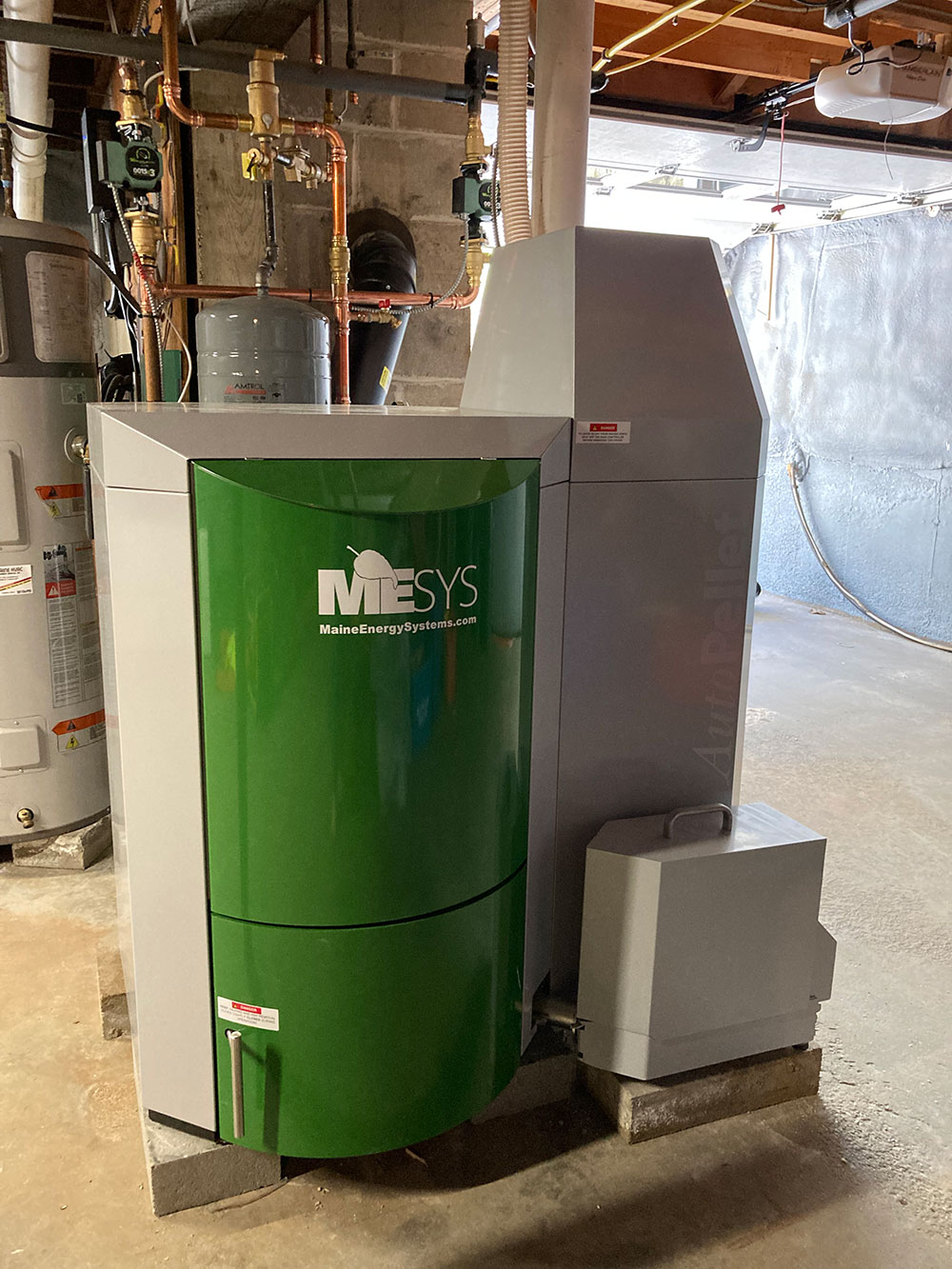 t's a big improvement over fossil fuel heat. 
During the research process we also very seriously considered heat pumps. Today's heat pump systems can handle cold Maine winters, and they provide air conditioning as well, a plus as Maine summers get hotter. They also provide significant emissions reductions over oil and propane, particularly in Maine where much of our energy mix is sourced from renewables already. Maine has excellent heat pump incentives, which are a great option for many homeowners, so I encourage people to check out Efficiency Maine's heat pump programs as well. In the end, we opted for wood because of the cost competitiveness that the rebates provide.  
For a long time, the Natural Resources Council of Maine has recommended switching from oil or propane to a fossil-fuel-free alternative, and now I can as well. However, there are a couple lessons I learned I wanted to pass on if you might be considering this option. Our walk-out basement with garage bays is configured for a very easy installation, and homes with less-accessible basements might have a tougher time. Also, you need to have plenty of room for your pellet bin. I was surprised by how large it is; the footprint is about twice the size of our old 225-gallon oil tank and runs from floor to ceiling. The bin holds 3.75 tons of pellets that should last us more than half the winter. Fortunately, we had space for it and were able to place it exactly where we wanted to minimize issues. Another option would have been a smaller custom bin, requiring more frequent deliveries.  
An important question to ask when researching wood pellet furnace options is about the type and source of wood pellets you'd be getting. From a forest resources and carbon perspective, it's best to burn pellets made from residual wood, meaning scraps created in sawmills and during timber harvesting, not pellets made from sawlogs and marketable timber. However, it's difficult to know the exact type of wood going into pellets, and if you use a pellet manufacturer in Maine, it's likely they're using a mixture of these. The pellets we bought came from a Maine company that primarily uses wood from Maine forests but also sources from Canada as well. Local wood is definitely the way to go if you have the option.
Although we haven't had a need to run the new boiler since early May when we made the switch, we tested the new rig out and were pleased with how much quieter it was than the oil burner. And even though there was never a smell to the oil, our basement has a woody aroma now.   
Wood heat was the right move for us, and I recommend looking into fossil fuel alternatives for energy and heating that are right for your home. Doing so will not only help meet the goals laid out in the statewide Climate Action Plan, it'll also help reduce your energy costs now and into the future. Luckily for Maine, there are plenty of options that fit the bill. 
—Melanie Sturm, NRCM Forests & Wildlife Director