The Sustainable Maine team at the Natural Resources Council of Maine (NRCM) is laser-focused on three bills that will make a huge difference in addressing serious problems and troubling trends with our recycling and landfilling system. Maine people want to do the right thing for the environment, but we need better policies in place if we are going to ever reach our waste and recycling goals.
Based on an alarming report released by the Maine Department of Environmental Protection (DEP) in January, legislative action to address these problems cannot come soon enough. Here are our top five take-aways from the report and the policy solutions that Maine needs to take action on this legislative session:
#1: Waste disposal in Maine is INCREASING, not decreasing
The most effective way to protect the environment is to reduce the amount of waste we make in the first place. That's why in 2017 NRCM helped to create a new State goal for reducing per-capita waste disposal by 5% every five years. This goal complements our goal of recycling 50% of our waste.
Progress toward the waste reduction goal is measured against the 2014 waste disposal number of 1,140 lbs. per person, per year, which is about the weight of an adult male polar bear. Unfortunately, the DEP reports that we've increased the amount of waste every person created, to 1,256 lbs. in 2019. Chubbier polar bears are good, but more waste is not. People in Maine are making more trash, and much of it seems unavoidable because everything comes in so much packaging—a lot of which is not designed with waste reduction or recycling in mind.
#2: Maine's recycling rate is DECREASING, not increasing
Since 1989, Maine has had a goal to recycle or compost 50% of the waste generated each year. With our lackluster recycling laws, it comes as no surprise that we have yet to reach this modest goal, but what's worse is that our state is going backwards.
Maine's recycling rates for both 2018 and 2019 were lower than the 2017 rate. The average reported by DEP is 36.46%. The national recycling rate is estimated at 32%, so it may seem like Maine is ahead of the curve, but don't go getting too excited. Thirty-two percent is a dismal recycling rate for a country with our resources and know-how, and as you'll read below we have significant gaps in data, so this is only the estimated recycling collection rate. If we had more robust, accurate data, and calculated the amount of material actually recycled then the rate would likely be much less.
#3: Recycling costs Maine's cities and towns 67% more than waste disposal
Maine's property taxpayers pay for waste disposal and recycling in their municipalities, and unfortunately for Mainers, that means we are facing skyrocketing price increases for recycling.
Most programs and contracts are different, but on average, the per ton cost for trash disposal is $76.72. The average per ton tipping fee for recycling is about $128. DEP reports that the cost of disposal seems to be too low to provide an incentive for recycling, and they cite these rising costs as the primary reason that many municipalities have had to scale back or close their recycling programs. The DEP report also says that manufacturing using new "virgin" plastics by the fossil fuel industry is much cheaper than using materials manufactured with recycled plastics, which is part of the reason why plastic recycling markets are struggling
Page 21 of the DEP report indicates that what's needed are initiatives to improve infrastructure and processing of recyclables, but it does not state who should pay for that. One thing is for sure – taxpayers, who have no control over this problem, should not have to pay for improvements to the system.
The answer lies where the problem starts: the big corporations that manufacturer packaging and single-use plastics. Right now there is no incentive for manufacturers to use recycled content, or to even make their packaging recyclable in the first place. The existing economic incentives are completely working against making recycling more cost-effective, and it's costing Maine taxpayers as a result. It's no wonder why we can't achieve our goals under this unfair and ineffective system.
#4: We really need to stop using toxic PFAS
On page 10 of their report, DEP describes Maine's progress with anaerobic digestion and composting, which is being disrupted by the presence of toxic chemicals often referred to collectively as per and polyfluoroalkyl substances, PFAS, in wastewater treatment plant sludge. These "forever chemicals" have been linked to serious health impacts especially for vulnerable populations like young children and pregnant women, and are commonly used in household products like furniture and flooring, commercial and industrial settings, and grease resistant food packaging.
PFAS levels found in wastewater sludge in Maine have rendered it too toxic to be composted and applied to farms as fertilizer, which has dramatically increased the landfilling of sludge. For the most part, this soupy toxic sludge is now being dumped into our State-owned Juniper Ridge Landfill in Old Town, where is it being "stabilized" with oversized bulky waste, like couches and washing machines, from out of state. In other words, this sludge is exacerbating our landfilling problem.
Since these PFAS chemicals never go away, remediation efforts are a proverbial "hot potato" and our state, municipalities, and taxpayers are left holding it by default since there is no law making the manufacturers of PFAS responsible for cleaning up their mess.
While we work to eradicate PFAS entirely, we need to hold the PFAS manufacturers accountable and require them to invest in things like modernization of our wastewater treatment plants to dry the sludge, which means less waste would be needed to stabilize it. That won't happen so long as it's easy and cheap to send that toxic soupy sludge up to Juniper Ridge.
#5: The data shows that we have lousy data
With all that said, take this data with a grain of salt, or better yet a whole salt-shaker full of salt. DEP does the best they can with what they have, but they need more. In Maine, waste management is largely the responsibility of the municipality and not the State—or the producers of wasteful products and packaging. Municipalities are not required to meet any goals aside from "making reasonable progress" toward them, and reporting to the DEP is voluntary.
In 2018, only 104 out of 487 municipalities submitted their recycling progress reports to DEP. DEP can also gather annual reports from Maine's waste and recycling facilities to help get a broader picture, but the lack of specificity is preventing them from identifying needs and opportunities. Further, even if recycling collection data was universally reported by municipalities, that still leaves the question of where does this all come from, and how much of the material collected is, in fact, recycled? This lack of information begs the question of whether leaving this problem to Maine's resource-strapped municipalities alone makes any sense—NRCM doesn't think so.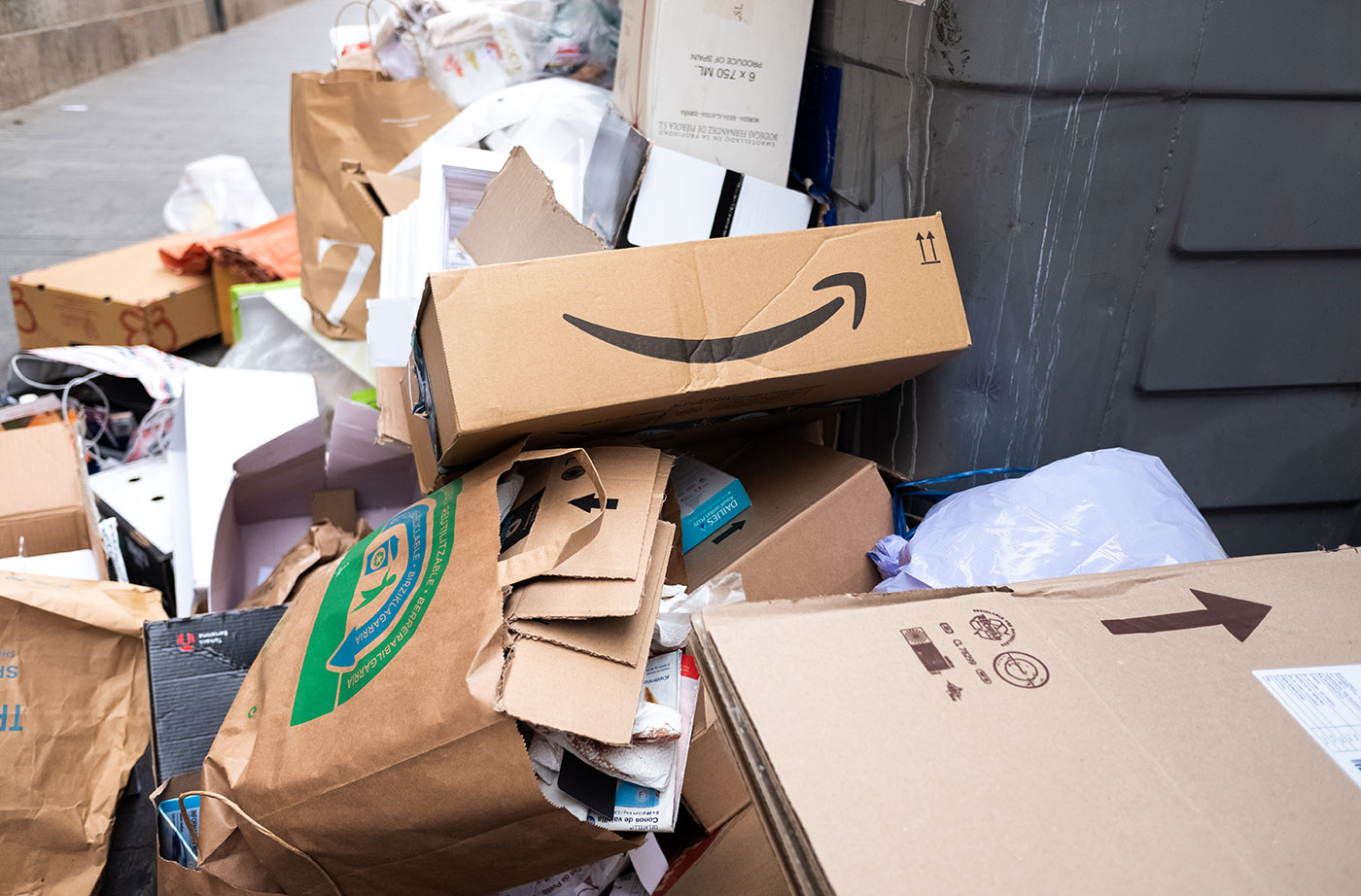 So there you have it: Maine has a very bleak waste and recycling situation. But when you're at rock bottom the only place to go is up! NRCM's Sustainable Maine team is collaborating with municipalities and people across the state to adopt transformative solutions to our waste woes. We hope you'll join us in encouraging your legislators to support these three important policy reforms:
Reforming recycling through Extended Producer Responsibility (EPR) for Packaging will save millions in taxpayer money and allow us to collect specific, comprehensive data on what materials are coming to our state, from where, and where they end up, making it possible to identify needs and opportunities to improve.
EPR creates economic incentives that work for Mainers, not against us. This includes providing an incentive for producers of packaging to use less packaging, use recycled content over virgin materials, and make packaging recyclable; as well as make recycling costs lower than disposal costs for municipalities. EPR is a proven policy solution that exists in more than 47 jurisdictions around the world, many with recycling rates double to Maine's. We won't be able to turn our waste generation and recycling rates around without this policy.
Setting a minimum recycled content standard for plastic beverage containers will increase demand for recycled content, which bolsters important recycling programs like Maine's Bottle Bill and our municipal recycling programs for plastics #1 and #2.
Our ultimate goal must be to decrease the use of plastic packaging through phase-outs and with incentives created by EPR. But, we also understand that for recycling to work we need to create more domestic markets for the material because relying on countries to take our waste is unjust and ineffective. This type of policy levels the playing field for manufacturers, so that they all are forced to purchase more recycled plastic materials and reduce reliance on cheap virgin plastic that creates carbon pollution. Using recycled plastic to make materials instead of brand new virgin PET plastic results in a 67% reduction in carbon pollution and greenhouse gas emissions.
Closing the loophole that allows out-of-state waste to flow into Juniper Ridge Landfill will pressure us to find more effective ways to manage PFAS-contaminated sludge until we can eliminate the use of these toxic chemicals altogether. The state bought Juniper Ridge to prevent Maine from being a dumping ground for other states, but a legal loophole allows for out of state waste go there so long as it touches a Maine waste processing facility first. As a result, 30% of the waste going into JRL is from out of state, and the PFAS-contaminated sludge problem is making it worse. We're working with Don't Waste ME, Community Action Works, and the Penobscot Tribe to pass a bill this legislative session that will reduce the fill-rate at JRL.
We also need to act now to phase these chemicals out of production, which is why NRCM and the Environmental Priorities Coalition are focusing on passing a bill that would phase out the use of toxic PFAS chemicals in Maine.
We must move quickly to adopt these sustainable waste solutions for a better future for everyone. We'll need your help to get it done. The bills have been submitted, but not printed yet so make sure you're signed up to receive our action alerts, and visit our legislative bill tracking page to learn how to get involved today!
—Sarah Nichols, NRCM Sustainable Maine Director