You know how the old Andy Williams holiday classic goes: "It's the most wonderful time of the year…" Well, the time between Thanksgiving and New Year's Day is also the most waste-producing. During the gift-giving season, Americans generate 25 percent more waste. According to the EPA, it weighs in at about 1 million extra tons—wrapping paper, packaging, food, travel, and so on. Fortunately, greening your festivities doesn't mean you have to be scrooge. I've provided lots of tips to 98.9 WCLZ radio for our Maine Green Minute in past years, and for your holiday convenience, I've have pulled them together here. If you have a favorite holiday (or other green) tip, send it along at nrcm@nrcm.org. Meanwhile, I hope you enjoy these!
Enlighten the Tradition: For many people, it's just not the holidays without twinkling lights. If you're still using old lights to decorate for the holidays, join the LED revolution. LEDs, or light-emitting diodes, use up to 90 percent less energy than traditional lights and last longer. Depending on how many lights you use, you could save between ten and several hundred dollars during the holiday season.
Choose Less—or No—Packaging: One way to cut down on gift-giving waste is to buy gifts that come with less packaging—or don't buy gifts at all. Giving the gift of service—doing errands, housecleaning, or cooking meals, for example—is a great way to show you care. If you're wrapping, use recycled paper or reusable gift bags.
Carpool to Parties: Carpooling with other party guests builds the fun atmosphere while reducing climate-changing pollution. If you're hosting the party, connect your guests for rideshares.
"Star" Your List: If a new appliance is on your holiday wish list, be sure Santa knows that Energy Star-certified appliances are the most efficient models, saving you money every time you pay your electricity bill and reducing the amount of pollution produced by your home. Energy Star clothes washers use about 20 percent less energy and 30 percent less water than other washing machines. An Energy Star fridge can save you 15 percent compared to non-certified models.
Get Crafty: Maine craft fairs are a great place find quality items and meet the people who made them. Decorate your packages with pine cones, acorns, and other items from around your yard. Recycle old cards to make gift tags.
Skip the Disposables: When hosting big dinners such as during the holidays, it may be tempting to use disposable plates, cups, and utensils. Instead, use the opportunity to bring out that special china. Cloth napkins add a touch of warmth and cut down on waste. Try making your own centerpiece out of pine cones and dried berries you can find near your home. Compost food scraps, and be sure your dishwasher is filled to capacity, since on average, they use between seven and 15 gallons of water per wash.
A Locally Grown Holiday Meal: Whether you're hosting Christmas dinner or bringing a dish to someone else's event, make it as fresh and tasty as it can be by buying your food at a local farmer's market. Buying locally puts far less global warming pollution into Maine's air and supports your neighbors.
"Locally Written" Gifts: When it comes to local grown, why keep it to the meal? Many NRCM members have published books that make excellent gifts: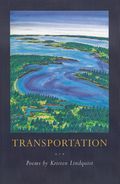 Transportation, by Kristen Lindquist. In addition to being a published author whose poems ("Transportation" and "Full Moon") have been read by Garrison Keillor on "The Writer's Almanac," Kristen is a birder, and her passion runs through her excellent book of poems. Perfect for the poets in your life. To purchase, contact Kristen at kelindquist@gmail.com.
Dancing Bear, by Diane Schetky. Diane's book captures the tremendous joy she gets by observing nature. Diane's book is available at many Maine bookstores (Gulf of Maine in Brunswick, Owl and Turtle in Camden, and Coast of Maine Book Store in Damariscotta) on Amazon.com and at Xlibris.com.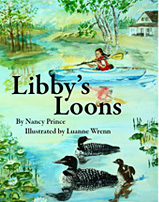 Libby's Loons, by Nancy Prince. This is a wonderful picture book about a loon family, with beautiful illustrations by Luanne Wrenn.

A Moment of Water, by Ann Flewelling. Ann's book of photographs beautifully illustrates her deep love for Maine's environment, from the Crown of Maine to Downeast. Her book is available at her website http://www.annflewelling.com/a-moment-of-water.html.

Maine's Favorite Birds, by Allison Childs Wells and Jeffrey V. Wells. If you enjoy birds and art, this could be your book! Written by yours truly and my husband Jeff, it features beautiful illustrations of the birds you're mostly likely to see here in Maine. Includes ID tips, habitat info, song descriptions, birding hotspots, and more. Check your local bookstore.
The Gift of Maine's Environment: If your special someone loves Maine, how about a gift idea that'll last for generations? Give a gift membership to the Natural Resources Council of Maine.