Sustainability is a goal. It's a quality that we humans need to uphold in order make sure that future humans (and animals, of course) have what they need to live healthy lives after we're gone. Think of the survival basics like clean water to drink, clean air to breath, resources to make food, clothing, and shelter. There's no doubt that humans also need economic and social sustainability to thrive while they survive, and the most coveted sustainability sweet spot is where economic, social, and environmental sustainability intersect.
A good friend of mine once said, "Taking care of the environment is like taking care of your health—if you aren't healthy, then all the other stuff you do doesn't matter." That made a lot of sense to me, and it's why I do what I do. In fact, I think that I can sum up everything that I've just said in one Venn-Diagram: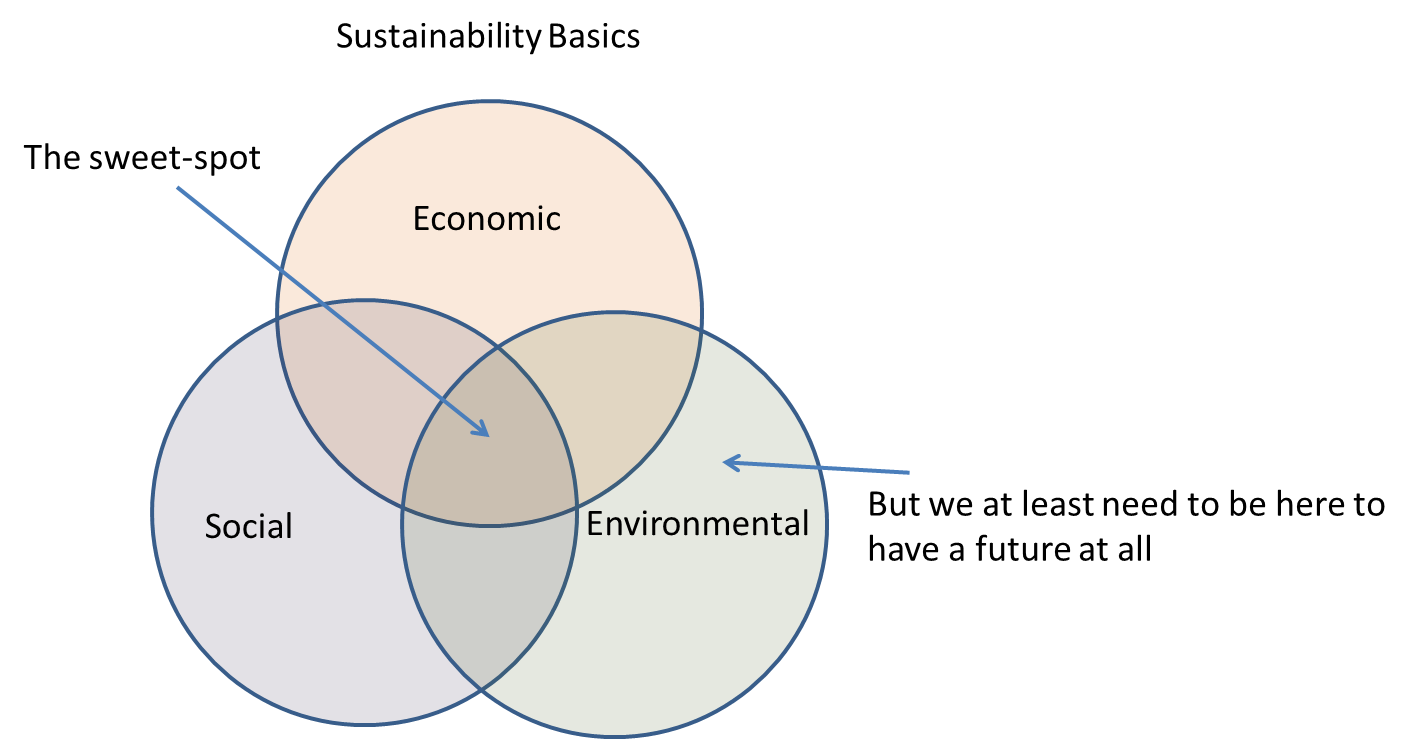 Many of the things we currently do on this planet are environmentally unsustainable. This means that at some point humans will no longer be able to do those things because we will have depleted, polluted, or destroyed the resources we need to sustain that activity, or worse, maybe even life on earth.
Eek! That got dark pretty quickly, and that's not what the Spotlight on Sustainability in Maine is about. Rather than promulgate bad news stories that make us feel depressed and helpless, we'd prefer to tip our hat to the people and communities in Maine who make life here more sustainable.
And that's what the Spotlight on Sustainability in Maine is—a compilation of stories showcasing environmental sustainability efforts taking place around the state that deserve a little celebration. These posts are meant to inspire readers to follow suit, or at least sit back and say, "Hey, I'm proud to live in the great State of Maine because I care about sustaining our environment and our future, and people in Maine are a pretty amazing group of individuals who are doing just that."
If you are in need of a generous dose of the warm 'n fuzzies and you'd like to restore some faith in humanity, then I urge you to read on! If you find yourself clicking from story to story and getting lost down the proverbial "rabbit hole" (the way you do on Pinterest), then NRCM has done its job.
Our sustainability radar is always on, and we love to share. Guest posts and alerts about interesting sustainability stories are always welcome! Whether it's a story about fresh local foods, clean solar energy, reducing waste and litter, or repurposing old stuff, there are many ways to say (?) sustainable in Maine. Just make sure to run your story by these two criteria 1) Is it good news for our environment? 2) Does it involve Maine or Mainers? If so, then it belongs in the spotlight.
Sustainably,
Sarah Nichols, NRCM Sustainable Maine Director