Since 2009, the Natural Resources Council of Maine has partnered with traditional Maine sporting camps to offer discounts to NRCM members on stays and activities at the various camps. Several years ago, we added guiding services, and for the past two years, we have partnered with Nicolle Littrell, open-water rower, licensed Maine Guide, and owner/operator of DoryWoman Rowing in Belfast, to offer a discount on rowing excursions. Below, read about the opportunities awaiting you at Nicolle's one-of-a-kind rowing service.  
Winter seems a distant thing. I operate a unique rowing service, DoryWoman Rowing, offering lessons, tours, workout, and specialty rows in Belfast Bay in my traditional-style wooden dory. I row year-round. Rowing in snowstorms, fierce northerly winds, and navigating ice floes is now but a memory. Trying not to get too winsome here!   
Though I do love rowing in the winter, there's something special about being out on the water in the spring. I call it the season of newness. New growth, new energy, new birds migrating back to this watershed, and new boats out on the water. The harbor of the "biggest little city in Maine" is teeming with newness!   
This also means new people in my boat! There's a surge this time of year, as if people have been waiting in the wings and are suddenly flung free to get back out on the water. Like witnessing the blossoming trees and flowers, it's a delight to see the smiles that bloom on the faces of the folks that join me in my boat, whether that be in response to watching a seal surface nearby, an Osprey soar overhead, when rowing technique clicks…the simple joy of plying a small craft through big water with your body alone. Most of the new people who join me have never rowed before, so the newness extends to trying something new: rowing a traditional-style wooden boat in open water.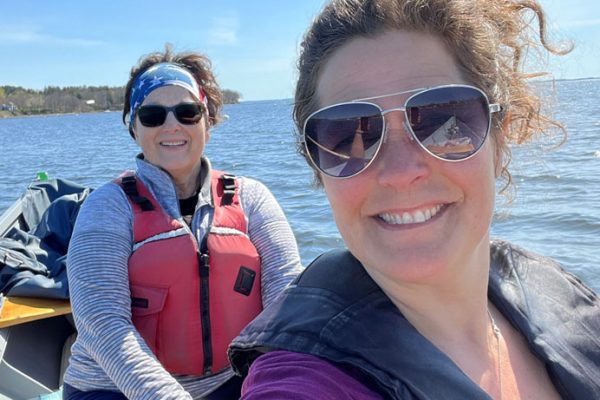 I'm in my second full year of business in Belfast. The spring season is the time for me to try out new ideas I've been fermenting over the winter. My dory is most certainly my muse, inspiring creativity and playfulness. In late April, as part of Maine's Seaweed Week, I offered the very first-ever Seaweed Row! This was a new collaboration with Kim Grindle of Isleboro Oyster. Kim is an aquaculturist who grows oysters, kelp, and urchin in Penobscot Bay. The Seaweed Row offered a unique and rich experience. This included rowing out to the kelp farm in Belfast Bay, managed by the Marine Institute at the Belfast Area High School. We pulled up to one of the moorings and checked out the long fronds of gorgeous golden kelp growing on the lines. Kim brought several other varieties of seaweed to share, offering her knowledge and expertise and a sensory "touch tank" experience in the boat. And did I mention the oysters? These were available as an add-on to the row, with Kim shucking the oysters right on the boat! The briny menu was complemented with other seaweed products, including Kim's seaweed seasoning (delicious on the oysters), seaweed popcorn, seaweed tea, and seaweed-infused chocolate! It was fun collaborating with another small, woman-owned business, learning more about Maine's growing aquaculture industry and showcasing some of Maine's fine seaweed products, all while rowing around Belfast Bay!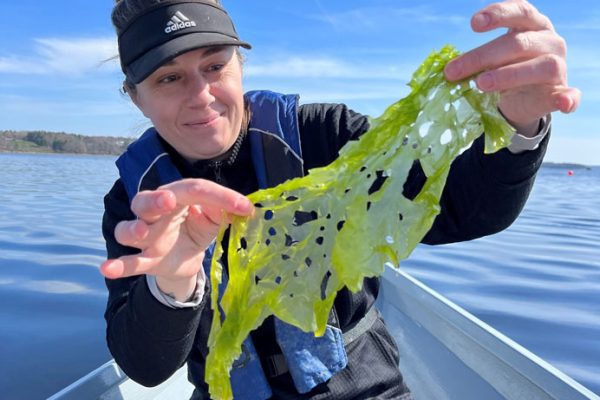 I'll be offering more of these unique opportunities in the coming months, including a Sunset Oyster Row throughout the summer and early fall and also a Row-Yoga workshop in early July with Maine Yoga Adventures. 
With longer days and more light, spring evenings are also sublime for my Full Moon Row. In early May, we rowed out into the bay in beautiful flat water, perfect conditions for watching the Flower Moon rise over Isleboro. A seal fished near my boat, in water reflecting the rich palette of the sunset. Tiny silver fish jumped out of the water like reverse raindrops. Could anything be any more magical?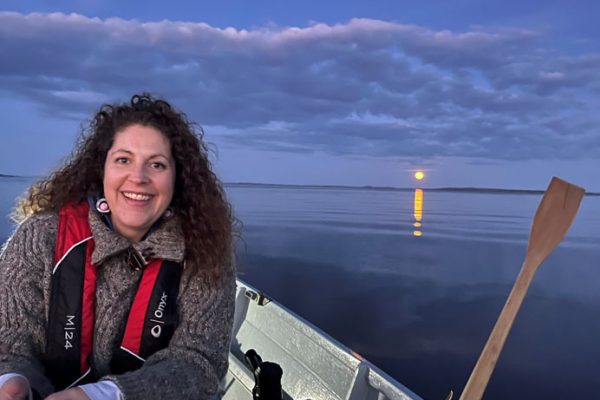 I'm fortunate to live and work in a watershed where on one end, we have the ocean and the other, a tidal waterway.  It's hard not to feel spring's regenerative energy rowing up the Passagassawakeag River. One day there is an absence of color and then the next, trees are filled with golden green hues, reflecting beautifully in the water, which is dusted with pollen. Spring breezes are also a constant companion. In this shoulder season, this can mean a fierce blow out of the Northwest or a warming breeze out of the Southwest, seemingly at nature's whim. Early May also saw a fierce storm out of the East, perhaps one of the most damaging gales since the big storm of this past December. I pulled my boat out of the water for safekeeping at a friend's river property, parking her up on a grassy, vibrantly green bank.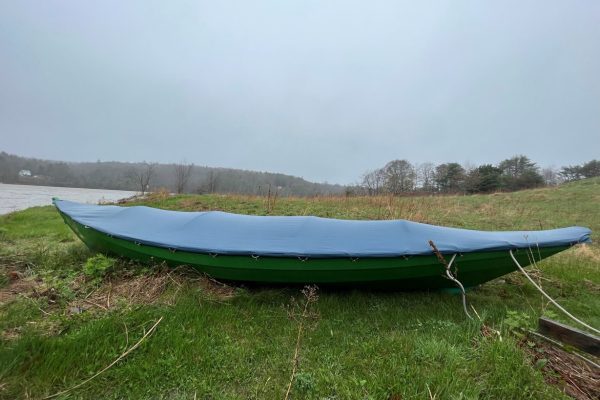 Storms push human-generated trash into the water. In many towns in Maine, including Belfast, spring also means community clean-up days. This year, I participated for the first time in the "Keep Belfast Beautiful" event. My DoryWoman Rowing team and I had planned for on the water detail. Sadly, pulling trash out of the water is a regular occurrence for me on my rows. 
However, on the day of the clean-up event, the wind was far too strong, so my team and I trekked up to a beach on the Passagassawakeag River that, due in part to the geography, is a receptacle for trash swept in on incoming tides. We filled three garbage bags with plastic and Styrofoam, which, of course, never goes away as it breaks down. 
Though it felt good to participate in this small act of stewardship, it is very saddening to see how much trash we humans create and to consider our impact on this ecosystem. Upriver is home to many bird species. In the spring, this includes Hooded Mergansers, Common Eiders, Mallards, Canada Geese, Great Blue Heron, Cormorants, Osprey, Bald Eagles, Belted Kingfishers, and American Black Ducks. Part of my mission with getting folks out on the water with DoryWoman Rowing is to cultivate caring about place–this place–but also the places my clients come from. To bring that home, so to speak.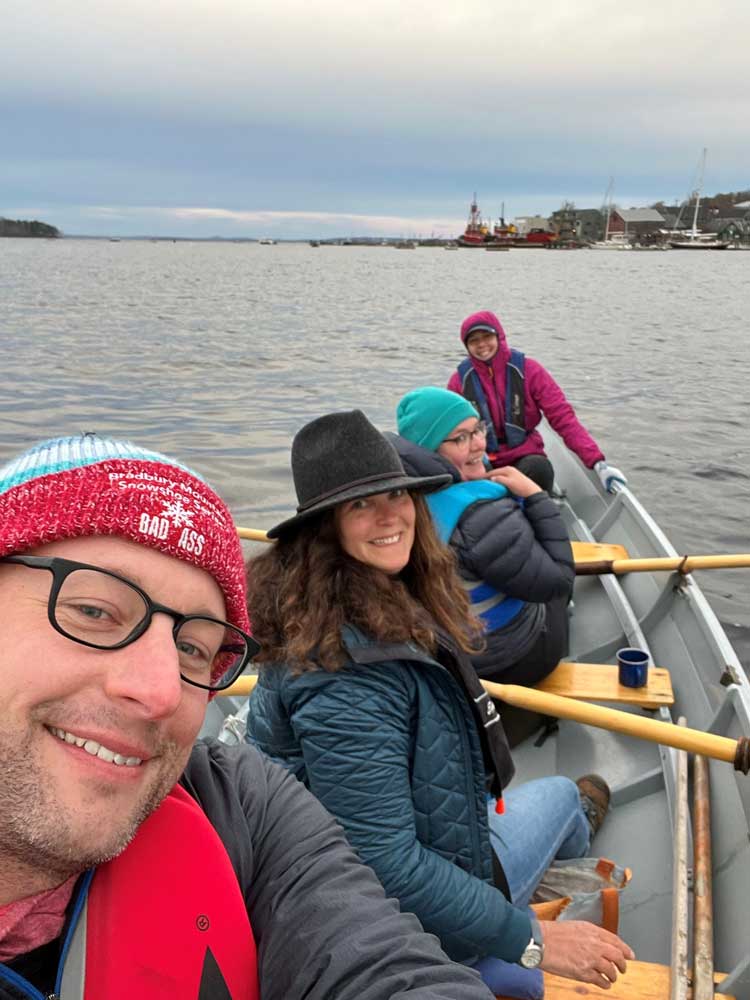 Spring brings many things to see, experience, and care about in this watershed. My boat is a chariot to an up close and intimate encounter with this beautiful marine environment and the wildlife that lives here, throughout all four seasons. I hope you will join me for a row in this season, the spring. You can help pull trash out of the bay! Or enjoy a plate of delicious oysters.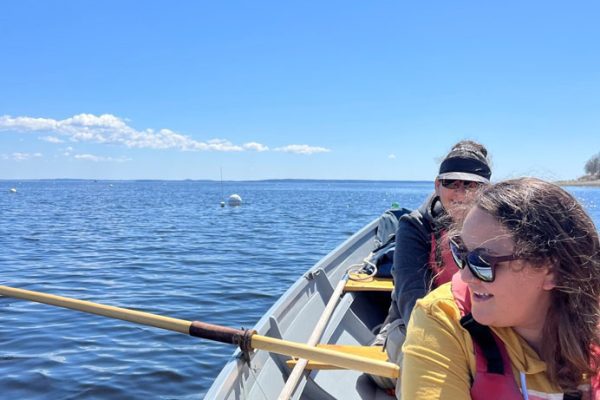 -Nicolle Littrell, open-water rower, licensed Maine Guide, and owner/operator of DoryWoman Rowing in Belfast
To learn more about Nicolle and DoryWoman Rowing, please visit dorywomanrowing.com
Follow DWR on Instagram and Facebook.
[All photos courtesy of Nicolle Littrell]