In Maine, word of mouth holds a lot of weight. The best hidden outdoor nooks, secret gems, volunteer opportunities, and pristine hiking trails that I've discovered have come through a combination of unflagging curiosity and generously offered insider tips. So, when two separate Mainers independently approached me about Wild Seed Project, I knew I had to check it out. A quick Google search confirmed these relational endorsements, and with that I had my next weekend adventure planned. 
Wild Seed Project, founded in 2014, was recently featured in a New York Times article and has been rapidly expanding the scope and scale of its work. And for good reason—they do really cool stuff! The nonprofit organization is dedicated to rewilding the landscapes of Maine by repopulating our state with native Maine plants grown from handpicked seeds. This work seeks to counteract the negative changes humans have made to natural lands over time, but its impact is even farther reaching. Rewilding bolsters ecological health, restores biodiversity, mitigates climate change, improves aesthetics, supports human populations, and illuminates the many ways in which colonization has been extended through our natural landscapes. After eagerly taking their Pledge to Rewild (you should, too!), I reached out to Wild Seed Project staff and was quickly and cordially invited to not one, but two opportunities to see their work in action.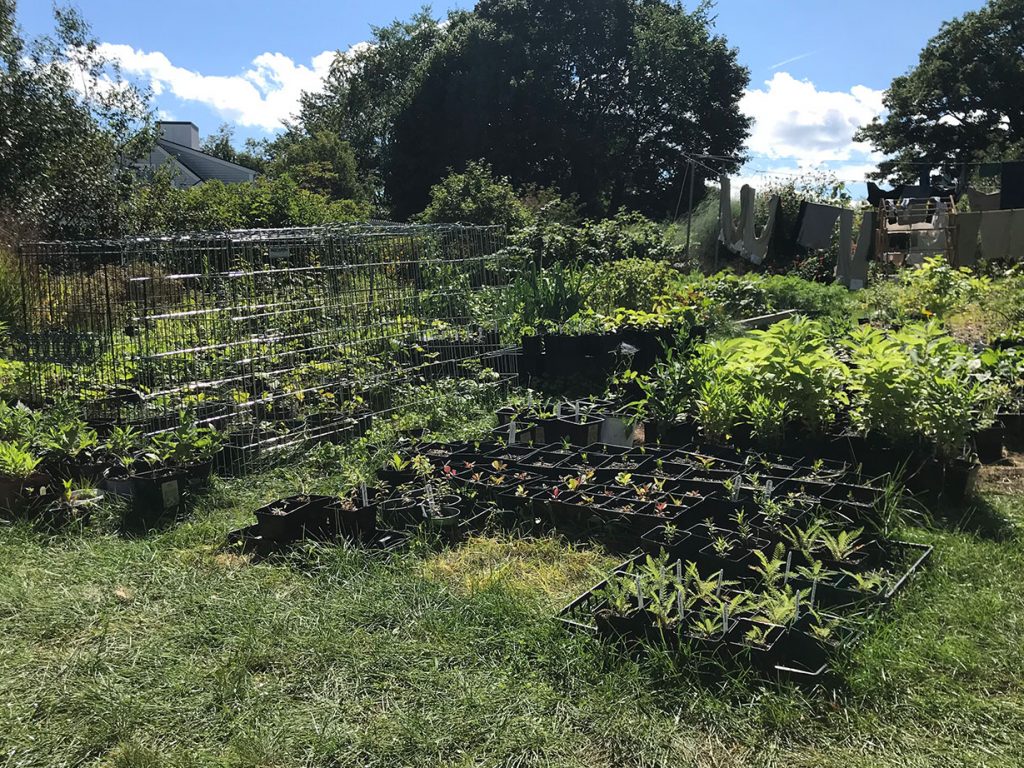 I first scooted over to Wild Seed Project plant sale that took place over the weekend of September 10-12 in South Portland at the beautiful property of Gregg Raymond and Jamien Jacobs. Gregg and Jamien are over a decade into the process of rewilding their 1-2 acre property in the South Portland suburbs, and the results are truly stunning. A far cry from the typical suburban lawn and hedge arrangement, the backyard (back forest?) was full of life in all forms. Staff, volunteers, dogs, birds, bees, and buyers bustled around me in a frenzy of happy energy as over 1,700 seed-grown seedlings made their way from the lawn to the driveway to the homes of proud new plant parents.  
This array of life blossoming amidst a row of suburban homes is no coincidence. Native plants bring with them an entire ecological community that has been replaced on many properties by competitive Eurasian grasses, invasive species, and impotent nursery plants. Andrea Berry, the Executive Director of Wild Seed Project, was kind enough to get me up to speed when I arrived. She emphasized that typical land use practices employed by today's homeowners are misaligned with the natural processes that have evolved to fit Maine's climate over millions of years. The grasses our predecessors imported from Europe provide little biological value to the landscape, while many nonnative plants we purchase from nurseries have been genetically modified to the point of sexual dysfunction, reducing them to little more than splashes of synthetic color. On the other hand, native plants that have evolved to live here over millennia have done so alongside a variety of flora and fauna that mutually reinforce each other and create the beautiful webs of life that define Maine. When we reintroduce native plants, we are providing the foundation of a life cycle that supports native pollinators, avian species, insects, mammals, reptiles, amphibians, decomposers, and, ultimately, us.  
Driving home from the plant sale with a newly developed enthusiasm for natural landscaping, I couldn't help but notice how prevalent nonnative species are in our urban and suburban terrain. Nearly all of the homes I drove past had mostly lawn acreage dappled with manicured shrubs, tropical flowers, and the occasional native tree. We've clearly adopted an ideal that is not at all based in the land that surrounds us, but is rather rooted in a conception of aesthetic beauty that was developed by colonizers. This seems silly upon reflection, particularly given the amount of effort that goes into maintaining such nonnative spaces. Mowing the lawn with inefficient, pollution-spewing equipment, defending transplanted flowers and shrubs from natural pests, purchasing new soil and toxic weed killers, is ostensibly doing battle against the earth to preserve a human sanctuary that gives little back to its surroundings. It seems even sillier given the self-evident truth that Andrea put eloquently into words: "What is beautiful is what is best for our ecosystems."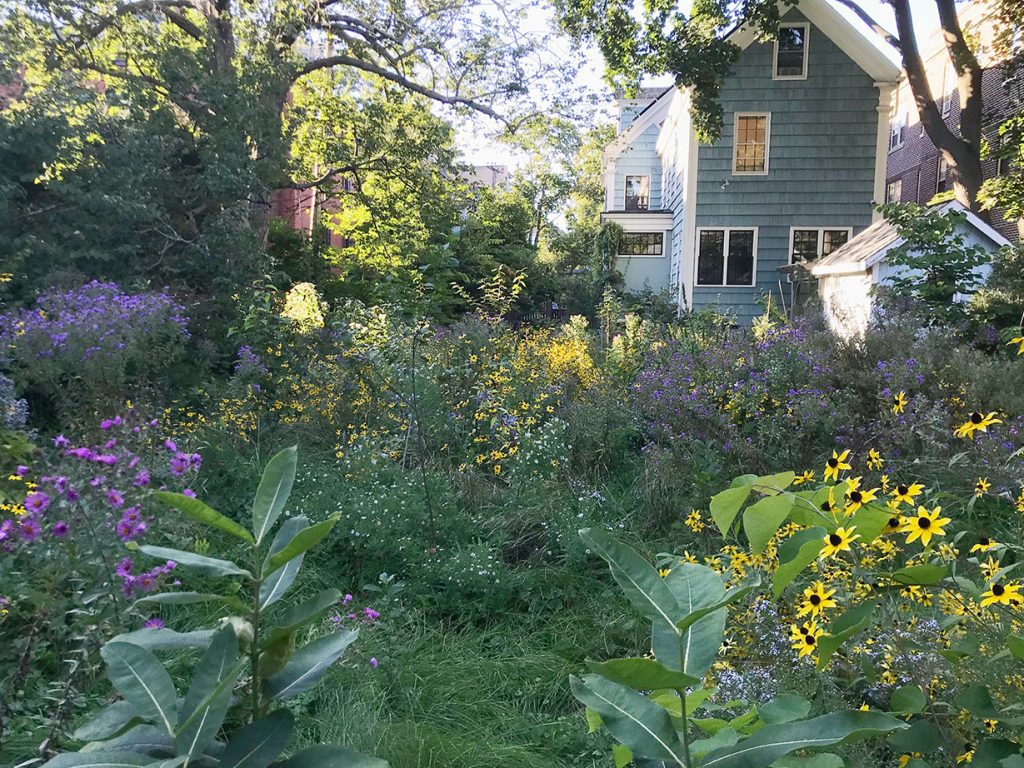 I came to my next encounter with the Wild Seed Project bursting with questions that had been stewing since the plant sale. Fortunately, I was meeting with the right people at the right place for those questions to be answered. Heather McCargo, the founder of Wild Seed Project, was kind enough to have me to her own home in Portland to see what a residential space looks like seven years into a rewilding commitment. We were joined by Anna Fialkoff, Wild Seed Project's program manager who was largely responsible for the immense success of the previous weekend's plant sale.  
The depth of knowledge held between those two could fill many books, and I was surprised when we reached the end of our allotted hour together and had to move on to other commitments. I couldn't hope to recount the names of the various plants that I was introduced to, but I can say that the coalescence of flowers, fruits, leaves, and wild grasses composed one of the most beautiful suburban landscapes I have ever seen. A gentle hum evidenced the presence of pollinators flitting through the greenery, but only once I chose to focus on a single patch did the incessant motion of the benevolent insects become apparent. 
Heather's property has far surpassed the 70% native biomass standard that allows for a healthy residential environment, and it's now easier for her to maintain than a typical lawn. The 70% standard is guided by the preeminent Doug Tallamy, a wildlife ecologist whose research and book Nature's Best Hope inform movements like rewilding across the country. It is the goal of Wild Seed Project to enable as many Mainers as possible to strive for that 70% native biomass standard by providing a suite of educational materials alongside the actual seeds to make it happen. 
It was easy to get lost in the scenery of Heather's property, but I managed to take away several important themes from my time there. First, and perhaps most important, there is no wrong way to rewild. Wild Seed Project has all the resources you'll need to do what's best for your property and/or your community, but the process is ultimately an easy and rewarding one that takes place incrementally over time. There is no need to burn everything to the ground and start anew. Native plants thrive here for a reason, so you're already well on your way by removing invasives and planting a native tree or two. Eventually, you can chip away at your lawn by planting native undergrowth, and before long you'll be spending less time on yardwork and more time watching the bees.  
Next, the rewilding process allows people to become more connected with their surroundings. Heather noted that we have largely become plant- and insect-blind due to our lack of interaction with the natural world around us. By putting intention toward reintroducing native plants, you are simultaneously educating yourself about Maine's ecosystems and learning about your position among them. In this way, rewilding helps to decenter people and expand the scope of our perception to the species around us that make our lives possible. This also instigates reflection upon the ways in which harmful colonial practices are perpetuated through our land use, pushing the natural to the periphery, often violently, in favor of the convenient. 
Finally, you don't have to be a homeowner to participate in rewilding work. Property boundaries are arbitrary to the land beneath, so anyone can participate in rewilding. Tenants can introduce potted plants and windowsill gardens that support native pollinators, community members can advocate for native planting in land use planning decisions, public spaces can be enhanced with native plants, and educational materials can be shared among social networks. The resources offered by Wild Seed Project are free to use for all, and the cost of seeds is much lower than the cost of nursery plants.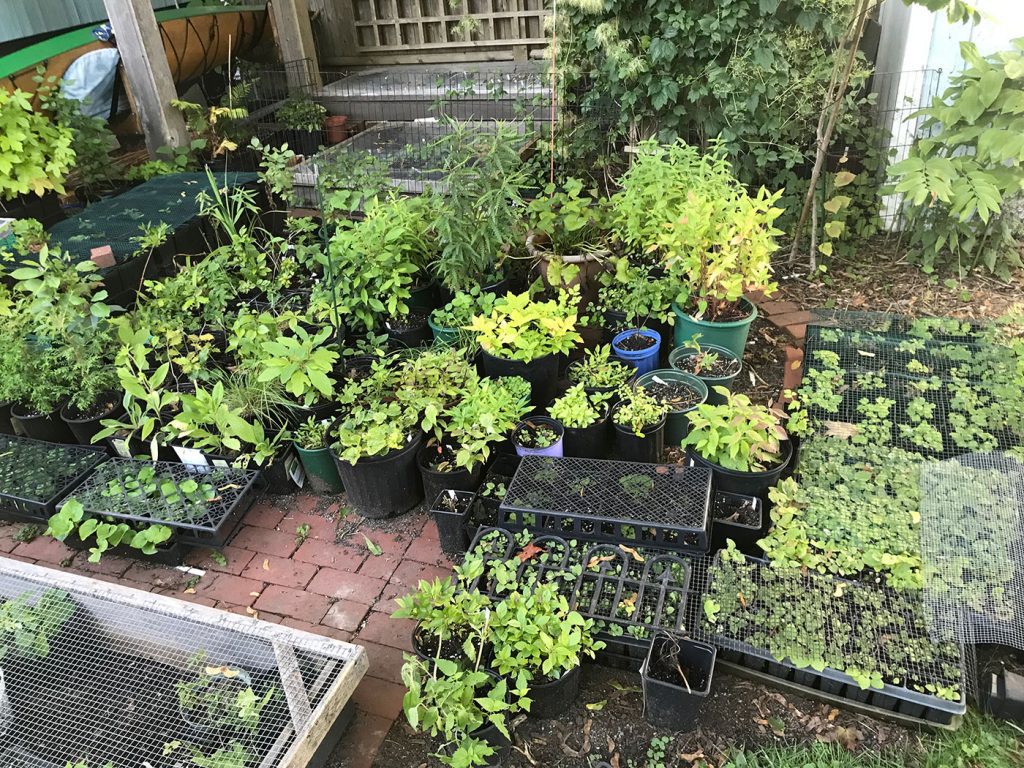 Historically, conservation and environmental efforts have focused on the vast tracts of land that are already deemed "wild" due to their remote locations and sparse human populations. We now need to recognize that our living spaces are not foregone conclusions, but that conservation and land stewardship must also be practiced at home. Wild Seed Project has not only made this evident, they've made it easy and appealing. So, be sure to take the Pledge to Rewild to get updates about how to begin rewilding your space, and check out the ways in which you can contribute to the efforts of Wild Seed Project. 
 —by Josh Caldwell, NRCM Climate & Clean Energy Outreach Coordinator