Where can you find an ocean laboratory, a bridge in a backpack, and the world's largest 3D printer?
Look no further than the University of Maine's campus in Orono. Recently, a group of staff from the Natural Resources Council of Maine had the chance to visit the Advanced Structures and Composites Center (ASCC). While the outside of the building looks unassuming, the inside is anything but. It's filled with marvels of sustainable engineering working to bring green energy and materials to Maine and beyond.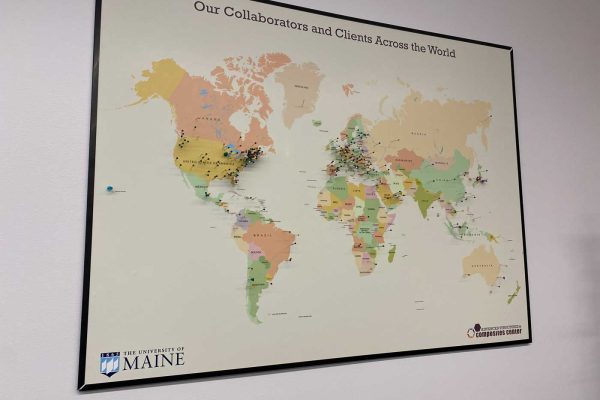 The Center's Executive Director, Dr. Habib Dagher, offered us a tour of the lab and shared some of the work being done with the help of UMaine students to solve real problems. A few facts:
300 people work in the Center;
2,600 UMaine interns have worked in the facility;
204 patents have been issued;
50 global partners are contributing;
the work has resulted in 760 journal publications; and
the Center is a leading producer of cutting-edge offshore wind technology.
As noted above, one of the major areas that the ASCC is working on is the development of floating offshore wind technology. The Ocean Engineering Lab team is the largest university-based research team focused on floating offshore wind, next-generation turbines, optimized novel hull/mooring concepts, and coastal resiliency in the world. Dr. Anthony Viselli, Chief Engineer from Cooper, Maine, along with additional team members, provided a demonstration of their lab in action.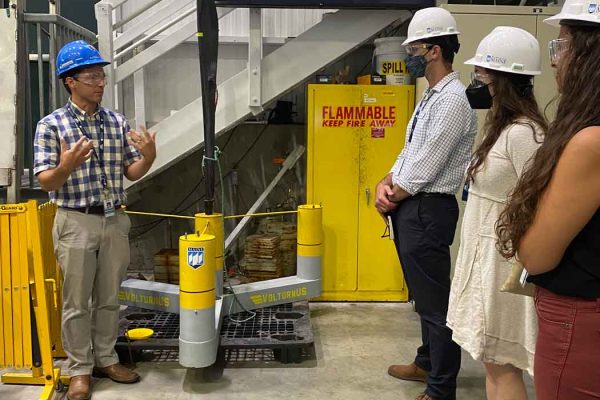 The team is testing on a 1:50 scale to develop safe, reliable, and cost-effective technology. The wave-wind simulation basin is an impressive site at 100 feet long, 30 feet wide, and 14 feet deep! As they powered everything up, we witnessed the wave paddles and fans at full force to simulate the scale of wind and waves conditions that represent some of the worst storms possible anywhere on Earth. This facility mimics real ocean conditions to ensure that all of the offshore wind made and deployed in Maine will be durable, safe, and long-lasting.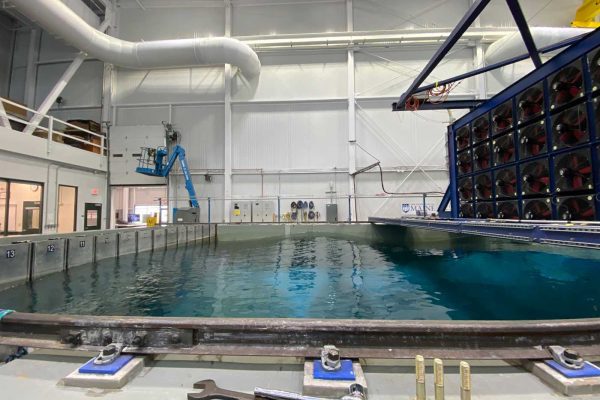 Bringing Maine-made offshore wind technology to the Gulf of Maine would create good-paying jobs, generate large amounts of clean energy, and help make us more energy independent. The Gulf of Maine has some of the fastest and most sustained wind speeds in the world, and floating offshore wind in the Gulf could provide the clean power we need to electrify our buildings, as well as our cars and trucks. The research and development being done at the ASCC is advancing the technology that could make that happen.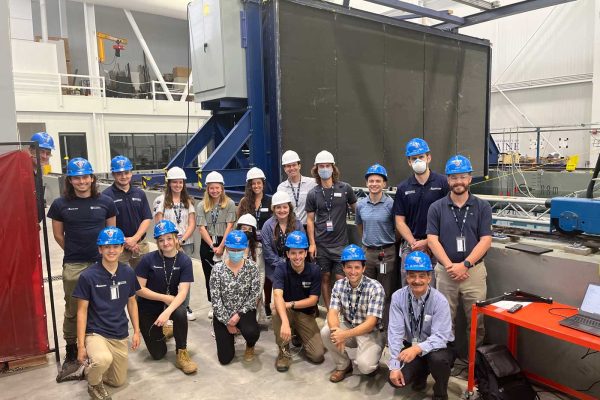 While on the tour we saw several other areas and innovations:
The World's Largest 3D Printer
Who would have thought the world's largest 3D printer existed in Maine?! This large-scale printer uses plastic resin combined with wood residuals to create building materials and boats, and they are even working on printing a small, affordable house.
3Dirigo, the boat they printed in 72 hours, has two Guinness World Records: 1. the world's largest 3D- printed boat, and 2. the world's largest 3D- printed object.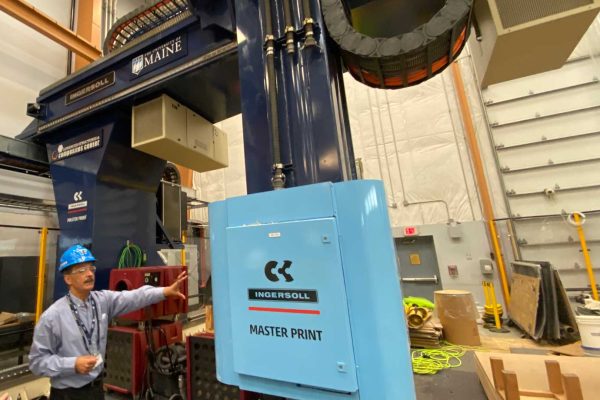 Wood Composites
The ASCC is at the forefront of testing and manufacturing forest product innovations to better utilize Maine's forest resources and diversify Maine's forest economy. Russell Edgar, Wood Composites Manager, showed us how "'mass timber,"' or the use of large wood-based panels, such as cross-laminated timber, can be used for wall, floor, and roof construction. Russell explained how this type of building material usually is less wasteful, faster to put up, and has lower embodied carbon than concrete and steel buildings, and it provides inherent fire resistance due to the nature of thick timber charring at a slow and predictable rate.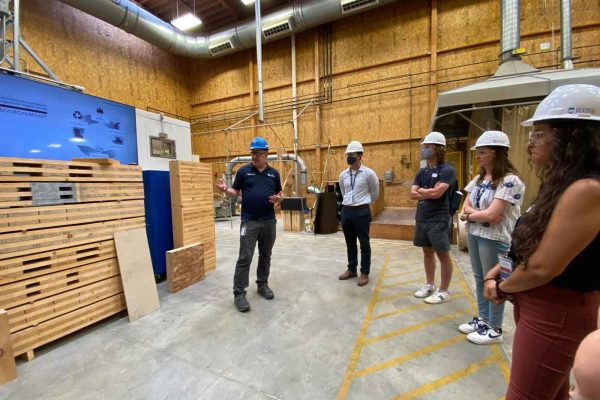 In this lab, UMaine is also exploring how to use Maine's wood resources in new and different ways. We stopped by a machine that Dr. Dagher compared to a "'pasta maker"' that extrudes products of pre-determined shapes to test various "recipes" of wood residuals and other synthetic materials, with the goal of moving toward an entirely bio-based product. We watched as boards were pushed out.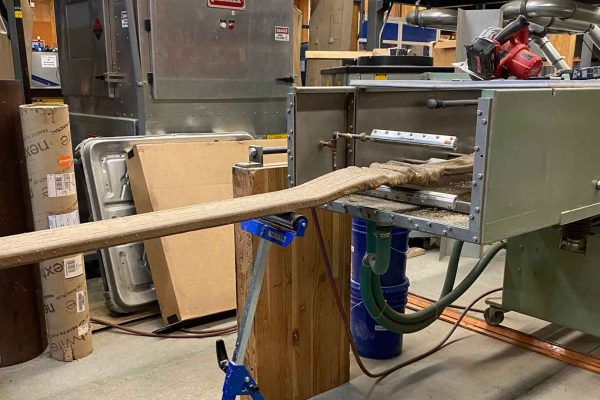 Bridge in a Backpack: Composite Arch Bridge
Their Composite Arch Bridge System, also known as the Bridge-In-A-Backpack, is a lightweight, corrosion-resistant system for constructing short/medium bridges. The technology reduces the time to build bridges, reduces costs, and has received several awards. The FRP composite arch tubes act as reinforcement and a form for concrete. They are easily transportable (like in a hockey bag!), deploy rapidly, and don't require large crews.
Structural Thermoplastics
They are developing the next generation of "recyclable" structural thermoplastic composites that save energy, reduce waste, and allow for making parts faster, cheaper, and more reliable. We were shown how this layering technique works, and our hosts compared a standard vehicle part with one made from recycled thermoplastics.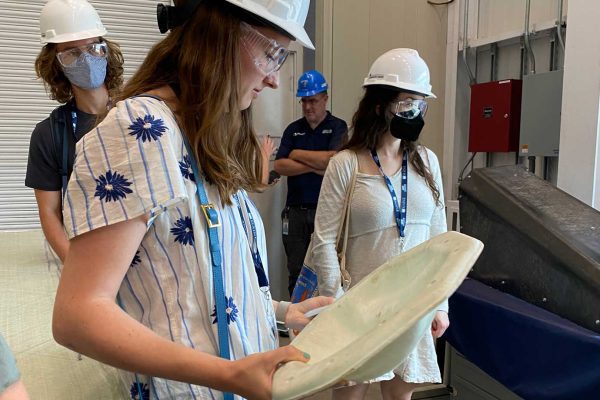 …And More
Wind blade testing, origami-inspired box structures that can be rapidly deployed in disaster responses, and validating a Hypersonic Inflatable Aerodynamic Decelerator (HIAD) model for NASA Mars landings are just a few other projects being worked on in the Center.
It's inspiring to see all of this great work happening here in Maine, and we look forward to seeing how this new technology will help build a more sustainable future. Maine is a leader in tackling climate and sustainability issues, and the research that's being done here at the UMaine lab in Orono is playing a key role in developing solutions across the country.
—by Sarah Bierschwale, Digital Content Manager