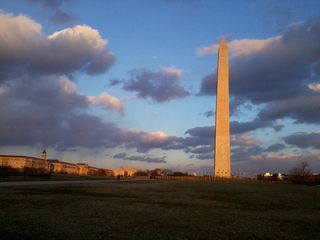 The sun sets on a great day of climate action
What an amazing day! We were just featured on the WCSH-6 TV news at 6:00. We have gotten back to the bus and are headed home. Hopefully the wind and snow have stopped by the time we get home tomorrow morning.
Please share your thoughts about the rally here on our blog in the comment section of this post. What were some of the highlights of the day for those of you who were there?
When you get home and are rested, please don't forget to share your photos with us. You can email them to 
nrcm@nrcm.org
We are at the White House
And look who we ran into!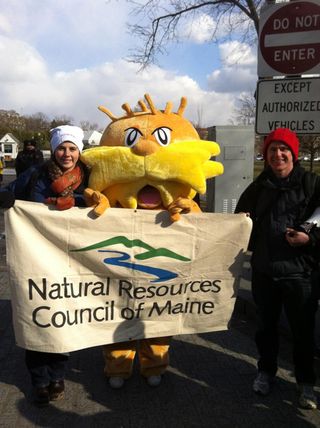 The speakers were amazing. Now, we are getting ready to march to the White House. What an amazing event. The official count is more than 35,000 people in Washington, DC to make our voices heard on climate change. We have been having an amazing day! There are a lot of new photos posted on our 
Facebook page
. Check them out and please send yours along to 
nrcm@nrcm.org
.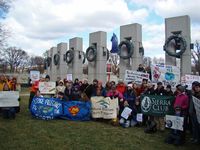 Mainers Gather
Because people headed to Washington by car, bus, and train, we decided to have a common location at which everyone could meet in advance of the noontime rally. We gathered, along with several other groups from Maine, at the World War II memorial to greet each other, get even more energized for the rally, and have a chance to talk about what this rally means to all of us in Maine. We want climate action now. We want tar sands oil to stay out of our state. We want to make a difference. If you want to make a difference, write to President Obama and add your voice to the thousands of voices in Washington, DC, telling him that we demand climate action NOW!
Sunday Morning, 7:30 a.m.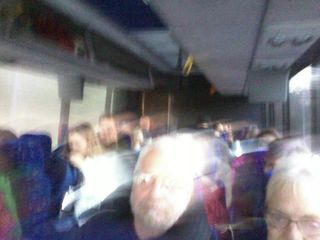 The photo is a little blurry, but I wanted you share a photo from the bus at 15 minutes
from our destination (7:30 a.m., Sunday, Feb. 17). Excitement on the bus is building as we look forward to our arrival and the reason we're here: to send a clear message to President Obama and Congress that it's time to move #ForwardOnClimate!
 Good morning from Maryland
It is 7:00 a.m. and we are in Baltimore. Lee, our driver, did a great job driving through the night. We saw some snow in Connecticut and Massachusetts but no snow is in sight this morning. Well, we understand that there is some snow back in Maine, but none for us. At our third pit stop, we had a chance to visit our 350.org Massachusetts friends. Everyone is so excited to get to Washington this morning! Thanks to everyone for your support. We expect more than 200 Mainers to meet us for a Maine rally in advance of the bigger rally. Just a reminder, Mainers will be gathering at 11:00 a.m. at the World War II memorial. If you are in DC, we hope to see you there!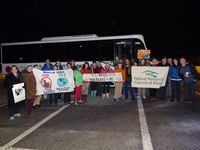 Saturday Evening and…We're Off!
You can see some pictures of our group as we gathered and boarded the bus in Portland, Maine here: http://tinyurl.com/c8ayup5
WCSH-6 came to see us off and talk to some of the folks riding the bus.
Follow our trip on Twitter @NRCMenvironment. You can follow the whole rally at #ForwardOnClimate.
More updates coming in the morning. As of this posting at 10:25 p.m., we have made it to Massachusetts and stopped to switch bus drivers. Our new driver, Lee, is a very strong supporter of climate action. We are sure he will get us to DC safe and sound by morning.
On the Road to Climate Action
by Emmie Theberge, NRCM Clean Energy Outreach Coordinator
I'm headed to D.C. this weekend with 30 NRCM members for the historic Forward on Climate rally. We will join tens of thousands of people from across the nation to march on Washington for climate action!
This is going to be a momentous event. Whether you're meeting us in D.C. or will be watching from home, you can follow the action on NRCM's Facebook page, website, or Twitter feed. We will also be adding updates to this blog post, so come back often to learn the latest from the Forward on Climate Rally.