We've taken great strides building the clean energy we need to help address the climate crisis. But one area where we can still make progress is with offshore wind. We have world-class winds off our coast out in the Gulf of Maine, and if it's developed carefully, offshore wind could help us replace dirty and expensive fossil fuels with clean, reliable, renewable energy. But how much do you know about this emerging technology? Take our new quiz, and earn a free sticker to show your support for offshore wind!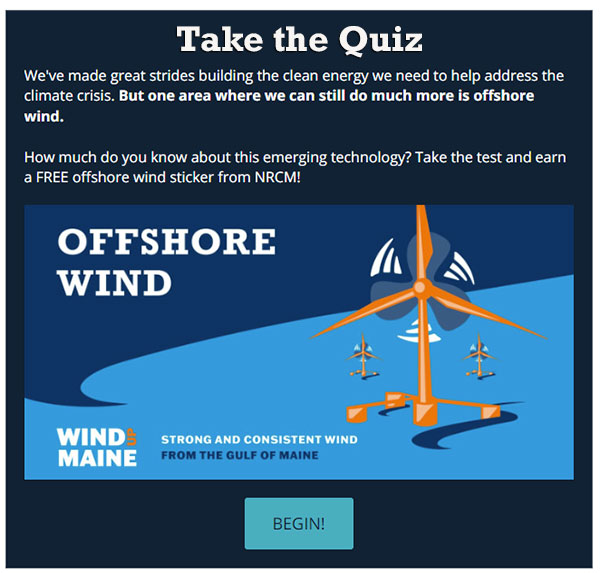 If Maine-made offshore wind is developed responsibly, guided by the best available data and scientific research, we can build a new clean energy industry for our state, reducing harmful climate pollution, and protecting the Gulf of Maine ecosystem and everyone that relies on it all at the same time.
Be one of the first people to take our new quiz, and see how much you know about this exciting opportunity to power Maine's future! Or, if you are not a quiz person but want to show your support for offshore wind, sign the Natural Resources Council of Maine's petition and check the box to request a sticker.
—Jack Shapiro, NRCM Climate & Clean Energy Director
Banner photo courtesy University of Maine Advanced Structures and Composites Center