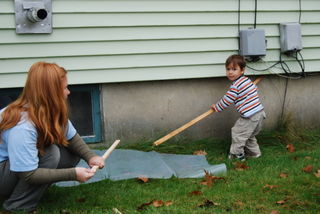 On Friday a few co-workers and I got together and participated in the Keep ME Warm program that Gov. Baldacci has created.  I must say the participation in this was a team effort. Beth started the ball rolling. She had previous obligations and wasn't able to winterize the homes but she pulled together all the materials and the general agenda for the rest of us to take over! Nine of us were able to get together for the first home which was located in Augusta and 5 of us were able to head to a home in Waterville in the afternoon. Gov. Baldacci helped with some winterization on the second home!  We got two homes insulated and ready for winter!!!  What a great feeling.
Some of the things we were able to do for these homeowners was poly windows that had drafts, put caulking on any of the cracks or around window and door frames that were drafty, covered pipes that were not insulated, put foam inserts into sockets and light switch plates, changed shower heads to low flow water shower heads and much more.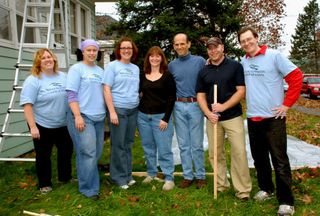 There are numerous reasons why it's important to help out in your community as well as numerous reasons people need help in our community.  If you are willing and able, I encourage you to choose just one day to go out and help someone in need.  You never know the situation that leaves them needing help.  It may just be a one-time need or they may need help now and in the future.  Part of what makes a community are those needing help and those providing help.
Friday was not only a learning experience for me about what I can do around my house but it was also a great way to get to know my co-workers a bit more. I must say, my co-workers are pretty impressive and full of knowledge.  They are a blast to do these things with and make me love my job that much more.
A special thanks to both homeowners, Beth for coordinating, Pete, Leslie, Windy, Stacie, Effrain, Martin, Sara L, Emmie, Dylan, Diano, and Allison, as well as those who ran the office while we were out!