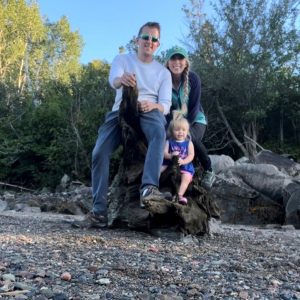 When we got pregnant, we promised ourselves one thing: we would stay true to was our love for hiking and outdoor adventures. It was an important part of who we were as individuals and as a couple.   
I hiked all through my pregnancy. In fact, our two babymoons were hiking trips—one to the Cutler Coast and one to the White Mountains. We hiked while our daughter was a baby. And now that she's a toddler (with her own little set of hiking shoes), we are still hiking.   
But that doesn't mean our adventures don't look different.   
Hiking with babies is easy. You just need some core strength and a good baby carry. Hiking with toddlers requires a lot more patience, preparation, and snacks. (A lot of snacks. If you think you have enough snacks, I can guarantee you don't.)  
Here are my top five tips for successfully hiking with a toddler.   
1. Start Early
We started hiking with our tiny human pretty much from day one. So it's always been part of her life. She essentially learned to walk on hiking trails. Not only does this just make it a natural part of her world, but it has helped her become more capable, earlier on the trails. She can navigate some pretty tough terrain for her age and has a deep appreciation for nature already. And it's all because she's been doing it all along the way.   
2. Realign Your Goals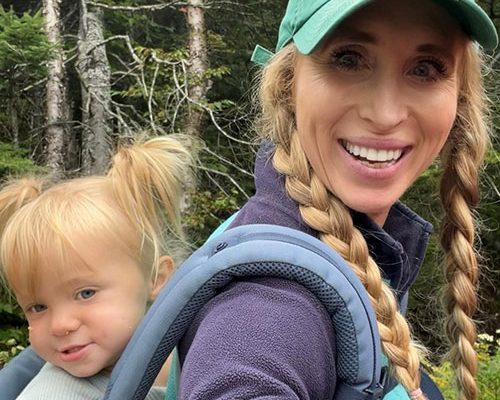 Before kids our goal was to do big hikes, reach impressive summits, and get as much mileage as possible. If you try to keep those same goals with a toddler, everyone will be miserable.   
Now our goal truly is her enjoyment. We want her to fall in love with nature the way we have. Prioritizing her enjoyment now is an investment in a future of outdoor family fun for years to come. So right now, what's most important is that she loves the experience. Exploring, getting dirty, playing, and roaming how she wants to.   
The bonus of this is that it truly has helped us appreciate and enjoy some of the things that we might have missed if we were just chasing the next summit. I actually feel as though I admire the beauty around me more because I'm forced to slow down, breathe, and see it fresh through her eyes.   
3. Have the Right Gear
Having a hiking pack that's comfortable for both you and your little hiker is incredibly important. While your little one will want to walk and explore out of the pack quite a bit, if you plan on doing any type of distance, you'll need something additional to carry them in. We have also found that having one that you can get them in and out of five million times over the course of a hike, helps tremendously. (Spoiler alert: Your toddler will want to go in and out, in and out, in and out, in and out….repeat.)  
4. Overestimate Time
It will take you a lot longer to do the same hikes with a toddler than without. I basically triple the amount of time a hike would normally take us. This is crucial for your planning so you don't end up in a bad place timing-wise or realize you have a three-hour trek back while dealing with an unhappy little human. (Trust me, been there, done that…do not recommend.)  
5. Snacks. And More Snacks.
Which brings me to my last, but probably most important tip. Pack snacks and then pack some more. A toddler with snacks is always far greater than a toddler without snacks. And remember to always practice carry in and carry out, and use this as an opportunity to teach your up-and-coming environmentalist the importance of this as well.   
Those are my top tips, what are yours? How do you make hiking a fun experience for the entire family? What are some of your favorite family friendly hikes in Maine?  
—by Laura Petrolino, NRCM Rising Leadership Team member