There are so many great reasons to participate in the Natural Resources Council of Maine's annual Polar Bear Dip and Dash:
All of the money raised supports NRCM's work on clean and renewable energy and reducing climate change pollution.
Physical activity is good for your health. So, a nice brisk 5K around Back Cove in Portland gets your heart pumping and blood flowing.
You meet great people, more than 200 people participate each year!
Racing into the icy, cold ocean is fun and exciting and something you can brag about to others as you ring in the New Year with them later that night.
And an added bonus is that you can win some great prizes.
As someone who participated for the first time last year, I was excited to ask my friends and family to support my Dip and Dash, and they came through in a big way. I raised more than $1,000 and was the top individual fundraiser, which meant that I was able to take advantage of a generous offer from one of our sponsors, Back Country Excursions in Parsonfield. Now, clearly, I had to wait until it warmed up from the subzero temperatures of the Dip & Dash, but it gave me something to look forward to in the spring.
When spring finally arrived I couldn't wait to call Cliff and set up my day of mountain biking. Cliff began designing trails in 1991, cutting well over 30 miles on the land surrounding his home. He now operates a mountain bikers' lodge and guides rides throughout the season—I was excited about the prospect of trying some totally new-to-me trails that are right in my backyard.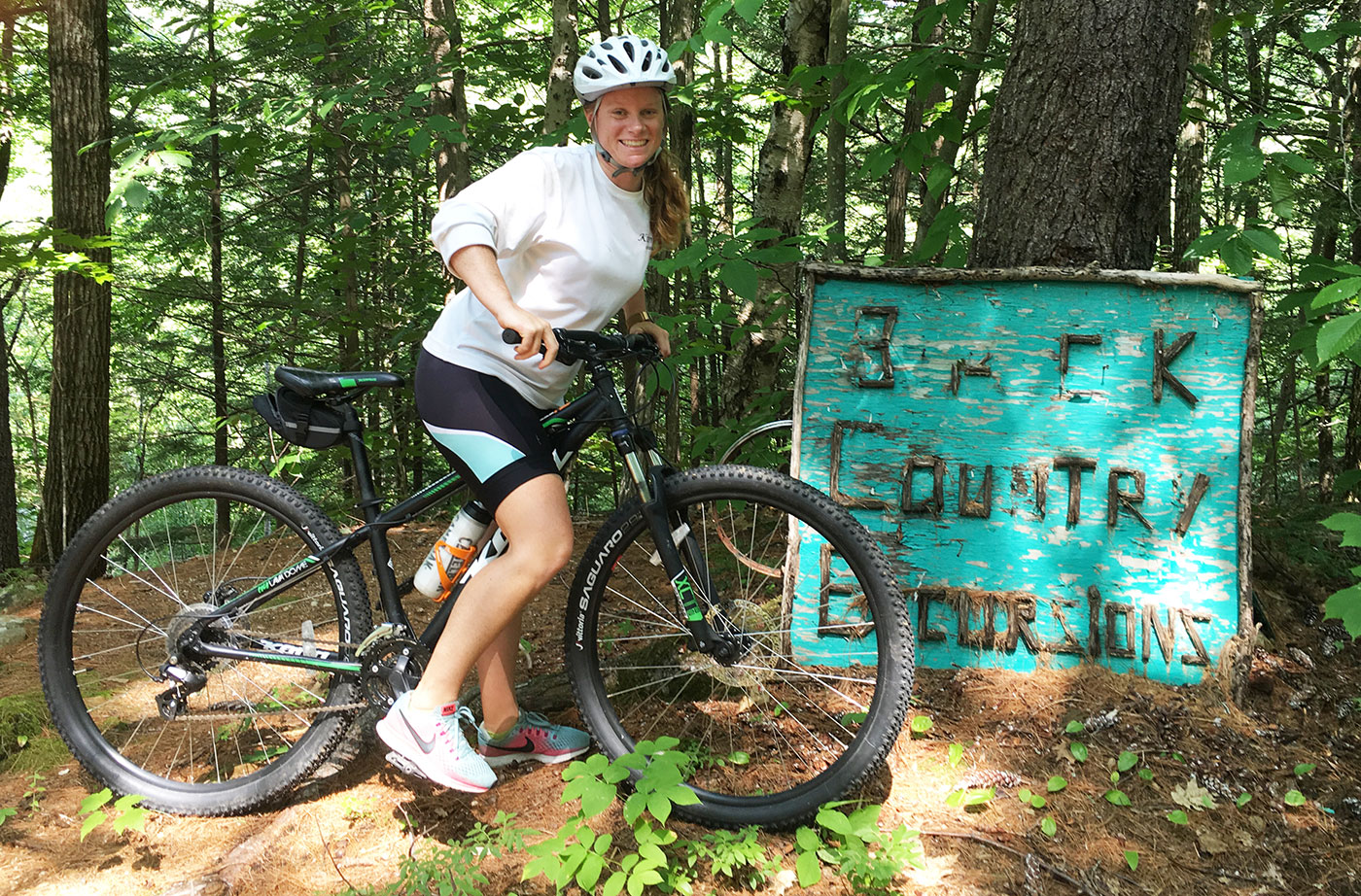 Cliff kicked the day off with a skills clinic. I hadn't been on my bike in months so this was a great refresher and immediately made all four riders feel at ease with Cliff and respect his expertise. As we each took turns warming up by riding around his practice loop and shifting our way up and down the short steep hill, I was happy to realize this wouldn't be an easy day. Cliff has impeccable form on his bike and would push each of us to follow suit.
From the lodge we rode three-tenths of a mile down a dirt road to the trail head. We started on some intro-level but pretty tight and flowing single track. Things started out moving slow, but we were hitting the apex of each turn, nailing the small but technical elements, focusing on the basics and generally finding our group riding groove. Cliff is very straightforward and clear, and he provides tons of in the moment instruction. He really seemed invested in having each rider in the group learn during the tour. You can only coach like that when you know the every turn, climb, and root of a trail—and Cliff certainly does! It was all smiles from the outset.
After a few hours of touring and lots of coaching, we were getting hungry. The group separated—some rode back to the lodge via logging roads and others headed for a trickier trail with some super cool log bridges and seesaws. The stunts are really well thought out, totally designed for cross country riders. But beware, if it's a wet day the single log bridges will be especially slippery—I suggest waiting until afternoon when some sun will peek through the trees and dry out the more difficult trails.
Cliff and his partner enlisted the group to help prepare a delicious meal using tons of veggies just harvested from their gardens. We got to chat about the morning's ride, and over lunch Cliff provided some expert breakdown of how to ride certain technical elements some were struggling with. He also shared a lot about the area and we discovered there was a pond nearby. Since this was a blistering hot day in late July we decided to skip the afternoon portion of the ride and head for a swim in the pond. This is one of Maine's hidden gems—a sandy beach leading to clear pond.
All in all, Backcountry Excursions is a great spot. Take the tour with Cliff so you have the chance to learn the trail system before heading out on your own and so you can experience all the knowledge Cliff has to offer. I would highly recommend a weekend at Cliff's lodge for anyone looking to improve their skills and enjoy a rustic, Maine experience.