by NRCM Supporter Paul Corrigan of Millinocket, Maine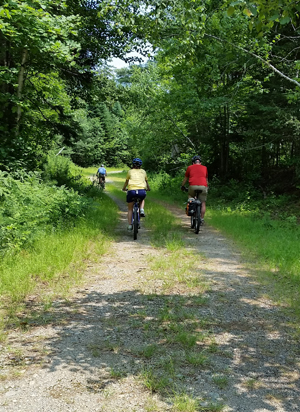 The last time I visited the proposed park lands I was a wilderness therapy instructor working with girls with issues such as depression and substance abuse. Our team of instructors and clients began our backpacking trek at the Penobscot's East Branch near Matagamon Lake. It was mid-November and a cold rain was falling as we shouldered our packs and started a hike that would end at Whetstone Falls four days and 28 miles later. When our program for at-risk girls had approached the folks at Elliotsville Plantation, they had enthusiastically replied that their lands were meant to be used by people – teens and others – who were seeking the healing balm of the woods. That backpacking trip turned out to be a real character builder! During the four days we hiked along the river, its rain-swollen current grew to a frothy torrent. The girls persevered and learned valuable life lessons about taking care of themselves in a cold rainy wilderness. One evening we took our clients to see the river rebounding off the sides of towering Haskell Rock. Needless to say, the girls were impressed by the power of a river in flood stage.
The spokes on the wheel of time revolved several years and I again found myself on park land. This time on a warm July morning for a Natural Resources Council of Maine-sponsored mountain bike ride of the proposed park. With the Maine Atlas on my lap and the assistance of signs set out by NRCM, I was able to rendezvous with the other riders with time to spare. Registration was well-organized and each of the riders received snacks, water, and an NRCM t-shirt. After a few enthusiastic words by NRCM Outreach Coordinator and Policy Advocate, Eliza Donoghue, we broke up into two groups. I opted for the longer ride led by Eric and Elaine, which wended its way past the Katahdin Brook lean-to before climbing to the shoulder of Barnard Mountain east of Katahdin Lake. Elaine led a group on a hike of the mountain for views of nearby Mount Katahdin, while Eric shepherded the rest of us down a long gravel descent to Wassataquoik Stream. Our destination was Orin Falls, where the rushing current plunges over a steep drop between water-polished boulders. The day had turned hot and hazy so I soaked my feet in a clear pool while chatting with John Taylor, who had driven from Rumford, Maine for the ride. Our talk ranged from our personal family connections to Maine, its rugged coastline and deep woods, to early environmental legislation championed by Senator Ed Muskie, and of course, our hope for a new Maine national park.
From Orin Falls John and I rode to Wassataquoik lean-to where we met up with Eliza and her colleague, Emmie Theberge, NRCM's clean energy advocate. There we polished off our snacks and sipped water while talking about future NRCM events and advocacy programs. We all agreed the day couldn't have been more perfect – quite a contrast from that rainy, November trip with the young ladies in wilderness therapy several years earlier. Rain or shine, it inspires me to know that a future Katahdin Woods and Waters National Park could offer outstanding biking and hiking, along with the chance for visitors to find pristine places to cross country ski, bird watch, botanize, or simply "loaf and invite their souls."
Related Link: