More and more people are coming together to work on climate change. It's no wonder. We can plainly see changes in our lakes, forests, and backyard gardens. The number of cases of Lyme disease is exploding and many of us have had to take antibiotics because of deer tick bites. We hear on the national news about property damage from wildfires, flooding, and other extreme weather.
The science is settled for you and me—and, as most polls show, a clear majority of Americans. We understand that climate change is caused by our century-old convention of spewing unlimited carbon pollution into the air through burning coal in power plants, running vehicles on gasoline, and heating homes with oil, which, in turn, warms the planet. That warming is causing climate change and a wide range of very serious problems for all of us.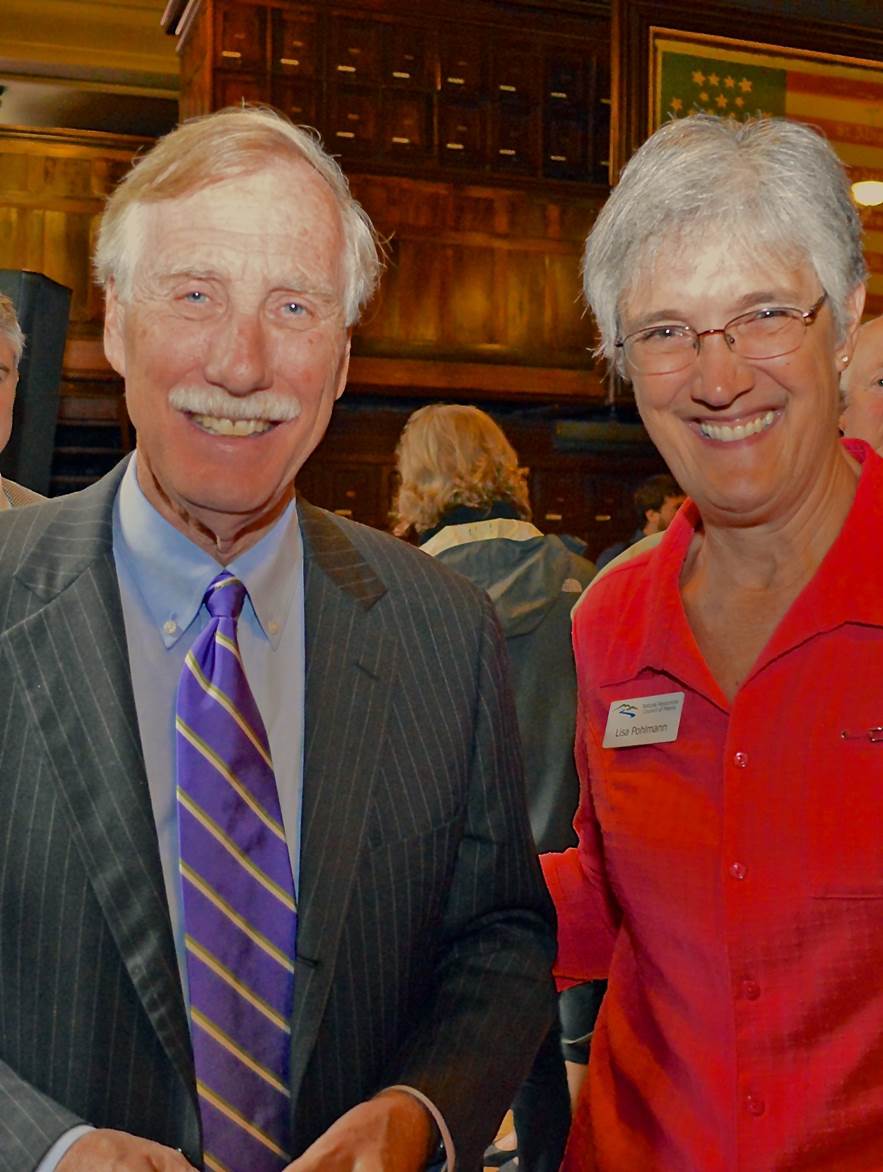 NRCM has been leading the charge for several decades to reduce carbon emissions in Maine, through public education and policy change. We helped Maine become the first state in the nation to set statutory goals for carbon reductions in 2003. We helped Maine adopt tailpipe emission standards in 2005 for all new cars and trucks sold here. Through our efforts, Maine capped carbon emissions from power plants by joining the Regional Greenhouse Gas Initiative (RGGI) in 2007 with unanimous bi-partisan support. NRCM played a lead role in creating the Efficiency Maine Trust in 2009 to increase and broaden homeowner and business access to loans and grants to decrease energy use and save money. We achieved Maine's first energy efficiency building code standards in 2012. In 2013 NRCM was central to achieving increased funding for both electric and home heating energy efficiency grants and loans.
We've brought you and the public inspiring and knowledgeable speakers about climate change, from Alberta tar sands activist Melina Massimo-Laboucan to outspoken climate scientist Michael Mann. During these years, we have also urged our federal elected officials to be leaders on national climate action. In June this year, we partnered with the Portland Regional Chamber of Commerce to showcase the U.S. Environmental Protection Agency's recently announced new rules to limit carbon emissions from existing power plants across the country. Finally, the federal government is poised to require all states to follow our lead in the Northeast with programs like RGGI. This is huge! It's the biggest single step the U.S. will have ever taken to cut carbon pollution. Our event featured Senator Angus King, USM economist Charles Colgan, U.S. EPA Deputy Administrator Bob Perciasepe, and four Maine businesses and experts who have seen the benefits of Maine's participation in RGGI.
Meanwhile, NRCM continues to engage and assist local communities with their own climate action. In 1993, we helped the residents of Bucksport defeat a proposed coal-fired power plant. In 1973, NRCM was there with citizens to help defeat an oil refinery proposed for Sanford. And most recently, for the last year and a half, we worked side by side with South Portland citizens, and celebrated with them in July  when their City Council approved an ordinance to block a tar sands loading terminal from being built in their city. By standing up to out-of-state fossil fuel interests, we have sent a powerful message that Maine people don't want polluting energy sources in our communities, and that other places around the country can stand up and say no, too! You can take action by making your homes and cars more efficient, urging our U.S. Senators to support the EPA's new carbon emission standards for power plants, and joining  NRCM as we craft Maine's next major legislative climate agenda for 2015. Coming together and demanding change at the policy level is the most effective way to drastically shift our energy production and use, and ultimately reduce the amount of carbon going into the air. The need for our collective leadership is more apparent and urgent every day.
Related Links:
Video (Part I) of "Getting Down to Business on Climate Action"
Video (Part II) of "Getting Down to Business on Climate Action"