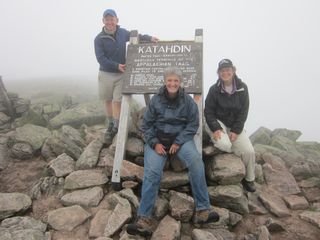 On June 28th, I climbed Maine's great Mount Katahdin, in Baxter State Park, with colleagues from the Natural Resources Council of Maine. I've wanted to do it ever since I settled in Maine 33 years ago, so this was a big occasion for me. Katahdin is a mile high at the summit, and to get there one climbs up and down miles of steep inclines and rugged terrain. Climbing and descending make for a 12 hour challenge, as many of you know who have hiked it.
But magic awaits at the stony summit.
From the top of Katahdin, Maine's North Woods stretch out as far as the eye can see. Unbroken forests stretch on for miles and shelter our wildlife neighbors, including moose, deer, lynx, and countless birds. Myriad lakes reflect the light of the sky. The West Branch of the Penobscot River, once threatened by the massive Big A dam, is a ribbon winding below. The mountains are jagged and green, layered out to the horizon.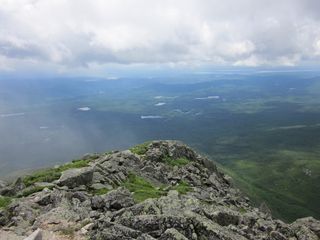 This special place in Maine is a treasure that future generations deserve to experience just like I did last week. NRCM has been working for 53 years to make this possible, with the steadfast support of our members, and each major struggle to protect this place has been arduous. It took well over a decade to protect the Allagash River by making it a Wilderness Waterway in 1966 and over two decades to begin removing the Great Works dam on the Penobscot River on June 11 of this year to restore 1000 miles of spawning habitat to native sea-run fisheries. These are just a few examples. There are many.
That's why we keep on walking, with persistence and determination, and great love for nature in our hearts, because the view from the top that reaches all the way to our great, great grandchildren is breathtaking.
Related:
Learn about NRCM's work to protect Maine's North Woods
Hiking at Baxter State Park
Watch Our Video of the Removal of the Great Works Dam