Weather is my passion. It's been that way since the Blizzard of 1993 hit my home in Massachusetts when I was 10 years old (quick math, how old am I?).
I knew from that early age that I wanted to do what I loved when I "grew up." So I slugged through Calculus, Physics, and Thermodynamics to come out the other side with a degree in Atmospheric Science. I worked in private weather, then local TV, then national TV, then local TV again.
Weather was always my passion. But Climate Change has grown on me.
That seems like a weird thing to say, but it's the truth. I had a broad understanding of the topic even dating back to my early college years of 2001-2005. But it seemed so distant, and something that we would be well on the way to fixing by the time I reached a really impactful age.
But here we are, 18 years later, and people are STILL arguing about Climate Change.
Note I said people, not atmospheric scientists. The scientists ended the argument on Anthropogenic Climate Change quite a while ago.
Over the past 5 years, my interest in and knowledge of climate change science has greatly increased. I care deeply about the earth, but if I'm being honest, my full speed charge into the Climate Change spotlight on air, on social media, and on the speaking circuit has more to do with defending science than defending the earth.
Science is a way of thinking; it's a process. So my eyes catch on fire watching 30% of the country just say "Nope, Climate Science is junk. It's fake." Think about where that could take us long term…
The great irony of this is that social media is where I most often am bombarded with the "Oh yeah! Al Gore made it all up and the ice caps aren't even melting!" kind of stuff, but the people posting are using a smartphone (from science) on a cellular network (from science).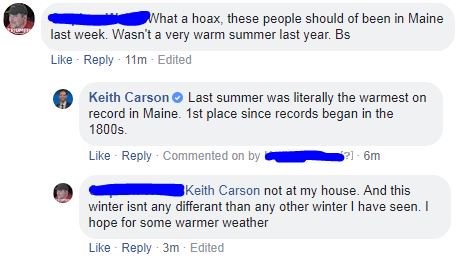 So I take on the internet trolls the best I can, I respond to viewer emails about Climate Change, and I even call Climate Change deniers on the phone and offer to answer any questions they might have. I'm trying.
I'm trying because, to many Mainers, television meteorologists are the only scientist interaction they'll have that day. So it's important that my voice speak for the thousands of climate scientists that don't put on makeup, get in front of a camera, and reach a few hundred thousand people.
In closing, let me share with you things I've learned interacting with hundreds of deniers over the years:
It's politically tribal. I hate this part the most. I have no desire to get involved in politics (that's why I did science instead), but Climate Change denial is highly politically polarized. I'm not sure exactly how this happened, but I'm willing to say Al Gore was one of the worst things to ever happen to Climate Change. He may have meant well, but he is a political figure. From there, it seemed to unravel. Now if you're on a certain side of the political aisle, it's as if you aren't "allowed" to accept the science of Climate Change. If you do, you aren't on "the team" anymore.
Probably 10% of people are genuinely confused. These are the ones we can, and do, reach. They honestly haven't looked that much into the topic, but have trouble with the idea that the earth has gone through so many climate swings before man existed. Educating and answering questions helps this group tremendously and they are the ones scientists should be targeting.
Give a little ground. This is the basis for almost all negotiations in life. And you might think "How is science a negotiation"? But it is when you're trying to bring someone from one side (denier) to another (science accepter). So I like to educate people on the science of it all, answer all probing questions with peer reviewed papers and explanations, and then give them a little "room." I say something like, "Look, I'm not telling you what to do about it, or that we need a carbon tax now. I'm just telling you the science is sound." And I really mean that. I'm not here to debate the best policy to fix this enormous global problem. I just want everyone to accept the science. And if you do that, I'm betting you're gonna want to figure out a way to make things better.
Know when to walk away. Unfortunately, not everyone can be reached. I've had a guy argue Climate Change with me and, at every turn, I backed him into a corner with more data and research etc. Eventually his argument was "But CO2 isn't even a greenhouse gas. That whole thing is a lie!" Ok, end scene, have a nice life. It's important to differentiate between those who are curious or poorly informed about Climate Change and those who will never, ever, "even-if-sea-level-rise-floods-their-house" change their minds.
That's what I've learned. I'm here standing up for science and I applaud all those who stand with me.
Keith Carson
keith.carson@newscentermaine.com
Follow @KeithCarson on Twitter