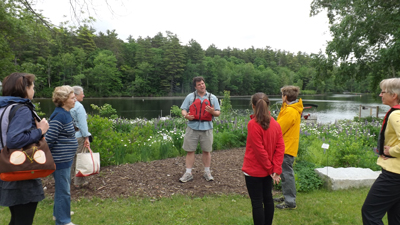 On June 10 several NRCM Board and staff members spent a delightful couple of hours with Dr. Whitney King, the Dr. Frank and Theodora Miselis Professor of Chemistry at Colby College and a member of the Maine Lake Resource Center Board of Directors.  Following a brief introduction to the ecological and social history of the Belgrade Lakes with special attention to water quality concerns, we donned our life preservers and boarded the "Compass," a Colby pontoon research boat for a first hand look at the LakeSmart program in action on Great Pond. Although the wind was blustery and the skies overcast, the forecast of a 30 percent chance of rain meant a 70 percent chance of sun…
The LakeSmart program works with homeowners to landscape their shorefront in order to reduce soil erosion and pollutant runoff, both of which typically occur if a shorefront property is grassed to the water's edge, and/or walkways lead straight to the lake.  Planting blueberry shrubs; creating curved, wood-chipped walkways, and limiting the points of access to the water are examples of ways to minimize the transport of sediment and pollutants to the lake from rain and snow. These practices improve water quality, are low maintenance, and look great. A property in compliance gets two LakeSmart signs—one for the shorefront and one for the camp road. Over time, the goal is to encourage lake neighbors to get onboard and protect these vital lake ecosystems.
With some help from Whitney's experienced eye, it quickly became apparent which properties on Great Pond were and were not in compliance with LakeSmart principles.  Those properties with LakeSmart signs had a private, natural feel. No wonder they typically have greater economic value. As it turned out, several of the folks in our boat have lakeside homes. They listened carefully to the program and hopefully will bring the LakeSmart message to their own lake associations. We learned a lot, and despite overcast skies, ended up donning sunglasses as we motored back to the dock.
I encourage anyone with a lakefront home or cottage to learn more about LakeSmart — good for your property, and good for Maine's lakes.
Susan MacKenzie, PhD, NRCM Board Member
Related Links
Read NRCM's investigative report: Troubled Waters: Damage to Maine's Lake Protection Program Under the LePage Administration