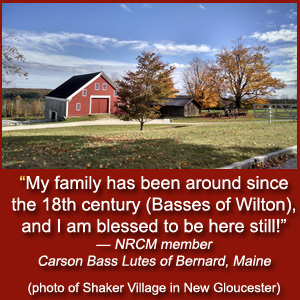 Scenic coastline and postcard-perfect coastal communities. Majestic mountains and pristine lakes. Ponds to explore. Moose, deer, loons, and other iconic wildlife. These are just some of the reasons that we are thankful to live in Maine.
Traditionally, this is the time of year that we stop to consider the reasons we are thankful for what we value about our lives: our family, our homes, our neighbors and friends. At the Natural Resources Council of Maine we are thankful every day that people like you care so deeply about our environment. Without your passion for protecting Maine's air, land, water, and wildlife and support for our work, Maine would be a much different place.
Thanks to all of you who took a few minutes to respond to our invitation to tell us why you are thankful to live in Maine. We are pleased to include here. If you would like to share why you're thankful for Maine (whether you live here, visit, or hope to one day return), please send them to us at nrcm@nrcm.org. You can also share your thoughts with us on Twitter, Instagram, and Facebook by using the hashtag #ThankfullyMaine.
"I love living in a state where we don't have to go anywhere but home to be blessed with soul-feeding ocean views, sandy beaches, rocky cliffs, changing leaves and changing seasons. I love that my family and I can go ice fishing in the winter on the same pond where we go canoeing in the summer. Maine is at once grounding and uplifting, and I'm so thankful to call it home." —NRCM Board member Elisa Boxer of Scarborough, Maine
"My family began vacationing in Maine a few years ago, primarily in the Moosehead Lake area, and I've been thankful for your wonderful state ever since. Nowhere in my travels have I felt such a closeness and kinship with the outdoors as I do when I cross the state line in Kittery heading north. The North Woods area of Maine is truly a beautiful treasure everyone should see and experience, and work to conserve. The air is fresh and clean, the sounds of the forest are a welcome relief to the sounds of life 'from away,' and the many lakes, rivers, and streams flowing endlessly from time long ago put everything in its proper prospective. Thank you Maine for providing my family with so many awesome memories and experiences…and for helping us to see and experience life, as it should be!" —NRCM member Ernest Wright of Richmond, Virginia
"I am thankful for Maine blueberries, Maine strawberries, Maine rhubarb, Maine apples, the clean estuaries, the beautiful trees, and the flowers." —NRCM member Cheryl Joseph of Portland, Maine
"Maine has beauty beyond description. All we need do is go look for it. If we are lucky, it will actually find us. I so enjoy having my out-of-state friends come and revel in the beauty and serenity of Maine. As a native and resident of Maine (70 years to date), I can't get enough of the natural surroundings. I especially enjoy winter snow-shoeing and cross country skiing. If you haven't experienced it, it is hard to describe."  —NRCM supporter Larry Dyer of Casco, Maine
"I want my grandkids, and my friends' grandkids all across the country and beyond to have places like the woods and waters of Maine to fill their souls like they have filled mine. I love Maine so much and I am very proud to be working on the creation of Maine's next National Park. Join the fun in 2015 as we turn up the volume and turn this vision into a reality. The Katahdin Woods and Waters Recreation Area east of Baxter State Park, where the proposed National Park and National Recreation Area would be, has now become one of my favorite places. The view of Katahdin on a crisp October day, now that feeds your soul." —NRCM Executive Director Lisa Pohlmann 
"I am thankful to live in Maine because of its natural beauty—its lakes, forests, streams, ocean, mountains, and hills. I can 'get away' to a tranquil place any time." —NRCM member Betty Hartley of Brunswick, Maine
"I am thankful for being able to live in Maine where I can watch the moon rise over the ocean turning the waves into bright, sparkling, magical stars. I am fortunate to be able to spend the entire day with my grandchildren on a small island in Casco Bay exploring tide pools, swimming, rowing a log canoe, collecting shells and rocks, fishing for mackerel, and building driftwood and rock forts. I am grateful for the opportunity to see the same birds and small animals live their busy lives in the woods outside my kitchen window." —NRCM Board member Kathy Remmel of Portland, Maine  (Learn more reasons why Kathy is grateful to live in Maine by reading her blog post "The Peace of Maine.")
"I'm thankful for the  changing seasons in Maine and the opportunities they bring. Hiking, biking, boating, skiing and snowshoeing, hunting, and fishing in our forest and clean lakes and streams. As an outdoor photographer the varied wildlife and spectacular scenic views and the blessings of Maine are too numerous to count." —NRCM member Dave Small of Old Town, Maine
"I was born and raised in Maine; my family goes back many generations. For 16 years, I lived in Ithaca, New York, as a grad student at Cornell University then as communications director for the Cornell Lab of Ornithology. My husband and I loved Ithaca but always missed Maine, returning to visit our family and special Maine places every chance we had. Ten years ago, things lined up for us to move back. We're thankful for our trips to favorite hiking spots, for afternoons exploring Maine's coast, swimming in sparkling lakes, paddling Maine's rivers. As a birder, this time of year I'm also thankful for the important role Maine plays as a safe haven for migratory birds as they move south from their Canadian breeding grounds to wintering places in the southern U.S. and beyond—and that I can grab my binoculars and enjoy the spectacle of it." —NRCM Senior Director of Public Affairs Allison Wells
"I am thankful to live in a place whose most beautiful attributes are on full display during every season of the year, and for all the people who are so passionate about ensuring our natural resources are protected and preserved for the next generation, and the one after that." —NRCM member Jennifer Dimond of Portland, Maine
"I am grateful to have been born here, as Maine offers its residents the opportunity to enjoy a wide-range of outside activities. Best for me is climbing Maine's many mountains. Depending on the season, the view from the summits varies as do the treasures I encounter.  Spring means a hike up Megunticoook to see pink lady slippers, painted trillium and corydalis; summer finds blueberries galore on Baldpate (and others); fall's colors produce a smile regardless of which summit (but Cranberry Peak in Bigelow is my preference); winter is the most fun of all. So many possibilities!" —NRCM member Linda Woods of Oakland, Maine
"When you recognize that you are a part of the natural world, what is really important in life becomes much clearer. No matter where you go there are always trees, birds, and rivers to point this out, but I get really grounded when I get near a good wetland where you often end up knee deep in some good gooey mud. The NRCM is always there to protect this beautiful land." —NRCM member Sam Horine of Skowhegan, Maine
"I am grateful for living in the beautiful, bustling city of Portland while only being a short drive from the untouched wilderness of Maine. Often people have to give up one to have the other, but I am so thankful to have the best of both worlds here in Maine!" —NRCM Administrative Assistant & Bookkeeper Margaret Hoyt
"I love to travel—some of my favorite trips have been to Paris, Ireland, and Walt Disney World. But, one of the best parts of traveling is coming home. I don't like to be away from home for more than a week or so before I feel the urge to come back to familiar surroundings and the faces of the family and friends I love. Traveling to faraway places is always great fun, but our own state has so much to offer that I am creating a list of Maine places to explore next summer. Those places include: Eastport, Fort Kent, the proposed National Park lands near Baxter, and Monhegan, among others. Why am I so thankful to live in Maine? Because within an hour's drive of my home, I can be in the scenic mountains of Western Maine, or I can be at Land's End on Maine's rocky coast, or I can be relaxing with a good book while enjoying views of my favorite Maine lake. Maine's environment is diverse, and when I am not working to protect it, I am outside photographing it. I love to capture images of sweeping Maine landscapes or close-up photos of rocks, leaves, or Maine wildlife to share with others. Living and working in Maine makes every day a great day, and I cannot imagine being anywhere but here, in my beautiful state of Maine." —NRCM Public Affairs Coordinator Beth Comeau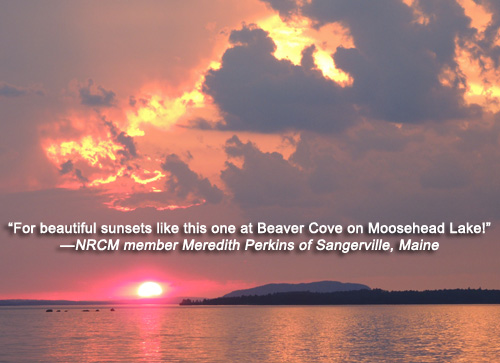 "I am particularly grateful to the wise Maine folks & legislators who, in the 1970s, enacted the Shoreland Zoning Law with its requirements, including setbacks, and the law that bans billboards, promoted by Maine's Federated Garden Club. Both laws help protect Maine's beautiful natural environment, and the setbacks protect water resources, including fisheries." —NRCM member Diane Walker of Stonington, Maine
"This holiday season, I'm thankful for all of the candidates who ran for seats in the Maine Legislature this past November. These hard-working men and women campaigned tirelessly for months sharing their vision of how to make Maine a better place to live, work, and play. They spoke with their neighbors at the door and on the phone, participated in spirited debates, shook hands at sporting events and community suppers, and built a network of supporters. I congratulate those who won their election and thank them for their hard work. Now the real work begins in Augusta." —NRCM Outreach Coordinator Todd Martin
"During the autumns, winters and springs at Bowdoin College (class of '65) I learned to love Maine from the beaches in the south to the mountain peaks in the north. It is good to be part of helping preserve this wonderful state!" —NRCM member Walter Carson of Bayreuth, Germany
"I was born in Danville Junction, Maine, where as a boy I could walk from my home across farmer's fields and pastures and into woods. I could collect wild flowers and take them to a one room school. One year I won the contest for most different wildflowers brought in. Later, I could walk into the woods and hunt for birds or deer. I enjoyed this but have never killed a deer. Now I don't hunt with a gun. I have climbed Mount Katahdin. I have paddled my canoe in ponds and rivers. I have done some fishing. I like to go to the ocean beaches in summer. I like the lakes and rivers. I appreciate the clean water and clean air laws that have actually improved our environment since the time when I was a boy. I like our shore-land zoning laws. I like that we do a better job of properly disposing our sewage and solid waste than we did then. We should make our air cleaner. We should protect our good farmland. We should avoid using so much fossil fuel. I hope that my grandchildren will be able to enjoy the Maine outdoors as much as I do." —NRCM member Elery Keene – now living in Winslow, Maine
Watch NRCM's "Thankfully Maine" video from our 50th anniversary year.