If you're like me, you still have plenty of holiday shopping to do. After all, there's nearly a full week to go before the Great Unwrapping. When it comes to purchasing presents, I buy locally made gifts as much as possible—and that includes "locally written." Several NRCM members have some very lovely offerings this year.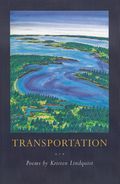 Kristen Lindquist's book of poems, Transportation, comes immediately to mind. Kristen is an avid birder—and so am I—so her bird references are especially appealing to me. I noted as I read in her poem, "How Baseball Saved My Marriage," that while other writers might have simply referenced "birds" flying overhead, Kristen writes, "dozens of migrating/nighthawks flit over fields along the river…" For birders like me, this is the detail that places the scene in late-summer, every bit as essential as naming the Penobscot and other specifics that make the time and place vivid. This poem is one of my favorites in the book, so I was excited to hear it read on "The Writer's Almanac with Garrison Keillor," along with her poems "Transportation"  and "Full Moon."
Her phrase, "We all want to be good animals," from her poem "Grandmother," is something I now occasionally drop into my conversations—it really resonated with me. My favorite lines in the book, though, are in the poem, "Field Trip," and perfectly exemplify the world we birders live in: "Though strangers, we talked easily, recalled the winter's snowy owl//that had looked like a stone in this field, a living glacial erratic." As birders know well, there's nothing like birds, and birding, to turn strangers into acquaintances, often into friends.
To purchase copies of the book for you and the poets in your life, contact Kristen at kelindquist@gmail.com or Megunticook Press, 12 Mount Battie St., Camden, ME 04843.
Dancing Bear, a book of verse by NRCM member Diane Schetky, is more focused on nature itself. Diane gets tremendous enjoyment from sitting in one place and observing her natural surroundings. In "Beech Hill in November," she writes, "The red oaks are naked/except for their topknots/burnished by the setting sun.//White birches stand out/against the pale meadow./Scratches on a canvas…"
Running through much of Diane's work is a sort of "activism" that could be from the NRCM playbook. In "The Crumbs of Christmas" she writes, "The presents were blessedly/sensible and few. Gifts of/service and homemade treats…" She references the CFLs on her Christmas tree and writes, "I salvaged the wrapping paper/for another go round…" Her poem "Ode to Spring" is a great reminder of our legislative work protecting  vernal pools: "Sleepy frogs rise from the depths of a vernal pool./Torpid bodies climb onto thinning sheets of ice/that once protected them.//One by one, they come to life./Like popping kernels of corn/they hop to the sheltered shore…" One section of her book is called, "Our Endangered Earth," which begins with the poem, "SOS:" "The world is tilting on an axis/in need of major repairs./Glaciers and permafrost shed/their dormant secrets…."
You can order Diane's book online at http://www.amazon.com/Dancing-Bear-Other-New-Poems/dp/1469161524.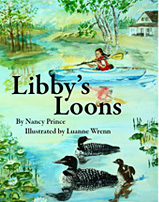 Then there are loons. In particular, Libby's Loons, a children's picture book by NRCM member Nancy Prince. The book portrays a loon family and is beautifully illustrated by watercolor artist Luanne Wrenn.

Some observations of nature are best made with a camera, especially if the photographer is NRCM member Ann Flewelling. Her book, A Moment of Water, features gorgeous images from Downeast to the Crown of Maine. Each image transports you to a quiet place, and each imparts the essential qualities of Maine's waterways, for health, wildlife habitat, and peace of mind. And Ann's journal-style entries add depth without distraction. Here are a few of my own favorite photos from the book:
You can purchase Ann's book by visiting her website at http://www.annflewelling.com/a-moment-of-water.html. A portion of her proceeds from sales will support organizations working to protect Maine's water resources, including the Natural Resources Council of Maine; Ann acknowledges NRCM's work, the efforts of the Bagaduce Watershed Association, and others in her book.

If you enjoy birds and art, then Maine's Favorite Birds is a book to consider. Written by yours truly and husband Jeff, an ornithologist, the book focuses on the birds you're most likely to see here in Maine. It's beautifully illustrated by artist Evan Barbour and includes identification tips, habitat information, song descriptions, places to go birding in Maine, and ways to put your sightings to use for science and conservation. NRCM is making this book available free through a special offer: Now through January 31, 2012, get a free copy of this book (signed by the authors, if you wish) with every new or gift membership!

The SunriseGuide is Maine's resource and coupon book for healthy, earth-friendly living. It's packed with articles and tips that keep you informed, plus hundreds of coupons to your favorite local businesses—restaurants, garden supplies, health & fitness, home improvements, and more, including to NRCM! The 2013 edition of the SunriseGuide (filled with more than $5,000 in coupons) is available at natural food stores, book stores, and other retail outlets, or you can view it online.
Happy holidays to all, and to all a good read!
Related:
For green buying ideas, visit the NRCM website.