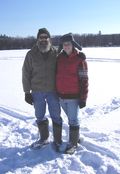 These cold January days have not deterred me from enjoying Maine's outdoors. Those of us who love to fish in Maine can't stay idle waiting for spring to wet our fly lines. Instead, we bundle up and explore Maine's lakes and rivers—through the ice.
Last weekend, I finally got a chance to get out on the ice with my dad and some friends. Out on Cobbossee, we drilled our holes and baited our traps and hunkered down on the ice to enjoy the crisp, clear morning. With little action, we decided to fire up the grill for some lunch (the flags are sure to fly up once the grill is on). Sure enough, FLAG!! Eagerly, I looked up to see whose trap was the lucky one, and it was mine. Racing out to the trap, with my gang in tow, I got to the hole and saw the reel spinning fast. Fish on! Anxiously, I pulled the trap out of the water and set the hook. Hand over hand, I pulled in my fish. As its head filled the hole, I saw it was a pike. My disappointment that it wasn't a trout was muted by the fact that it was my first fish of the year. Although the rest of the day was slow, being out on the ice with good company, and the excitement of the first catch of the year, tickled my fishing itch, which I hadn't felt since I put away my fly rod in the fall. I just had to get out for more.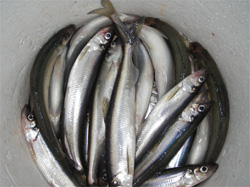 The following Friday night, with NRCM co-workers Steve Tatko and Nick Bennett, I made my way down to the Kennebec for some smelting. Feeling confident, I brought along some cornmeal and a frying pan to enjoy our catch for dinner on the frozen river. And I wasn't disappointed. We barely had all our lines baited and we were catching smelts! As you may know, smelt fishing is a very social affair—and not just because you are in a six by eight foot shack with four other people for six hours. It is also an opportunity to listen to the chatter coming from your neighboring shacks. We had a great time (and the smelts were delicious!).
The following morning, I drove over to Livermore for more action. Once again, I happily settled in for a day of ice fishing with friends. Just as we were sitting down for some brunch on the ice (including the freshly caught smelts from the night before), I had a flag. Racing out to my trap, I was eager to meet my fish. As I set the hook, I had no idea that I would soon be pulling out a beautiful 20" brown trout!! Although I usually stick with catch and release, this was a fish worth keeping. While I enjoyed it for supper on Sunday with my parents, I couldn't help but worry about the mercury content in the fish, which was being passed on to me. It is a shame that Maine sportsmen need to think twice about eating the fish coming from our own waters. It made me appreciate all the work NRCM has done to reduce air pollution and it made me eager to get back to work on Monday morning cleaning up Maine's energy mix.
—Emmie Theberge