Earlier this week, in her State of the Budget address Governor Mills called on Maine to set a new goal of reaching 100% renewable energy by 2040.   
With the impacts of climate change already threatening our communities and the high costs of oil and gas hitting Mainers' pocketbooks, it's clear Maine must transition quickly to a clean energy future.    
This is a practical path forward that will benefit our economy, our communities, and our abundant natural resources.  
Reaching 100% renewable energy by 2040 doesn't just put us closer to what scientists say is necessary to avert the worst impacts of climate change, it's a prudent path forward for our state's economy and environment.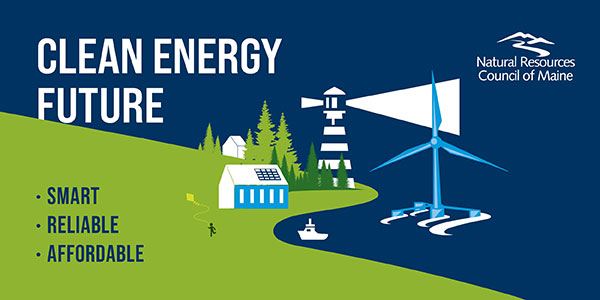 Accelerating our energy goals by a decade will reduce our vulnerability to volatile fossil fuel prices. It will deliver economic relief and good-paying jobs to more Mainers more quickly. And it will continue building the home-grown clean energy sources we need to deliver more reliable, affordable electricity to power our homes, cars, and businesses. Why would we wait?  
We know that we can achieve this goal. Thanks to actions taken by people like you, Maine is already on its way.  
The bipartisan climate and clean energy obligations set by the Maine Legislature and strategies laid out in Maine's Climate Action Plan are already having an impact:  
Right now, you can help us achieve more progress by encouraging your lawmakers to support a bill being proposed to boost offshore wind in the Gulf of Maine that will propel us closer to a 100% clean energy future and create a new maritime industry for our state.  
We all value our connection to community and Maine's natural environment. To stay strong and well prepared for the future, we need to act quickly. 
The next step is for the Governor's Energy Office to submit a bill to the Legislature for the 100% by 2040 goal. You can be sure NRCM will be supporting this exciting piece of climate legislation when it appears before lawmakers. We will continue to keep you updated on how you can get involved to secure a healthier, cleaner future for us all. 
—Rebeccah Sanders, NRCM CEO
Banner photo: Aerial view of Monson, Maine, by North Woods Aerial