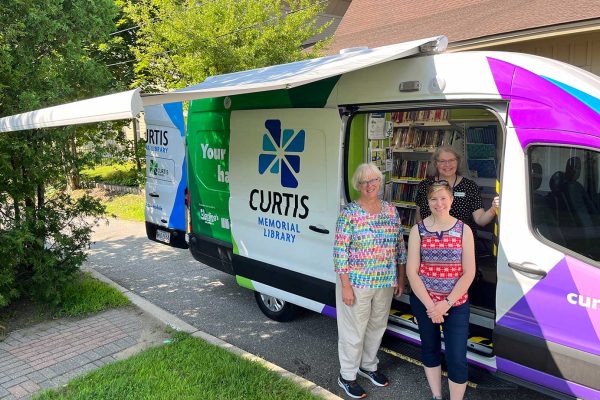 The Curtis Memorial Library in Brunswick went electric earlier this year when it launched the Bookmobile, an electric transit van that has been designed to extend library services beyond the central library location.  
Transitioning to zero-emission medium- and heavy-duty vehicles, like transit vans and delivery trucks, is an important step to reducing air pollution from gas-powered vehicles.  
With that in mind, I recently visited Curtis Memorial to take a tour of the Bookmobile and get the inside scoop on the daily operations of the mini, mobile, electric library. I talked with Jamie Dacyczyn, the Outreach and Bookmobile Librarian at the library, about how the Bookmobile has advanced the mission of the library while saving money and curbing the pollution that makes climate change worse. 
Donated by Darlings Ford, with support from the Manton Foundation and Twice Told Tales, the 2023 Ford e-Transit all-electric van has been decked out to serve the needs of the community, plus a little extra pizzazz. An extendable awning provides shade to library patrons, free appliance charging and Wifi give kids the opportunity to do homework or access online resources, and the flashy exterior catches the eyes of children and adults alike.  
Inside, the van is packed wall-to-wall with books, magazines, and DVDs that are free for community members to use. Jamie customizes the van contents to align with the interests of the community she is visiting on a given day: more mystery books and longer novels for the older patrons at local retirement homes; more kids' books and comics for children's summer camps. To find out more about the Bookmobile, including the Bookmobile schedule and visit requests, visit Curtis Memorial Library's website.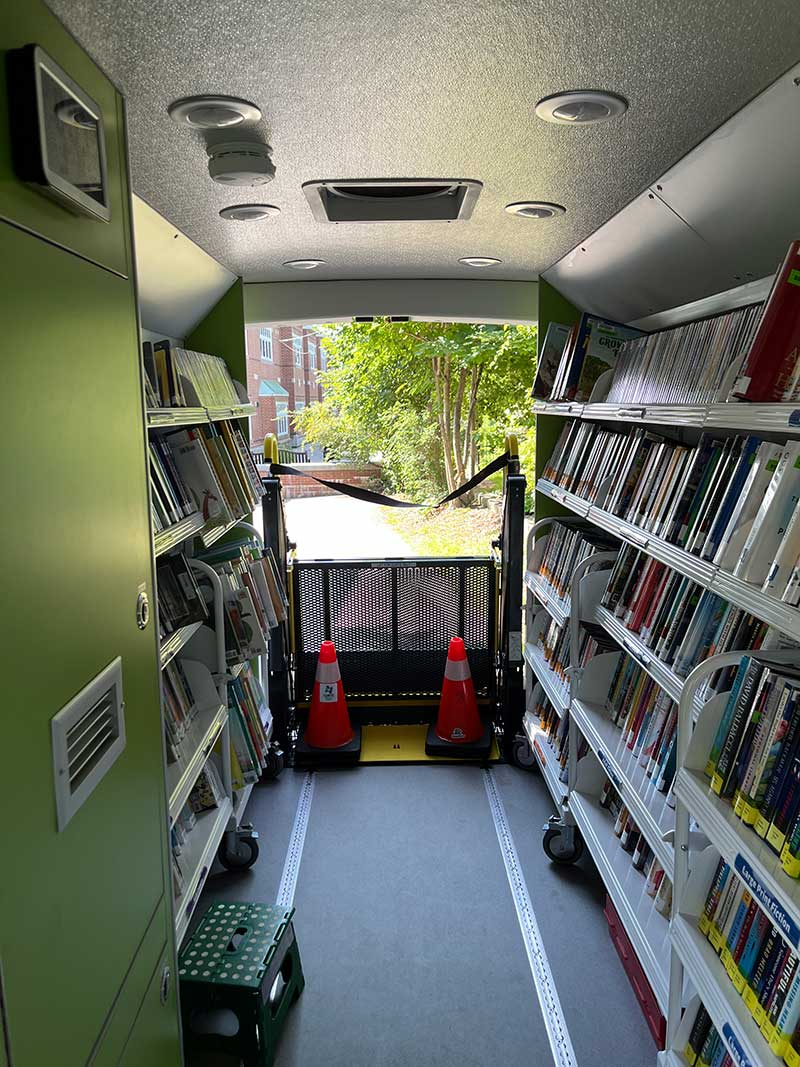 First and foremost, the Bookmobile is used to bring the library out into the community and provide access to library resources where they are needed most. The fact that it creates no tailpipe pollution is an added bonus. The Curtis team mapped out the library's service area and overlaid Brunswick's regular public transit routes to get a sense of which communities may not have regular access to the library's primary location. Then, they set out with the Bookmobile to fill those access gaps and engage residents that may not otherwise be able to take advantage of all Curtis Memorial Library has to offer. 
"Everybody loves it," Jamie says. "So many people of all ages have come aboard and have thought it was amazing. Once they learn it's all-electric, they get excited and interested about that. I've had to start it up for a few people because they don't believe there is no gas or engine sound when you turn the key!" 
On a fully charged battery, the Bookmobile is good to go for 100-120 miles—more than enough range to access the full library service area and then some. Jamie says she could probably go all week on a single charge, but she's been charging when the van reaches 50% battery just to be safe. The longest route encircling the full library service area in Brunswick and Harpswell is around 30 miles, but most daily trips to retirement communities, schools, summer camps, mobile home parks, and other community centers are even shorter. Many commutes and other local delivery routes, even in Maine, are of similar length, just right for electric vehicles available right now. 
The Bookmobile charges on site using a Level 2 charger that can easily get the battery to full charge overnight. A recent study found that an electric truck saves an average of $30 per fill-up relative to combustion engine counterparts in Maine, a significant chunk of cash for Maine businesses and community organizations like the Curtis Memorial Library. Electric cars and trucks are also cheaper to maintain. 
Medium- and heavy-duty trucks are some of the dirtiest vehicles on the road. According to a Clean Air Task Force analysis, diesel pollution from heavy-duty vehicles costs Mainers nearly $300 million in health care costs, more than 1,000 lost workdays, and more than 6,000 days where poor air quality restricts outdoor activity each year.  
However, trucks serve essential roles in our society and economy, so it is critical that we replace trucks that run on dirty fossil fuels with clean alternatives like the Bookmobile. Adopting the Advanced Clean Trucks standard, currently under consideration by the Maine Board of Environmental Protection, would help ensure other institutions and businesses in Maine are able to buy electric trucks and vans as well. 
Electric trucks are already at work in Maine, providing needed community services without creating air pollution. Through the Bookmobile, the Curtis Memorial Library is broadening the reach of their library while saving money, avoiding negative health impacts from air pollution, and reducing emissions that contribute to climate change. 
In just the first two weeks of operation, more than 600 people came to the Bookmobile at various community centers around Brunswick and Harpswell. In her first week of driving, Jamie met at a mobile home park a mother with three sons that had never been to the library. She signed herself and her kids up for library cards on the spot. The next week, she saw that same family at the Curtis Memorial Library looking to check out more books. Interactions like these are a testament to the value the Bookmobile provides, and the fact they can do it with a zero-emission vehicle makes the benefit to the community all the greater. 
—Josh Caldwell, NRCM Climate & Clean Energy Outreach Coordinator