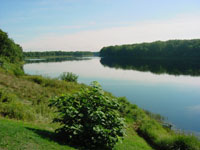 Wow! After ten years of hard work, restoration of the Penobscot River is one BIG step closer today as the Penobscot River Restoration Trust now owns three Penobscot River dams that have blocked the migration of 11 species of sea-run fish for generations.
By removing the two dams closest to the sea and building a fish bypass around a third dam, the project will help migratory fish including Atlantic salmon, alewives, shad and sturgeon to reach 1,000 miles of habitat that they need to thrive.
The kicker? When the project is complete, renewable energy generation will be the same as before the project or even increase. How's that for a win-win?
This project would not have been possible without an historic agreement among PPL, the Penobscot Indian Nation, federal and state agencies, and NRCM and six other conservation groups.
The benefits of working together have been huge:
The project will revive native fisheries and create new economic and recreational opportunities for communities along the river.
As fish populations surge and natural river habitats rebound, the river will provide additional habitat for songbirds, raptors, waterfowl, and other species, from river otters to stoneflies.
There will be new recreational fishing and paddling opportunities along the Penobscot while growing populations of migrating fish will provide greater feeding opportunities for commercial marine fish such as cod, tuna and bluefish.
And the Penobscot Indian Nation will be better able to obtain sustenance and cultural identity from the river that bears their name.
All in a day's work here at NRCM…kinda makes you proud.
– Judy Berk, NRCM Advocacy Communications Director