When visiting Don Cote at the Wildlife Care Center last week, I was curious about his "growing up years" and if he'd always had an interest in animals. As "they" say, it is indeed a small world: it turns out Don grew up on the same street in Augusta that I did, about 15 years earlier, and his neighbor was Ken Barden, who owned and operated a local grocery store for many years. Don was friends with the two Barden boys and said Ken was like a second father to him.
While a student at Cony High School, Don also worked part-time in a grain store. His family always had cats and dogs, but also chickens, so his interest in animals did begin at a young age. He had two younger brothers, one of whom passed away in his 50s of emphysema; his remaining brother lives in the area, and they've continued with their Sunday evening calls to this day. Like many during that time, their dad worked at a mill, but later at a furniture store.
Don met his future wife at the Dairy Joy in Augusta. Carleen's family had a large farm in Summerhaven, and she later claimed he visited often just so he could ride their horse! The Cotes were married until Carleen's unexpected passing in April 2018, long after the horse was gone, so I suspect something else attracted him to her.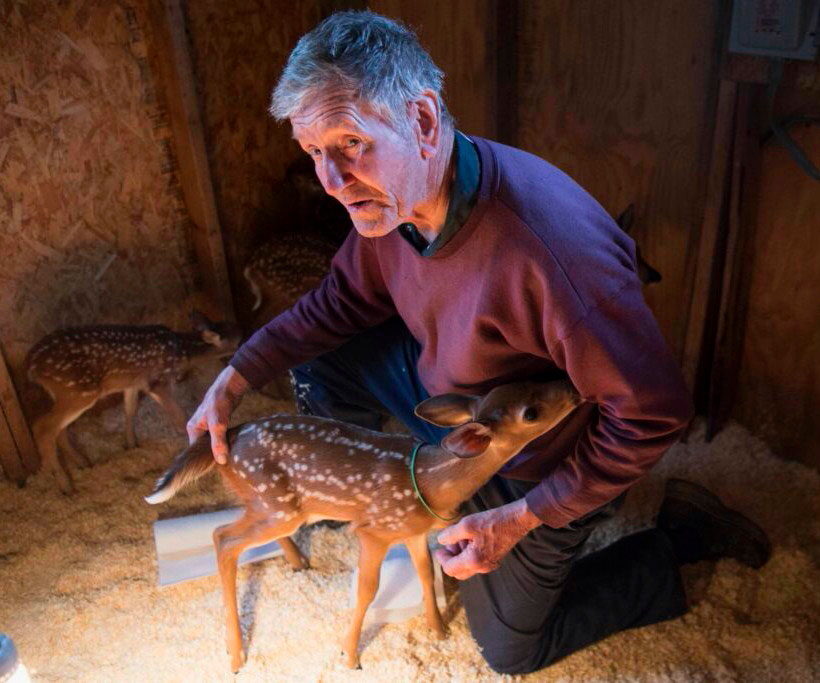 I asked Don if he ever wished he'd been a veterinarian. "I thought about it, but you can't be everything, there isn't enough time. You have to be fairly good at what you do, to do it right. I originally wanted to be a warden and even though I was working for Coca-Cola at the time, seriously planned to attend warden school for the required two years. I love fishing and had bought a boat, motor, and trailer that needed to be paid off (Ken Barden loaned him the money). I did send in an application for warden school, but all the first assignments were up north, which would have required a move, and Carleen, who had a good job with the state, would've had to look for another job. So, I backed out due to moving and financial concerns. To this day, sometimes I wonder…"
After Coca-Cola closed, Don went to work for North Center, but retired at 59½ to devote himself to rescue and rehab fulltime. Carleen had retired at 50 and was handling phone calls, coordinating rescues, and caring for wildlife, but word had gotten around since they started in 1964 and it became a 24/7 commitment for both of them. When asked if he had any regrets? "Nope," was his immediate answer.
Avian Haven, a rescue/rehab facility in Freedom, was established as a nonprofit in 1999 and has relieved Duck Pond of its bird admissions, but there are plenty of wild critters that need attention. Don recognizes times are hard for everyone these days, but says he's "staying afloat." He greatly appreciates donations of any size, as well as the handful of volunteers who help with care, transfers, yardwork, and snow removal.
Although admissions typically slow down at this time of year, Don will get calls from folks worried about young animals now on their own, adjusting to life in the wild without their mothers' care. Some are simply learning how to be independent, but others may indeed be orphaned or injured, struggling to survive. While Don continues to take them in, he does transfer rescues to other rehabbers who are generously providing assistance to help keep critter care at Duck Pond manageable.
Please check the following websites to see if there is a rehabber near you: www.mainevetmed.org/wildlife-rehabilitation or www.maine.gov/ifw/fish-wildlife/wildlife/living-with-wildlife/orphaned-injured-wildlife/index.html – Donald Cote operates Duck Pond Wildlife Care Center on Rte. 3 in Vassalboro. It is a nonprofit, State-permitted rehab facility supported by his own resources and outside donations. Mailing address: 1787 North Belfast Avenue, Vassalboro ME 04989 Phone: (207) 445-4326. Please note that the prior wildlifecarecenter email address is not being monitored at this time.
—by Jayne Winters, Natural Resources Council of Maine member from South China, Maine
Critter Chatter also appears monthly in the Town Line newspaper.