Ben and Dianna Emory both released books this spring. Ben, who has a long history of conservation work in Maine, and Dianna, a retired licensed clinical counselor, are long-time supporters of the efforts of the Natural Resources Council of Maine and other groups. Here, they share with us their perspectives on their writing and careers, and how they hope their work will help others. You can read more about their books—Ben's Sailor for the Wild and Dianna's Bonding with Nature—in our 2018 edition of Explore Maine.—Allison Wells, Editor
Allison: Congratulations on your books! Both are great contributions to Maine's strong literary legacy. What other writing have you done?
Ben: My first magazine articles were published in 1971 and 1973, for Yachting magazine. Subsequently, I've continued to publish very occasional articles in sailing publications and, to a lesser extent, conservation-oriented publications. In the past several years, I've done a number of articles for Maine Boats, Homes, & Harbors and last year another favorite magazine, Northern Woodlands, published an article of mine about the Schoodic-to-Schoodic ecological corridor.
Dianna: I have done a lot of writing over the years, as an English major and through graduate school dissertations and papers. My first major piece, other than research-based writing, was Moving Past Cancer, a book that I decided not to publish because I finished it just as my daughter was in the throes of breast cancer. The timing was really bad. I am happy to say she is now fine, and I just might resurrect that book.
Allison: I hope you will—no doubt many people would benefit from it, just as they will from Bonding with Nature. Your own experiences, including the case studies you share, seem to be powerful sources of inspiration for your book.
Dianna: I have always been focused on trying to give something back to the world in thanks for having a life, instead of dying from childhood cancer. After years of working in the mental health field, volunteering for nonprofits, dealing with challenges, and teaching others to integrate mind-body techniques and connections to nature into their professional and personal lives, a book seemed like another way to give back.
Allison: Ben, your book draws on the idea that people are shaped by their landscape. You make that case eloquently, but there is more to it for you as well.
Ben: One purpose was to set forth what I have for the benefit of family and friends. Important to me, too, was to lay out the early history of both Maine Coast Heritage Trust and the Land Trust Alliance, having been in the middle of both efforts. Much of their early history was not recorded. And writing about boats was particularly fun. I also wanted to share my thinking about the state
of the world and our part of it.
Allison: Your books are similar in that they draw on nature, and Maine, and correlate strongly with your professional lives. How would you say they're different?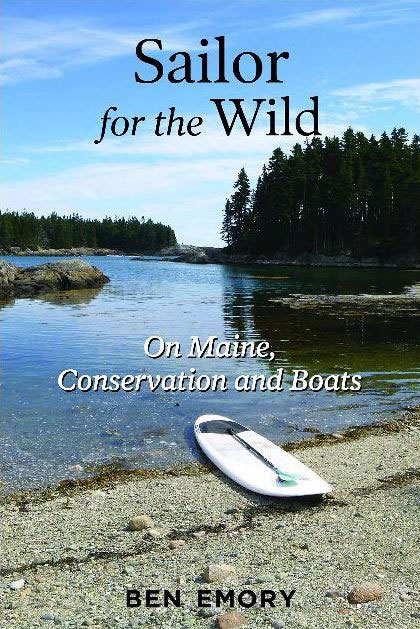 Ben: With mine, some may want to read certain segments—the conservation part, or the boat parts. But I think of the book, in its entirety, as a story that can be read from beginning to end. Dianna's is a self-help book, meant for improving one's mental and physical health. Parts can be read as a story, but there are other pieces that are educational and provide guidance.
Dianna: The green spaces of Maine, our conserved areas, and national parks—both Acadia and Virgin Islands National Park—have for years been intertwined in my professional and personal lives. For me, every day begins with some connection to the natural world—paddle boarding on Frenchman Bay; running, skiing, or biking Acadia, or sailing Maine's waters. Sometimes, injury, illness, or responsibilities interfere with that critical drive to be with nature. In my book, I demonstrate how we can continue that connection—even when challenges interfere.
Allison: Were there particular challenges in writing the book?
Dianna: The worst was when my published books were grossly delayed. En route to the warehouse, they went through two ocean storms, an East Coast blizzard, and the dumping of two pallets of book cartons. Those books could write a story of their own!
Allison: Interesting idea! What did you enjoy most about writing your books?
Ben: The writing process was enjoyable, and the process of editing and design very interesting. Since the book has become available, I have particularly been enjoying reconnecting with people from years ago. Using blast emails to publicize availability has brought replies that have been very rewarding. And now with feedback coming in from some readers, the interesting process continues. It is very interesting to see the specific comments people make, what readers react to.
Allison: As a birder myself, it seems more than chance that I would open your book to the section about your work on seabird habitat restoration! Dianna, how about you?
Dianna: I love that I am able to look back over my life and find the silver lining in almost every experience, even those that were fairly horrendous. Being able to share my professional knowledge, as well as personal challenges, feels like a good way of using "lessons learned" to help others through tough times.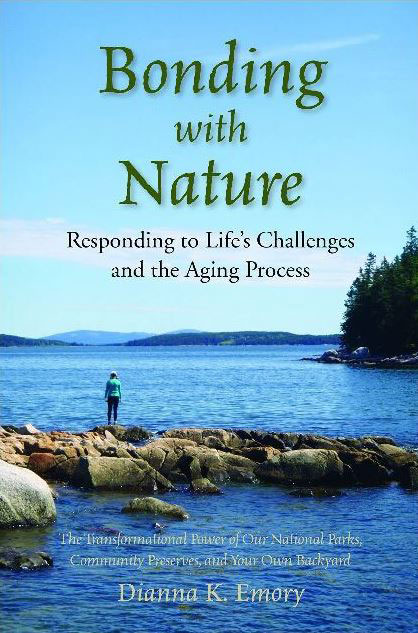 Allison: What was it like to work on the books at the same time?
Dianna: It feels great to know we have each completed a project that could be of some use to others.
Allison: Writing can be a transformative process, especially biographical writing. Did writing your books change you in any way?
Ben: The book has increased my confidence in my own writing and provided encouragement to continue writing as I see opportunities.
Dianna: Well, how about the fact that I am ready to take back my birth name, "Diana"? When I was an adolescent, I changed it to "Dianna" because I wanted to get rid of years of being suffocated by worries about my childhood cancer. I wanted to be new. Now that I am…hmm, old…I would like that name back. Credit cards and licenses probably make it too complicated to deal with. Plus, I might find out that I don't exist!
Allison: Sounds like a great plot for a movie! If there is one thing you'd like your readers to take away, what would it be?
Dianna: I hope that my readers will realize that, within themselves and through engagement with the natural world and her creatures, they have the resources to improve their lives, work through obstacles, and adapt to life's changes.
Ben: I will point to the very last sentence of my book. Civilization itself may depend on passion and commitment to protect our planet being passed down.