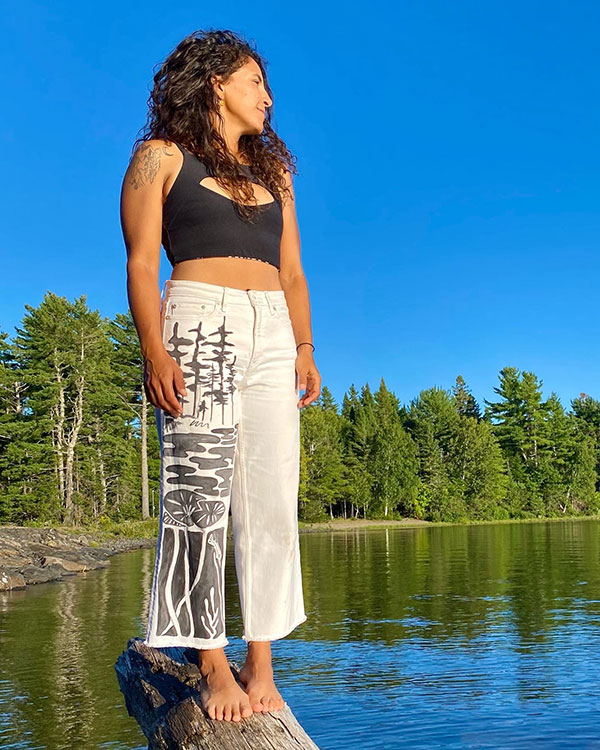 Two years ago, the Allagash Wilderness Waterway (AWW) started a visiting artist program, and every year the Natural Resources Council of Maine's Forest & Wildlife Director Melanie Sturm has interviewed the artist to explore the intersection of art and Maine's environment. Below is Melanie's interview with Jordan Parks, the 2022 AWW Artist in Residence and a 2020 Brookie Award winner.
Read the interviews with the two previous AWW artists – Michael Vermette and Marty Kotter – at our blog.
Tell us a little about yourself and your art. What prompted you to pursue this path? What is it about art that captivates you? Was there a particular moment when you realized you had a gift? 
My work is heavily influenced by our relationship with the natural world and each other. I focus on cultivating interactive outdoor exhibitions that encourage people to engage with their surroundings, find a sense of adventure, and discover art along the way.  
Two days before moving into the cabin on Chamberlain Lake, I had my last day of work at the nonprofit I'd been managing for the past four years. This residency was really an opportunity to transition into pursuing my art full-time, do some financial planning and goal-setting for the next year, and to make some new work. I took full advantage of the quiet and lack of daily demands with slow walks, lots of water watching, and napping.  
For me, art has always been my loudest "voice." It's been a way for me to start a conversation about something I believe in when words often fail me. I appreciate the pace of art when it draws people in, and the conversation opens up further as they connect to it.  
What was it about the Allagash Wilderness Waterway Visiting Artist Program that intrigued you? Was it what you expected? Were there particular challenges and rewards?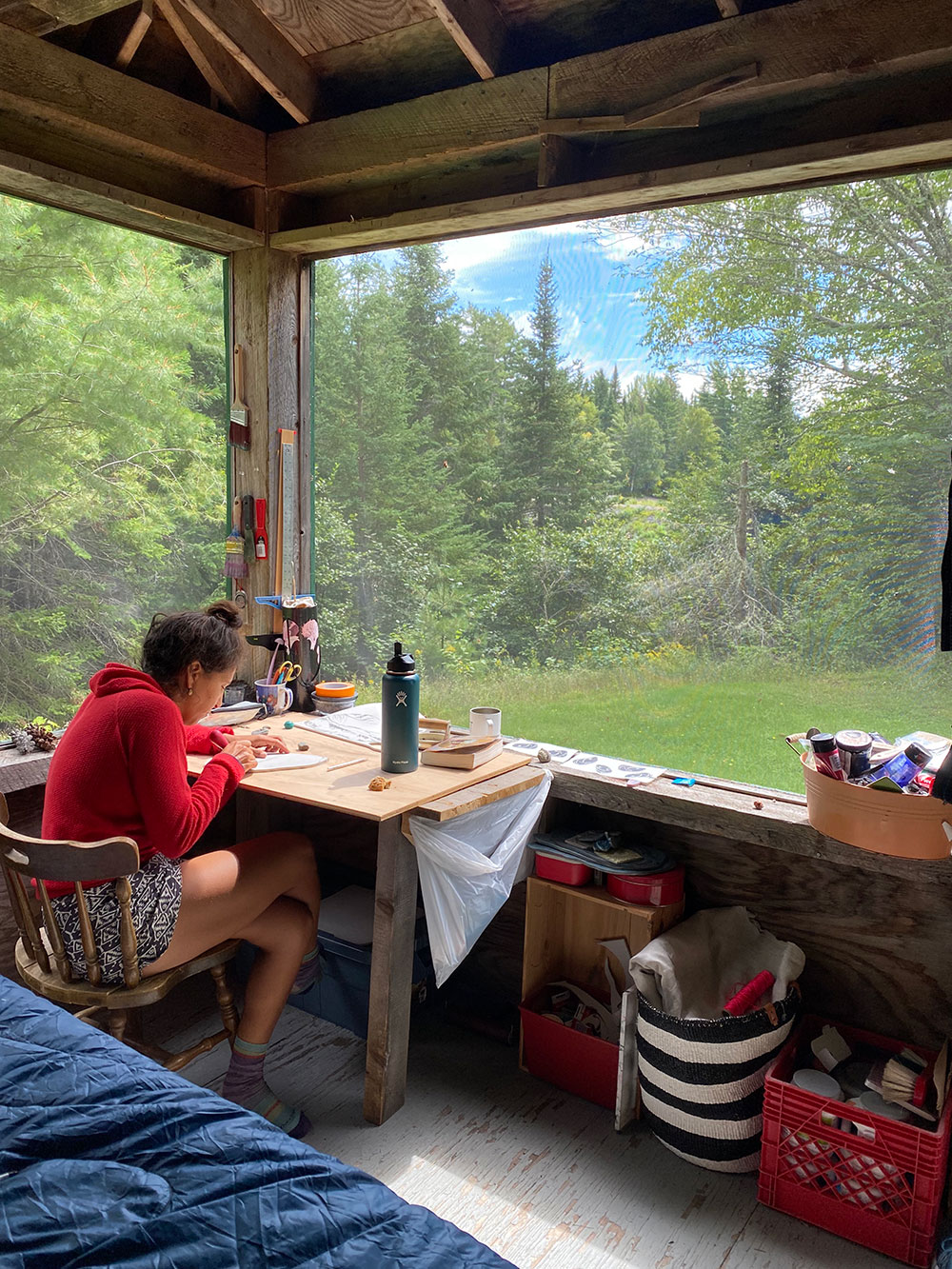 The wildness of the AWW residency is what initially caught my eye. Because I had never visited the Waterway, I liked the idea of fully disconnecting within a new environment and working off grid. My physical and creative life has been centered around the ocean for a while now, so to experience the dynamic nature of such a massive lake and its connecting fresh waters daily had an interesting effect not just on my art but also my brain. The quietness of the cabin and slowness of the season provided ample time for me to develop a solid creative routine, including coffee and nap breaks. The most challenging part of the whole experience for me was definitely once the sun went down and I really started to feel the isolation. While I had some music downloaded and lots of yummy food, there was something about the remoteness of the cabin in the night that felt particularly daunting. I was surprised at how few people I saw —I interacted with a total of 15 people during my two weeks there.  
Where did you go along the Waterway? Any favorite spots? 
I loved the day spent on Allagash Lake with Rangers Alissa and Ben. We motored around the lake in a small canoe, saw a tree that had recently been struck by lightning, and passed over the remains of a moose that had died and decomposed the year before! Hiking to the fire tower behind the caretaker's cabin there gave a new perspective and view of the waters.  
Did you have any encounters with wildlife? 
Surprisingly, I only saw one moose from pretty far away. I got very comfortable with the local inhabitants of the cabin and its grounds—frogs, bats, mice, and the one eagle that liked to perch above the dam.  
Were there any experiences during your time on the Waterway that were particularly inspiring for your artwork? 
I loved watching so many different species of mushrooms pop up every day. At times it felt like new ones would appear every hour. I made carvings of these and the wishing rocks that I'd find near the water. I spent so much time sitting on the screen porch, making work and taking in the sounds as the breeze moved through the surrounding trees.  
How do you think this experience will shape you and your work going forward? 
A fairly immediate realization I had was that while I love creating and installing work within nature, I want to share it with others. The past few years I've really focused on bringing art outside, through experiential art and public art exhibitions. I've got a few ideas to bring that work indoors now, and I think that transition of bringing the outdoors in can hold space for conversations about pollution, climate change, and social issues year-round in a comfortable space.  
Additionally, I loved the printing workshop we held at the Chamberlain Bridge Ranger Station. Even though some of the rangers tried to say they weren't "creative," they all got their hands dirty and participated in making a collaborative print of the mushrooms I carved. It was so fun to see everyone engaged in the process, sharing time and space, and that piece will remain a marker of connecting through the outdoors.  
Where can people see the artwork you created on the Allagash? 
I will have some of the work I created during my residency for sale on my website (www.jordankendallparks.com), and hopefully in the next few months solidify a space to show some of my work in person. I believe the piece we created at the ranger station will be going to the State House, but Mark Deroche, AWW Superintendent, can confirm that location! 
Also, I want to extend immense gratitude for the rangers I met (and the ones I didn't): Alissa, for her warmth and extensive knowledge of the area, animal species and making sure everything at the cabin was in working order. Jay, for his expertise, compelling stories, and letting me tag along to see some work on the dam. Ben, for a super fun tour of Allagash Lake, and apologies for making you climb to the fire tower again :). Lastly, Mark for helping coordinate everything ahead of time, making sure all of my questions were answered, and participating in the workshop!  
Watch 2020 Brookie Awards video of Jordan Parks: