In October of 2018 I joined fellow Bring Your Own Bag Midcoast (BYOB) volunteers at the Abromson Community Education Center in Portland where Goodwill Industries of Northern New England (GWINNE) presented us with the Spirit of Goodwill award. During the award ceremony Rich Cantz, President and CEO of GWINNE, expressed his continued support for our cause to reduce the use of single-use bags at retail establishments and recognized the influence we had made on GWINNE. A year earlier, on the eve of the enactment of Brunswick's bag ordinance, GWINNE and BYOB held a press conference where GWINNE announced their intentions to eliminate plastic bags at all 30 of their retail establishments throughout Maine, New Hampshire, and Vermont. We could not be happier to know that their policies will in turn influence others beyond the boundaries of Maine!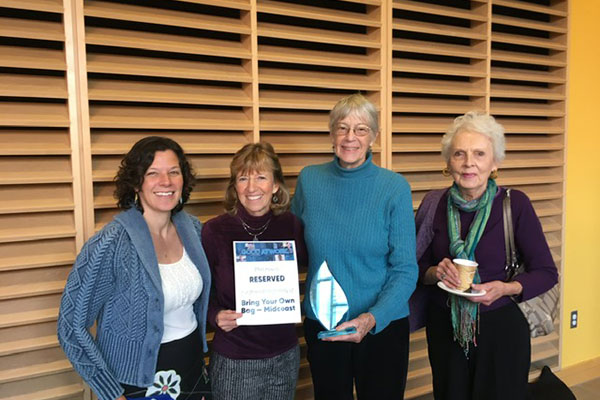 Like all causes worth fighting for, you can always expect opposition, and it will be an uphill battle to create social change. The single-use bag ordinances BYOB shepherded in Brunswick and Topsham were nearly three years in the making. In late 2015 I happened to attend an unrelated volunteer event at the home of Jesse McMahon, a member of NRCM Rising's leadership team. It was through this chance encounter that I learned about BYOB and joined her and the rest of the team.
With help and guidance from NRCM Sustainable Maine Project Director Sarah Lakeman, BYOB began meeting monthly to try and achieve the single-use bag and polystyrene ordinances that had been passed in Portland in June of 2014. While much of BYOB's earlier work focused on gathering public support for bag and Styrofoam ordinances in Brunswick, starting in 2016, the group began engaging with municipal leaders in Topsham.
During my first eight months with the organization, I bounced between speaking at public meetings and presenting at workshops for both ordinances in Brunswick and Topsham. As our discussions with municipal officials evolved it became apparent that the towns were diverging over how much authority they wanted over these ordinances. In Brunswick, the Town Council swiftly passed the polystyrene foam ban in March of 2016. However, it would be another year before the Council would draft-up and pass their own bag policy. Meanwhile, in Topsham we met and presented to the Board of Selectmen several times between February and July of 2016 but could not persuade them to pass any version of these ordinances or to allow these ordinances to appear on the November ballot. As a result, we were faced to circulate petitions to gathering at least 505 signatures, or 10 percent of the votes cast in the most recent gubernatorial election.
As a Topsham resident now with a clear path forward, I was energized to see these ordinances make their way onto the ballot at last. With a renewed sense of determination, I began organizing petition routes, and soliciting for and training volunteers to knock on doors. It was decided that it would be best to keep the bag and foam ordinances separate on the ballot; therefore, we had to collect at least 1,010 valid signatures. In six weeks' time I personally gathered more than 400 signatures, and as a group we had certified 596 signatures for the bag fee and 605 on the polystyrene foam ban. With the ordinances officially on the ballot, it was time to step up the public outreach campaign.
During the weeks leading up to the election there was a lot of activity. I organized a signage campaign with a handful of volunteers who, using materials I scavenged from the transfer station and from a former campaign, created over 60 signs that went up around town. I and other BYOB members also contributed letters to the editor and solicited friends and family to do the same.
One of the most memorable parts of the campaign for me was making and wearing my homemade plastic bag monster costume out in public to promote our cause. The Tyvek suit—unrecognizable by the adornment of layers of plastic bags stapled to it—has become, I like to think, somewhat synonymous with the sisterhood of the traveling pants, but for Maine bag ordinances campaigns. To this day I happily donate the suit and/or my time to anyone taking up the cause.
Organizing to ban polystyrene foam and limit single-use bags in the Midcoast area was an uphill battle, but a cause worth fighting for. I will always be proud of my efforts to help create a cleaner environment.
—by Yvette Meunier, member of BYOB Midcoast and NRCM Rising Leadership Team