by NRCM board member Karen Herold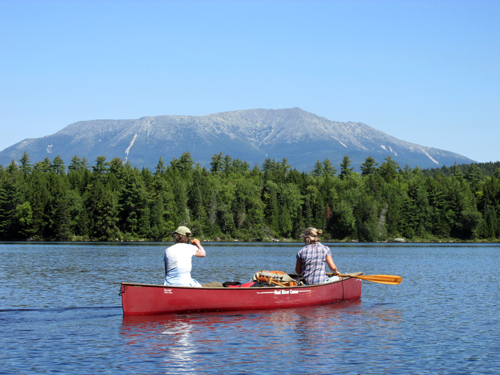 In early July, NRCM's Executive Director, Lisa Pohlmann, asked a friend and a couple of NRCM board members who like canoeing if we wanted to come for an end-of-summer paddle. The dates lined up effortlessly, but by mid-August we had yet to decide where to go. We batted around many good ideas, poring over driving times, shuttles, water levels, and technical challenges of one river or another. Around and around we went until the email headed "DECISION REACHED!  IT'S THE DEBSCONEAGS!"
I had paddled this chain of lakes recently in a two-and-a-half day hustle, and I knew that I had barely scratched the surface of all there is to see in this gorgeous, rocky landscape of rich forest, huge granite boulders, and clean lakes. Lisa's goal was to relax outside and leave the world behind for a short interlude. Taking five days to paddle the Debsconeag Lakes was a relaxed plan indeed.
The Nature Conservancy has protected this land in a project of vision and civic generosity. We knew we would find beauty at every turn. We had the most perfect conditions imaginable: warm, cloudless, calm, and bugless. We saw no one else, except at the very end when we overlapped a freshman orientation trip from Bowdoin College. Every day we'd linger over coffee in the morning, paddle to a portage, carry the gear and canoes without trouble, and mosey over to the next drop-dead view of Katahdin and the next pristine campsite. Afternoon swims, time to read and explore, simple dinners, campfire discussions, evening read-alouds, and long sleeps marked a trip devoid of "shoulds." No need to hurry, no need to make miles, no racing the dark.
A wilderness trip is a perfect chance to discover one's companions' surprises. Lisa has a lovely voice that led us singing rounds and harmonies as we paddled along. A couple of times we spotted her bobbing far away in a lake swim. She'll opt for every optional adventure.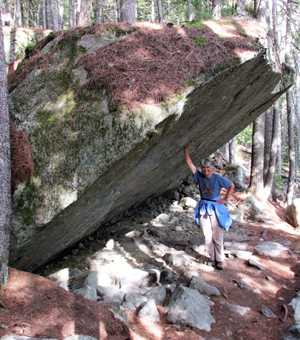 On this trip there is a campsite reachable only by boot or canoe. A waterfall visible through the trees lulls you to sleep. A sandy beach facing west is good for afternoon naps. Here you are at the core of beauty and peace. I knew this spot would recharge all of us, especially NRCM's executive director. Here she would be enveloped by the best of a clean and healthy environment, the goal of the hard work she does all the rest of the year.
Eventually we filtered back past more views of Katahdin, a few rapids, and then Ambejejus Lake and our car. I suppose one could do the Debsconeag Lakes trip even more slowly. I'm willing to try.
All trip photos were taken by Elaine Isakson.
Trip participants were Lisa Pohlmann, Karen Herold, Patty Hager, and Elaine Isakson.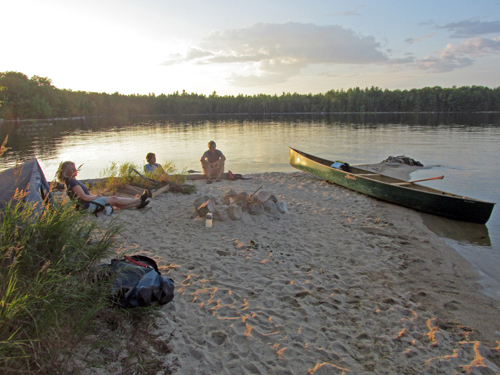 Related Links:
Learn more about NRCM's work to protect Maine's North Woods.
View NRCM's Explore Maine map with information about Land for Maine's Future sites throughout the state where you can hike, camp, canoe, swim, fish, and more.