One of my all-time favorite adventures was a trip down the Allagash. The feds designated the Allagash as a National Wild and Scenic River, with lots of protection.
I was very pleased recently to receive a copy of the booklet, Allagash Explorer, created to help you enjoy an Allagash adventure. A lot of people contributed to this guide, including interpretive writer Julia Gray of Orland, editor Bruce Jacobson of Bar Harbor, copy editor Jane Crosen of Penobscot, graphic designer Karen Zimmerman of Bar Harbor, illustrator Alison Carver of Newcastle, and mapmaker Jon Luoma of Alna.
If you plan on visiting the Allagash, you should get this booklet, billed as "A Take-Along Companion for Maine's Wilderness Waterway." As former US Senator George Mitchell wrote, "Today, the best way to appreciate its wonders is with Allagash Explorer in your pocket."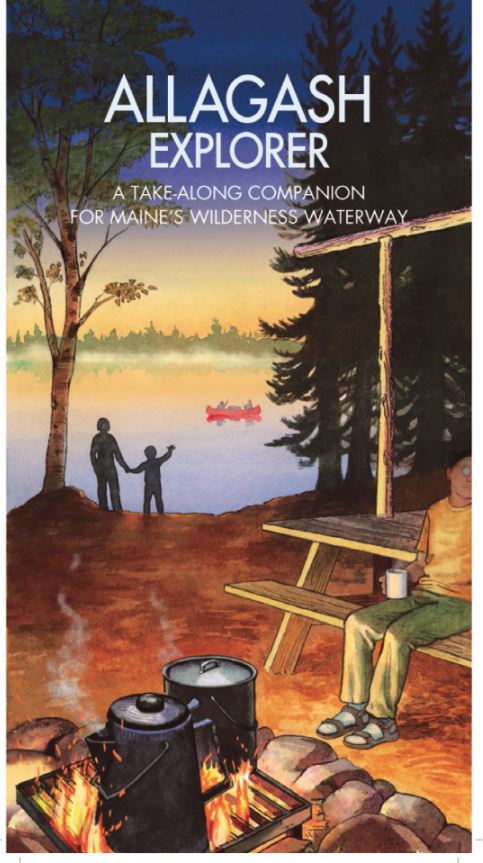 I agree, but you will enjoy this booklet even if you're not going to visit the Allagash. It's very entertaining, with information, wonderful photos, and lots of questions about your outdoor adventures, with encouragement to write them down. Of course, after you read this, you'll be headed to the Allagash!
The booklet covers everything from history to trout to canoeing with kids, moose to the magical night sky to a monstrous frog.
Given that they encourage you to write your own stories, here's my favorite from my trip down the Allagash.
We didn't do the entire 92 miles. We started about halfway down the river. The first night we stayed in an old sporting camp. It was closed, but the lady owner let us use one of the cabins.
The next morning, my guide anchored us in some fast water, and I immediately started catching brook trout. After a while, my guide told me to look up river, and here came a couple in a canoe with about four feet of stuff piled in the middle and a dog laying on top.
Sure enough, as soon as they hit the rapids they capsized and all their stuff, including the dog, started drifting downriver. My guide started pulling up our anchor, and I asked him what he was doing. I didn't want to leave. I was catching fish!
Well, he convinced me we needed to help them, so we headed down river, collecting some of their stuff. The dog swam to shore, and the river was shallow enough right there that the couple was able to right their canoe and get it to shore.
They were very grateful to us for helping, and they eventually headed down river, looking for the rest of their stuff. And yes, we got back to fishing!
—by George Smith