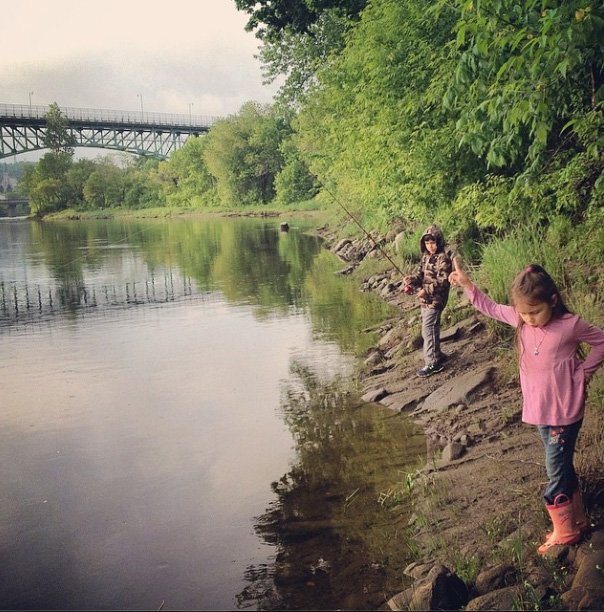 Fifteen years ago, the efforts of the passionate souls at the Natural Resources Council of Maine resulted in the removal of the Edwards Dam in Augusta. I didn't work here then but I'm quite certain that, just as it is today, the culture here was one of steadfast resolve to protect the nature of Maine. NRCM worked with allies, rallied citizens, provided expert scientific analysis, and alerted the media again and again until the Edwards Dam was removed after a 10-year campaign.
I may not have worked here then but I grew up in the Kennebec Watershed, when the Edwards Dam was still holding back fish from their native spawning grounds. And, I did little by way of recreating along it as a child. There was never a Bald Eagle sighting and there weren't a lot of fish to catch.
The breaching of the Edwards Dam has brought the river back to life. As the fish have rebounded, so have the birds of the area.  My eight-year-old son hooked a striped bass just a couple of weeks ago. The giant sturgeon are jumping and slapping the water—an amazing sight but I do hope they stay off the boy's line as they would certainly win a tug-of-war with his 50-pound self!
Today, Bald Eagles and Osprey are soaring above and diving into the water for prey. We have quietly watched a beaver zigzag its way upstream and taken in the view of a majestic Great Blue Heron gracefully landing nearby.
It's a different river today than it was in pre-dam days. It's a river to recreate on. And, most importantly, its home to so many fish and birds that once found it unlivable. It's a success story for the wildlife and people of Maine. I'm glad that NRCM was here then, as we are now, to stand up for wildlife habitat in this great state.
—by Stacie Haines, NRCM Membership Director
Related Links: