Have you noticed there are a lot of baby bumps and strollers walking around?  
Some say Maine is having a baby boom right now, but the numbers suggest it's a modest one. Maine is seeing an uptick in baby births after years of decline. According to the Maine Center for Disease Control, 12,001 babies were born in the state in 2021, about 500 more than in 2020. In fact, Maine was the only state in the nation where the average age decreased – although very slightly – in 2021.  
At the Natural Resources Council of Maine, a number of staff are parents to young children. I'll be the latest with a junior environmentalist due in January. 
But what about the waste that comes along with having a child? And if you're an expecting or new parent, what can you do to avoid all the excess that seems to come along with it? 
To help the tiniest Mainers be environmentally friendly from the start, NRCM staff pooled their recommendations for reducing waste and consuming less during pregnancy and through the first two years of parenthood. Note that our advice is from personal experience. Of course, every baby is different and has different needs, and these recommendations shouldn't replace medical guidance from your doctor.  
Also, babies require investments of care, money, attention, love, and time. Our recommendations aren't intended to be what "good" parents do. We recognize that it can take time and energy (and sometimes expendable income) to go the extra mile in order to tread more lightly, and what works for some might not work for others. That said, a few recommendations below may actually save you time and money, like thrifting, buying in bulk, and skipping the plastic toy fads.
1. Seek out and pass on baby items and maternity clothes.
Getting baby stuff secondhand is the best; it's free or at least lower in cost, and you're not needlessly contributing to the creation of more material goods.  
To find used baby items, tell your friends, family, neighbors, and coworkers that you're expecting, and chances are someone will have something to hand down. Pay it forward by passing on your baby clothes, gear, and toys when your child outgrows them, which they will quickly.   
Consignment stores, either brick-and-mortar or online shops, and social media groups like the Buy Nothing Project are great for finding good-quality, secondhand goods. You may be able to sell or donate baby items you no longer need to these places when you're done. The same goes for maternity clothes; you only need them a short time so why not try used?   
You can also say on your online baby registry – typically you have the option of writing a message at the top – that you encourage or prefer secondhand.  
 Always be sure the items you're buying or receiving are in good condition and they aren't recalled. Pay particular attention to car seats, highchairs, and cribs. These three items must meet U.S. Food & Drug Administration standards. Check to make sure the car seat hasn't expired and has never been in an accident.  
2. Avoid plastic and single-use items.
Plastic is made with fossil fuels, often contains harmful chemicals, and creates an unimaginable amount of unrecyclable waste. For your baby's health and the health of the planet, try to avoid buying plastic-based items and go for wood, bamboo, silicone, or glass instead whenever possible.  
For instance, plastic or silicone milk storage bags are popular but they're designed for single use, so they can't be washed and reused. Using small glass jars (4-8 oz) as storage is an alternative option, at least for at-home use (as opposed to daycare or nights away from home). It's bulkier for sure, which would be a problem for some people with limited freezer space, but glass is less likely to have leaks, it's durable and reusable, and it can be easily sterilized in boiling water. Often you can find silicone sleeves for glasses if you're worried about breaking them. 
3. Skip the specialty items.
The joy of acquiring things for your baby can come on strong and may leave you wanting all the bells and whistles, especially when there's a whole cottage industry dedicated to convincing parents that they need a ton of stuff. Seasoned parents insist that you don't need a bottle warmer or sterilizer (unless you have a premature baby) or many other specialty items. For example, some people choose to go without a baby bathtub and instead hold the baby in the sink, or they use dishcloths as bibs.  
A lot of these purchasing decisions are a matter of preference, lifestyle, budget, storage space, and need for convenience, and that's okay as long as you intentionally think about your needs before adding that baby powder or infant bath towel that may be unnecessary to your cart. Not sure what's necessary and what's not? Ask a parent to share what their most used and useful items were. 
4. Use cloth diapers and wipes.
Some readers already cringed at this suggestion. In truth, it's not for everyone! But consider the fact that an estimated 20 billion disposable diapers enter landfills every year, and those diapers probably take 500 years to decompose. (I say probably because disposable diapers haven't been around long enough to know for sure.) Those diapers also leach chemicals.  
The alternative is using a cloth diaper service (these are unfortunately scarce in Maine) or buying your own and washing them yourself. You can do the same with wipes by buying cloth wipes and a specially designed, safe-for-babies, concentrated solution that is diluted and sprayed directly on the cloth. The wipes and diapers can be washed all together.  
If you live in an arid place, there are tradeoffs to using a lot of water on a regular basis to wash diapers and wipes, but Maine isn't a water-poor state, so we'd recommend trying it. Parents can try to conserve water and lower energy usage by using high efficiency washing machines with plant-based detergents and hanging diapers to dry instead of using a standard dryer. 
5. Make your own baby food.
Once your kiddo is ready for solids, rather than buying food jars or pouches from the store, which create packaging waste that adds up quickly, consider making baby food at home.  
It's cheaper, you can source local and organic ingredients, it contains no additives or sweeteners, and it can be a fun activity to do with your parenting partner. You can also buy do-it-yourself baby food reusable pouches to make things easier. 
6. Potty train as early as you can to avoid even more diapers.
Potty training is no doubt one of those things that children achieve at different paces, but speeding the process along when possible means fewer dirty diapers.  
To do that, give this a shot:  Get a small, portable potty (some even make flushing sounds!) and bring it with you everywhere. Put it in the room your child is in and continue to remind them that if they have to go to use the portable potty, not their diaper. I've heard it said that cloth diapers also quicken the potty-training process. If these tactics don't work, you can at least say you tried! 
7. Buy baby products in bulk and shop locally.
If nothing else, you can rely on these simple but tried and true methods of consuming less.  
Buying in bulk is cheaper, reduces packaging waste, limits how much shopping you need to do, and can be applied to many other buying habits aside from your baby's needs.  
By buying from a local store, you avoid the shipping costs, transportation emissions, and packaging waste from that package being hauled from out of state.  
8. Rotate and improvise toys.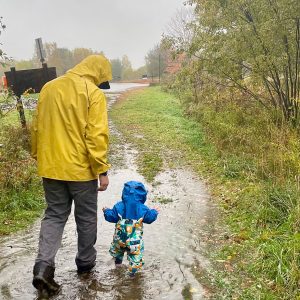 Little kids have short attention spans and will get tired of their toys faster than you might expect. Rather than always buying brand new toys, you can make the old ones exciting again by switching them in and out of a closet, basement, etc.  
Several parents said their kids are just as interested in objects that can be found around the house (e.g., cups and spoons) and in nature (e.g., rocks and sticks) as they are in store-bought toys, so you might hold off on resorting to buying new every time you need something fun and interactive for your child.  
Babies are super curious about nature, so let them explore outdoors (with supervision)! Maybe it'll lay the seed that grows into a love and respect for our natural environment. 
With all these things, it helps to plan ahead. Do your research and have conversations with your partner, peers, elders, and experts to decide what's most important to you and which of these tips may fit with your life and values.
Is there anything we missed? Share your ideas with us in the comments section below! We'd love to hear from you, especially if you have a favorite consignment shop for baby clothes and gear in Maine.  
—Melanie Sturm, NRCM Forests & Wildlife Director