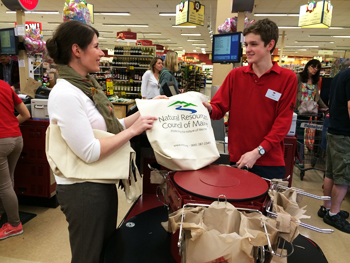 Single-use disposable shopping bags are one of the most commonly used and quickly discarded items in our communities. When stores routinely hand out an unlimited number of single-use disposable bags, we end up creating a lot of unnecessary waste. Simply reminding people that it's a good idea to shop with reusable bags isn't enough to solve this problem and it's time to take a more effective approach. Take this big step down the path toward a less wasteful society and join hundreds of other communities by creating a program that offers an incentive for people to shop with reusable bags.
Facts in Support of a Reusable Bag Ordinance Be prepared to advocate for and defend your ordinance with a list of good points and supporting facts on hand. This document will get you started.
Choosing the Right Strategy  Communities have taken many different approaches to promote reusable bags, ranging from enacting fees to outright bans.  This document will help you think through and discuss the various options and aspects of your ordinance so that you can promote the one that is right for your community.
Reusable Bag Ordinances Already in Place The City of Portland prepared this document to show where reusable bag ordinances have been adopted.  The Surfrider Foundation maintains a similar list.
Sample Reusable Bag Ordinance Language This document provides sample ordinance language from other New England communities, which may help you draft an ordinance for your town.
Hannaford Reusable Bag Ordinance Position This is a letter from Hannaford Supermarkets stating their position toward local reusable bag ordinances.
Other Resources: