Keep Out-of-state Waste OUT of Maine
Corporate waste companies are exploiting a loophole in Maine law to dump tons of toxic out-of-state waste in the State-owned Juniper Ridge Landfill (JRL). This practice was not what was intended when taxpayers bought the landfill and is unjustly harming the health of Maine people and our environment.
Latest Update: The bill to close the loophole, LD 1639, received a public hearing on May 17, 2021, and was carried over to the next regular session of the Legislature beginning in January, 2022. Forty-two Maine residents and environmental and social justice organizations testified in support of this bill. Those who opposed the bill were all companies or individuals benefiting financially from dumping out-of-state waste in Maine.
"Unfortunately, Maine has allowed hundreds of thousands of tons of out-of-state waste to be landfilled in our state…it's time to correct this massive injustice."
– John Banks, Natural Resources Director, Penobscot Nation
NRCM is working to pass LD 1639 along with our allies in Community Action Works, the Maine Environmental Priorities Coalition, and Don't Waste ME, an alliance of impacted community residents and tribal citizens fighting for policies that protect the health of communities most at risk from the negative impacts of waste facilities.
The Growing Problem of Out-of-state Waste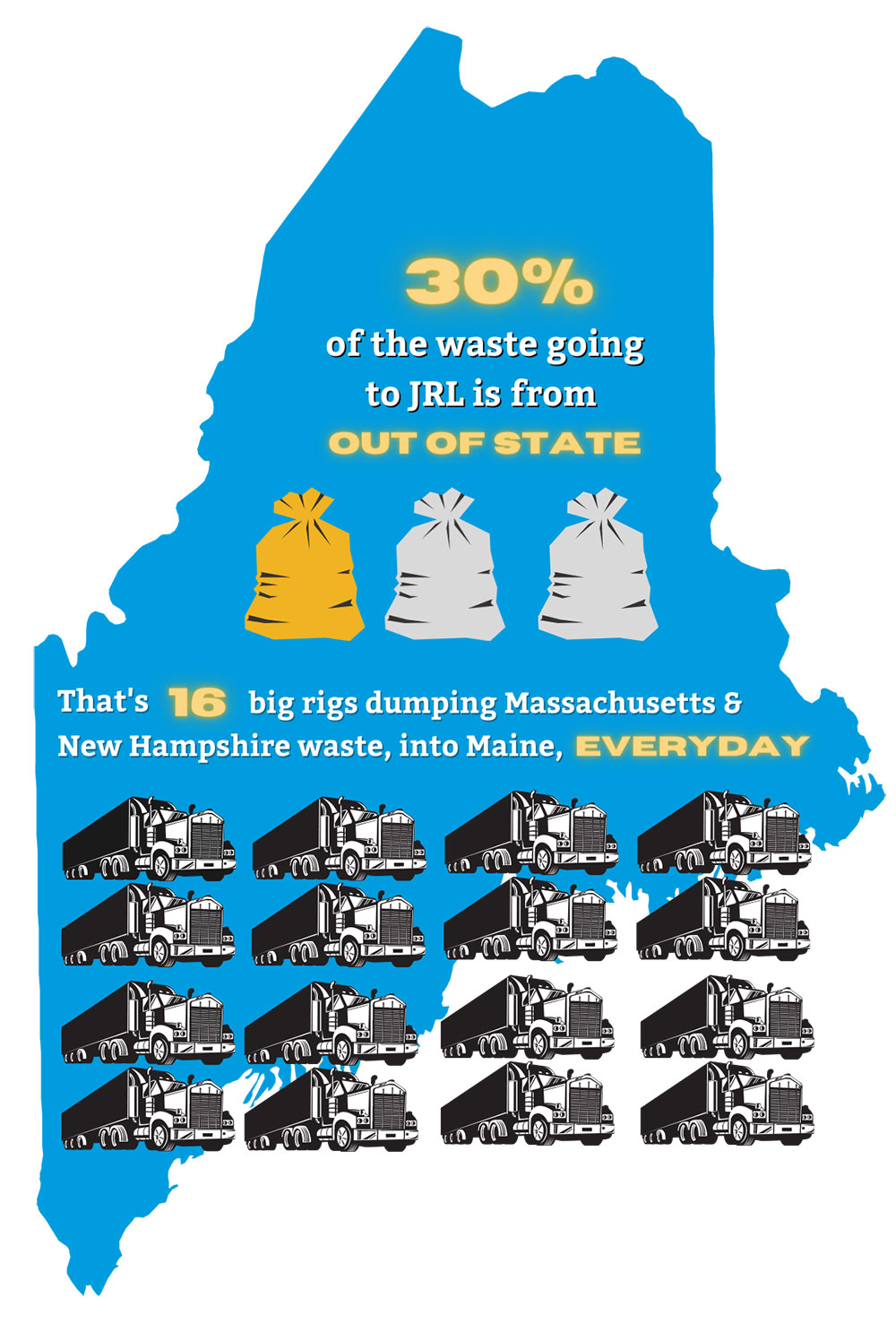 When the state used taxpayer money to buy the Juniper Ridge Landfill (JRL) in Old Town it was with the explicit intention of saving space for trash from Maine. The dumping of out-of-state waste at JRL by private corporations breaks that promise by filling up the landfill too rapidly with toxic materials that threaten the health of the surrounding environment and communities.
At least 30% of the waste landfilled at JRL each year is toxic construction and demolition debris (CDD) that originated out-of-state in New Hampshire and Massachusetts.
The amount of waste going to JRL has increased by 32% since 2012 and shows no sign of slowing down without legislative action.
One of Maine's solid waste processing facilities, on average, receives about 90% of its waste from out of state; and the facility only recycles a mere 10% of the material it receives—the rest is buried in Juniper Ridge Landfill.
Close the Loophole to Stop Maine from Being a Dumping Ground
While Maine cannot legally restrict commercial waste facilities from importing out-of-state waste because of federal law, we can prevent out-of-state waste from being dumped in our state-owned waste facilities. Current Maine law classifies waste as "generated within the state" just by virtue of going to one of Maine's solid waste processing facilities before it is landfilled.
Private companies are exploiting this loophole by filling JRL with massive amounts of toxic waste, which is threatening sites of historical, cultural, and spiritual significance for the Penobscot Nation, neighboring residents, and the Penobscot River and Bay.
LD 1639 would stop Maine from being a dumping ground for toxic waste by:
Limiting the tonnage that a Maine waste processing facility can send to JRL to be no more than what they take from original Maine sources; out-of-state waste tons would no longer be able to be disguised as Maine-generated tons.
Clarifying that landfilling is not recycling, and no placement of waste in a landfill counts toward the 50% recycling standard that a solid waste processing facility must meet.
Requiring Maine's solid waste processing facilities that process a majority of out-of-state waste to innovate and do the right thing for our environment by recycling more of the material they receive, or by processing more waste originally generated by Maine people than they import from out of state.
Learn More:
Take Action: