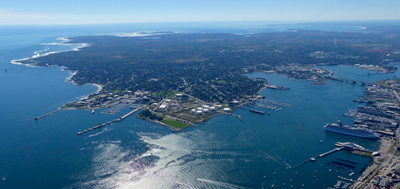 Tar sands oil is the dirtiest and most climate-destructive form of oil in the world. When it spills, it is almost impossible to clean up. For a few years, there was a proposal to bring tar sands oil through an existing 63-year-old pipeline in Maine. The pipeline It crosses some of Maine's most pristine watersheds and ends at Casco Bay (pictured). This plan would have put our lakes, rivers, and coastal waters at risk, and threaten communities and drinking water from Sebago Lake along its path. The Natural Resources Council of Maine was the first organization to bring the threat of tar sands to the public's attention in Maine in 2009, and was a leader on this issue statewide.
Tar sands oil is one of the dirtiest forms of energy on the planet and would be a threat in Maine and the Northeast. Extracted from huge open-pit mines in Alberta, Canada, tar sands oil is 20% more carbon intensive than conventional crude oil. Big oil companies considered pumping tar sands oil through pipelines from Ontario to Portland, Maine to be exported by tanker.
Impacts on Maine
Sending tar sands crude oil to Maine would have required reversing an existing pipeline owned by Portland Montreal Pipe Line, which transports conventional crude oil from Maine, across New Hampshire and Vermont, to Quebec. Company officials disclosed in 2012 that they were in discussions to do just that. The pipeline passes next to Sebago Lake, the drinking water supply for more than 15% of Maine people, and sending tar sands oil through the pipeline would have endangered Casco Bay and our fishing and lobster industries. See a map of where the pipeline crosses through Maine communities.
Seven Maine cities and towns passed resolutions in opposition to transporting tar sands oil through their communities via the Portland-Montreal Pipeline. Those cities and towns are:
Tar Sands and South Portland
South Portland lies at one end of the Portland-Montreal Pipeline. Reversing the pipeline to bring tar sands south would have meant a new tanker loading facility in South Portland. Starting in 2012, NRCM worked with citizens from South Portland to protect their community from threats posed by tar sands infrastructure.
In 2013 the residents of South Portland nearly passed a Waterfront Protection Ordinance by referendum to protect the city from the tar sands project, which would have included new smokestacks emitting toxic chemicals right by Bug Light Park. Mostly out-of-state oil industry interests spent more than $600,000 to defeat the ordinance (outspending proponents 6:1). Despite the narrow loss for the Waterfront Protection Ordinance, it was clear that citizens didn't want tar sands in the city. The day after the election, the South Portland City Council began to put in place a 6-month moratorium on any crude oil export facility, protecting the city from tar sands until early May 2014. A three-member committee was appointed by the City Council and they drafted an ordinance that will permanently prevent a tar sands loading terminal, protecting the air, the waterfront, and Casco Bay.
On July 21, 2014, the South Portland City Council voted 6-1 to pass a "Clear Skies Ordinance," which will protect South Portland's residents and environment from toxic air pollution and other impacts from loading tar sands crude oil onto tanker ships in Casco Bay.
Impacts on the Environment and Wildlife
Tar sands oil is causing massive environmental impacts across a widening expanse of western Canada. The sprawling tar sands operations in Alberta are one of the most environmentally destructive energy projects in the world, destroying boreal forests that provide crucial habitat for endangered woodland caribou and breeding grounds for millions of birds. The boreal forest stores 11% of the world's carbon and is our first line of defense against global warming. In addition to wide scale habitat destruction, the tar sands operation generates large volumes of air and water pollution. Tar sands oil is one of the most carbon intensive form of energy—substituting it for conventional oil increases global warming emissions by 20%, when of course we need to reduce emissions more than 20% in the near future. Massive toxic waste water ponds from tar sands operations—akin to mountain top coal mining—can be seen from space. Furthermore, tar sands pipelines have experienced hundreds of ruptures over the past decade, spilling more than one million gallons of oil that has polluted rivers, wetlands, and threatened wildlife.
Tar Sands Pipelines
Tar sands are landlocked in Canada, so big oil companies desperately want to get that oil out to global markets and U.S. refineries. In 2008, Canadian oil and gas giant Enbridge was pursuing a project known as "Trailbreaker" to bring heavy tar sands crude oil from western Canada's tar sands operations to Portland, Maine, by reversing the flow of its Line 9 in Ontario and the existing Portland-Montreal pipeline. That $350-million project was suspended by a downturn in the economy. But now, Enbridge is splitting its pipeline project into pieces in order to bypass full regulatory and public scrutiny. 
In 2011, when Enbridge quietly requested fast-track approval from Canada's National Energy Board (NEB) to reverse the flow of crude oil in one segment of Line 9, NRCM and other environmental organizations from Canada and New England filed a protest to block the project. Nonetheless, the pipeline reversal has been getting permits, one segment at a time. NRCM continues to work tirelessly to stop the reversal of the Portland-Montreal pipeline to keep tar sands out of Maine.
Another emerging tar sands pipeline threat is TransCanada's proposed "Energy East" pipeline, which would send tar sands oil on the Canadian side of the Maine border to St. John, New Brunswick for refining and/or export. NRCM has been working with other Maine and national groups to bring Maine people information about tar sands and their pipelines as these harmful proposals unfold.
Big pipeline corporations Enbridge and TransCanada have histories of pipeline failures that have contaminated rivers and streams here in the U.S. and across Canada. (The first Keystone pipeline had 14 leaks in the first year.) A tar sands pipeline from western Canada to Maine would be plagued with these same problems. Tar sands oil typically is pumped at higher pressures than conventional oil and have increased risks of ruptures. Enbridge's Line 9 to Montreal is a relatively old pipeline built with the same material that was used in the Enbridge pipeline in Michigan that ruptured in 2010, leaking nearly a million of gallons of tar sands oil into the Kalamazoo River.
Protesting the Pipelines
The effort by Enbridge to reduce public, regulatory, and media attention to its project comes at a time when another tar sands pipeline—TransCanada's proposed 1,700-mile Keystone XL pipeline from Alberta to the Gulf Coast—has drawn widespread opposition, including thousands of people across the country, including right here in Maine. The Keystone XL pipeline would have carried dirty tar sands oil from Alberta, Canada, through the U.S. to refineries in the Gulf of Mexico. In January 2012, President Obama listened to millions of people across the country and denied a permit for the Keystone XL pipeline. But, Big Oil does not lose gracefully and their allies in Congress proposed legislation that would have had Congress approve the Keystone XL tar sands pipeline before finishing the environmental review or even determining the final route for the pipeline. On Inauguration Day 2021, President Biden signed an Executive Order to revoke the Keystone XL permit, and in June 2021, the company abandoned its plan for the pipeline.