The Natural Resources Council of Maine (NRCM) released one of the most complete depictions ever done of the potential impacts on Maine's coastline from rising sea levels due to global warming. Using the latest available science, NRCM's analysis shows that coastal businesses, homes, wildlife habitat, transportation systems, and some of the state's most treasured places are highly vulnerable to sea-level rise.
NRCM calculated impacts for the entire coast, and selected several key areas to undertake detailed mapping using satellite images including, Portland, Kennebunkport, Old Orchard Beach, Scarborough, Bath, Georgetown, Mount Desert Island and the Cranberry Isles. We found at least 20 high risk cities and towns that stand to lose 20-30% of their land area, their municipal infrastructure, miles of highways, and millions of dollars of property.
What Causes Sea-level Rise?
Sea-level rise from climate change happens for two main reasons:
The first—one that climatologists have predicted for several years—is caused by thermal expansion: warm water takes up more space than cold water. When you increase the temperature of the ocean by a few degrees, it gets a lot bigger; and
Seventy percent of Earth's fresh water is locked up in ice, glaciers, and ice sheets in Greenland and Antarctica. For a long time, scientists thought that these massive sheets would take a thousand years to melt. We have had to revise our expectations surprisingly quickly as evidence mounts of accelerating melting.
How Much Will Sea Level Rise and When Will It Happen?
Scientists and planners have known for more decades that the sea level is rising. In 1995, the EPA estimated that a two- to three-foot sea-level rise was possible over the next several generations. Climate change scientists have, however, revised their predictions in response to a quicker than expected warming trend.
With Maine having the longest coastline in the nation and many communities built just slightly above sea level, the threats to our state are extensive. This is particularly the case since the gulf of Maine is warming 99% faster than the rest of the world's oceans.
A 2017 report from the National Oceanic and Atmospheric Administration, showed low-level rise scenarios that predict at least six inches of sea level rise by 2050, whereas extreme scenarios suggest the sea level could rise by as much at two feet by 2050. By 2100 this same report shows between one and eight feet of sea level rise.
What accompanies sea-level rise that will be particularly threatening to the Maine coast, Maine people, and our economy, is the storm surge that accompanies this rise. The combined impact of sea level rise, storm surge and stronger storms intensified by climate change will result in more damaging storms and floods along the coast of Maine.
"If global warming continues unabated, then portions of Maine's coastline will be forever changed. That is why we are calling for increased efforts at every level to reduce global warming pollution. The most dangerous impacts of sea-level rise can still be avoided, but widespread action is needed now. According to scientists, we have a shrinking window of opportunity to change our course—measured in years not decades," said NRCM Climate and Clean Energy Director Dylan Voorhees.
What Will be the Impact of Sea-level Rise in Maine?
Economic Impact of Sea-level Rise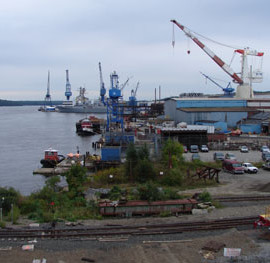 Economic impacts could be serious. Businesses could be damaged, real estate lost, transportation infrastructure destroyed, and tourism revenues lost.
Many parts of Route One would need to be completely rebuilt and re-routed.
Millions of dollars would be required to rebuild fresh water supplies and wastewater treatment plants.
The value of damaged and destroyed commercial and residential properties would be enormous. Two neighborhoods in Portland with an assessed value of more than $70 million, East Deering and Baxter Boulevard, would be ruined by a six-meter rise.
The value of properties along the more affected, and more expensive, south coast would be in the hundreds of millions.
Because these areas include some of the State's most important tourist destinations, the economic impact on Maine's $3.5 billion tourism economy could be incalculable.
Environmental Impact of Sea-level Rise
Ecological impacts could be severe. Breeding habitat in sand dunes, tidal marshes, and coastal wetlands, used by hundreds of species, could be destroyed. Impacts would be particularly high for some of Maine's most endangered birds like the Piping Plover, Saltmarsh Sparrow, and Roseate Tern.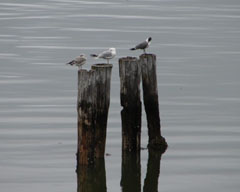 "Coastlines have continually changed over the millennia, but this degree of change over the course of decades means that marshes, beaches and other needed habitat will be destroyed before new nesting grounds can be created," said Jeanette Lovitch, a biologist, birder and business owner from Yarmouth.
"This analysis should be a wake-up call. We still have an opportunity to avert the most serious impacts, but doing so will require increased actions at all levels to curb greenhouse gas emissions," said Voorhees. "Maine has shown good initial leadership by individuals, cirties like Portland, and by the State – but we need to increase our actions to boost energy efficiency, expand renewable energy, and cut carbon emissions. We all must be part of the solution that will help keep the worst of these scenarios from becoming a reality."
What Can be Done to Prevent This from Happening?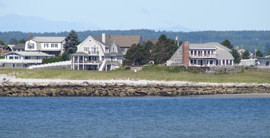 This isn't something we should be leaving towns to address on their own, the state and the region need to do more to reduce climate change pollution. Cities like Portland are today's leaders on climate. We need citizens to get involved in local efforts, and to examine their own lives for ways to reduce global warming pollution.
We can prevent the worst effects modeled here by adopting strong policies at the state level. Sea-level rise caused by global warming is not an unpreventable natural disaster. To prevent climate change from having these devastating impacts, we need to work together to adopt solutions that are already at our finger tips:
Energy efficiency—the cheapest, cleanest source of energy
More renewable power, and strong efforts to clean up old fossil-fuel plants
Cleaner cars, cleaner fuels, and more transit
Green buildings and sustainable land use practices, which make Maine a nicer, healthier place to live and work.
Become an NRCM activist and contact your legislators regarding important energy issues.
Why Should I Care about Climate Change and Seal-level Rise in Maine?
Maine already is seeing signs of climate change, with sea-level rise, beach erosion, and increased temperatures. Maine's cold weather sports such as skiing and ice fishing, our forests, our fishing industry, even our maple syrup industry are at risk. For more information check out NRCM's publication, "Global Warming in Maine: Warning Signs, Winning Solutions."