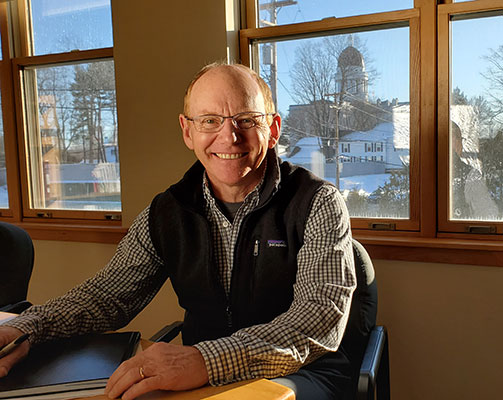 NRCM Advocacy Director Pete Didisheim spoke on Thursday evening, May 25 at the Topsham Public Library to give an insider's report on environmental policy issues currently under consideration in the Maine Legislature, including the progress already made and the challenges ahead.
Over the past several years, the Maine Legislature has enacted a long list of bills that are helping protect Maine's rivers, lakes, streams, and wildlife; increase clean energy; reduce pollution; and accelerate action to address the climate crisis.  Lawmakers currently are on track to pass further positive bills this year that will build on that record.
With more than 25 years of experience as NRCM's Advocacy Director, Pete shared his unique perspective on what's happening in Augusta, and how Maine people can help make this legislative session another successful one for Maine's environment.
Event was free and open to the public, and cosponsored by Green Steps of Highland Green, the Topsham Public Library, and NRCM.