Feeding the 5,000, Portland ME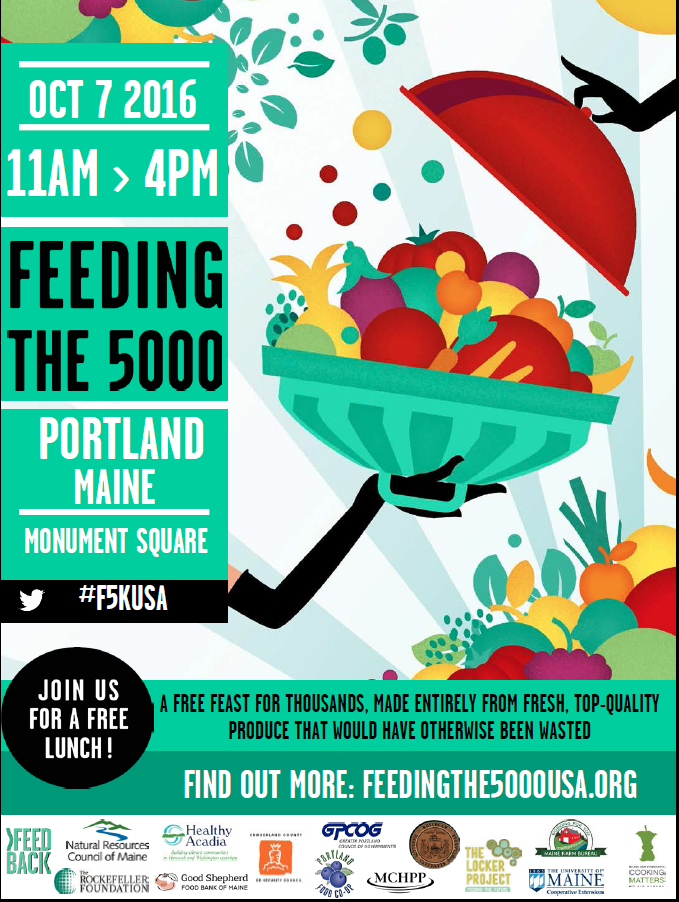 On Friday, October 7, 11:00 a.m. – 4:00 p.m. NRCM was part of a coalition of organizations that hosted Feeding the 5,000, a free, delicious, community meal for thousands of people, sourced entirely from locally gleaned, fresh food that would have otherwise been wasted. This event was designed to increase awareness about address solutions to the tragic amount of food being wasted in our community. In addition to the free meal, the event demonstrated solutions, and featured high-profile speakers and chefs on the main stage to teach and inspire us to take action.
Thanks to all of you who volunteered on the day of the event, and who gleaned or prepped the meal beforehand.
What: Feeding the 5000: Portland Maine – a free, public feast where we intended to feed 5000 people with delicious, local food that would have otherwise been wasted
When: Friday, October 7, 11:00 a.m.-4:00 p.m.
Where: Monument Square in downtown Portland
Why: To raise awareness about the tragedy of so much wasted food, and get out the word about opportunities that offer a wide-range of social, economic, and environmental benefits.
Feeding the 5000 is the flagship campaign event of Feedback, and UK-based an environmental organization that campaigns to end food waste at every level of the food system. Feeding the 5000 events have taken place in over 40 cities throughout the world, in countries including the UK, France, Belgium, the Netherlands, Australia, and the United States.
NRCM proudly co-hosted this event with Healthy Acadia, Cumberland County Food Security Council, Feedback, and The Rockefeller Foundation with leadership from the Portland Food-Co-op; Mid Coast Hunger Prevention Program, The Locker Project, Maine Farmland Trust, University of Maine Cooperative Extension, Good Shepherd Food Bank, The City of Portland, and many more!