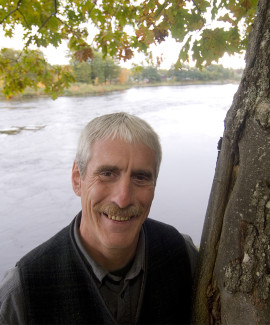 For more than 60 years, the Natural Resources Council of Maine has led efforts to protect and restore thousands of miles of Maine's rivers, for the benefit of people, fish, and wildlife throughout the Gulf of Maine.
In 1999, working with the Penobscot Indian Nation and other conservation groups, during three long years of negotiations with the hydro developer, the Penobscot River Restoration Project was born. NRCM was a founding member of the project and played a central role in this effort to improve access to almost 2,000 miles of Maine's largest river for endangered Atlantic salmon and ten other species of native sea-run fish that feed Maine communities, wildlife, and the Gulf of Maine. The formal agreement for the project was signed on June 22, 2004.
The project was completed in 2016, after the Howland Dam river-like fish bypass was constructed, the final piece of the river restoration. There were many other tremendous milestones along the way. In the summer of 2013, for the first time in more than 200 years, the waters of the Penobscot joined with the Atlantic Ocean following breaching of the Veazie Dam. "The river seemed to take its breath," John Banks, natural resources director of the Penobscot Indian Nation, noted on the day of the breaching. "It said, 'Ah, freedom. Freedom.'" The breaching of the Veazie Dam followed just a year after removal of the Great Works Dam in 2012.
Before these dams were built, the Penobscot River teemed with millions of fish that fed eagles, bear, and other wildlife, and added vital nutrients replenishing the Gulf of Maine. Now, we are seeing the return of  millions of fish as they again begin swimming all the way to Baxter State Park and back again to the sea.