Step into your local redemption center and what you will see is the heart and soul of Maine's most effective recycling and litter prevention program.
At Patman's Redemption Center in Windham, hardworking employees are in a constant state of motion, hand-sorting thousands and thousands of bottles and cans brought in by a seemingly endless flow of customers.
Redemption centers are often beloved parts of local communities, but those that bring in containers to redeem probably have little sense of what it takes to keep Maine's Bottle Bill successfully running.
In a recent visit to Peter Welch's redemption center in Portland, he emphasized in the "anatomy of labor, sorting is only one of the things we do." It's customer service. It's running the cash register. It's cleaning. It's fixing self-sorting machines when they break. And they will break.
Ensuring a Strong Market for Recyclables
The work done within the walls of these local businesses ensures a strong, successful market for recycling glass, metal, and plastic. It also results in more than $2 million a year in donations to local charities.
But Maine's local redemption centers are struggling to survive. Inflation and labor shortages have forced some to close and many others to operate at a loss. You may have witnessed these stresses first-hand if you've had trouble redeeming bottles and cans, or seen bags of returnables piled up at CLYNK depots in Hannaford parking lots.
Local photographer Justin Smulski, who joined us to document the experience at these two redemption centers, reflected on the visit perfectly in a recent Instagram post: "The story we all watched unfold that morning was one of unexpected laboriousness: far more of the sorting is undertaken manually than we could have imagined. Even where machines are involved—crushing cans and smashing glass—ample opportunities for injury arise. Most jarring, though, was just how many consumer items marked as recyclable are actually not, which means these redemption centers not only use bottle deposits to pay their staff, but also to pay for trashing all those nonrecyclable items."
Maine's Bottle Bill is a big part of our culture and environmental ethic. Hundreds of Mainers have built their lives and small businesses around bottle redemption. It helps cities and towns reduce waste and save money.
But during the 45 years since the Bottle Bill began, there have been many new types of beverages brought to market, advancements in technology, and a growing consumer demand to return to refillable containers.
Working in Partnership for Change
Local redemption center owners, groups like the Natural Resources Council of Maine, and others who care about the future of the Bottle Bill have joined together this year to call on Maine lawmakers to take swift action to help redemption centers stay in business and ensure that Mainers have places to redeem their bottles and cans.
The Legislature quickly passed the first bill (LD 134), which became an emergency law in May 2023 to provide immediate relief by increasing the handling fee paid to redemption centers by big beverage companies for each container that is redeemed.
In an emotional public hearing on LD 134, redemption center owners made clear that action is sorely needed.
"The distributors, they raised their prices because of food, fuel, everything went up. We can't, and you're the ones who can help us," said Don Cook, who was forced to close his South Portland redemption center last summer.
"I've been in business 42 years, and this is the first year that I've had to borrow money to keep my doors open," said Melodie Zale, who owns a redemption center in Wilton.
The second bill (LD 1909), sponsored by Rep. Allison Hepler of Woolwich, would modernize the Bottle Bill to make it more efficient, effective, and resilient for the future. The bipartisan legislation, which was passed out of committee with a unanimous vote, would streamline the program for hard-working redemption centers by reducing the amount of tedious sorting that needs to be done.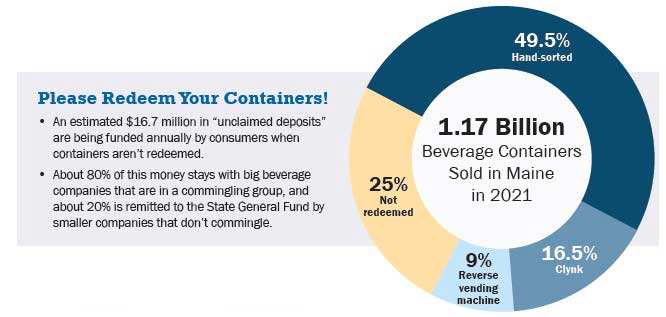 "We are overwhelmed with bags every day," Shandra Rubchinuk, co-owner of Jansel Redemption Center in Winthrop, told WMTW in an interview after a public hearing for Rep. Hepler's bill. Rubchinuk also joined NRCM Sustainable Maine Director Sarah Nichols at our 2023 State House Action Day, along with other supporters to meet with lawmakers about this year's priority bills.
She told the TV station that 80% of her four employees' time is spent sorting 325 different brands. "So, the same water bottle, exact same material, with a different label, has to go into a different sleeve. There are currently 12 water bottles that have to go into 12 different sleeves," Rubchinuk said.
Hepler's bill also redirects the deposits paid by consumers that never redeemed their containers to support much-needed improvements that will increase consumer convenience and reduce trucks on the road. Looking toward the future, the bill proposes investments in new programs that could help us shift away from some disposable containers toward more reusable options.
Making the Bottle Bill Stronger for the Future
These two bills work together to support redemption centers while we work to make the Bottle Bill stronger for the future.
As individuals, one of the best ways people who care about Maine's environment can get involved is to redeem our containers. Twenty-five percent of beverage containers sold in Maine aren't being returned, and that money stays with big corporate brands like Coke or Pepsi. Redeeming your containers brings in more revenue for redemption centers, and ensures the money goes back to you or to whatever local charity you're supporting.
"No other program can deliver the environmental, economic, and social benefits of the Bottle Bill. And local redemption centers mean so much to the communities they serve," says NRCM CEO Rebeccah Sanders. "Modernizing the Bottle Bill will build on Maine's legacy of showing that strong local economies and a healthy environment go hand-in-hand."
—by Colin Durrant, NRCM Advocacy Communications & Media Relations Director and Sarah Nichols, NRCM Sustainable Maine Director
Article originally appeared in the Spring/Summer 2023 Maine Environment newsletter